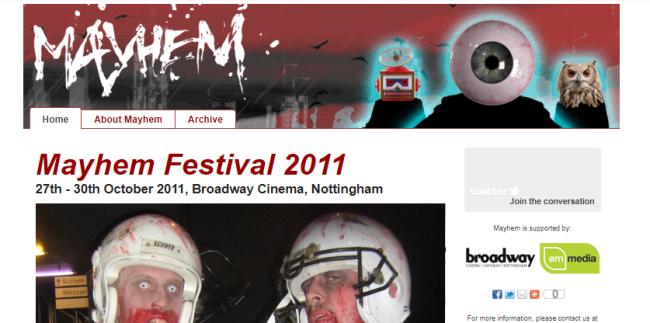 For the third year of the Mayhem Horror Fest in Nottingham, UK, they launched their website in October 2007. It was a film festival that ran on Halloween from 7 pm until late.
The Mayhem HorrorFest started in 2005 out of a desire to fulfill the need for filmmakers to push the horror genre and satiate those who have a specific love for all things horror films.
They had a range of Horror genre films from international, national, and local filmmakers. They accepted submissions up until September every year. In 2007, the film that was most acclaimed and had the prime spot was "All the Boys Love Mandy Lane" - a film about people dying who really like this beautiful, cheerleader Mandy Lane.
The festival was held at the Broadway Media Centre on Broad Street in Nottingham.
They had a lot of support from the Bang! Short Film Festival in Nottingham that is known for supporting new and talented filmmakers.
In the "Video Vault," one could find a small directory of past films that premiered and played at the Mayhem Horror Fest. Films included:
Through A Vulture Eye, directed by Steven Sheil, 2006
Conceptual, directed by Owen Tooth, 2004
A Hiss in the Wind, directed by Owen Davies, 2006
Nose Hair, directed by James Sharpe, 2006
Get Got, directed by Matt Taylor, 2004
Cry, directed by Steven Sheil, 2005
Inside, directed by John Ross, 2005
The Weight, directed by John and Tom Turrell, 2006
Past events at the Mayhem Horror Film Festival included Mark Gatiss talking about his most beloved moments in horror, Mike Hodges who directed Flash Gordon gave a historical overview of horror from his perspective, The Thrill Laboratory hosted interactive art and odd science fun, and a masterclass with Monsters director Gareth Edwards.
Some featured cult classics they have screened in the past are Human Centipede, Hobo With a Shotgun, Tenebre, Bird With the Crystal Plumage, and Birdemic: Shock and Terror.
Over time, the Mayhem Horror Film Festival grew from a one-night event to a year-round operation with significance placed on Halloween weekend every year.
Parts of these festivals and short programs of horror flicks in the UK happened with the help of QUAD in Derby - QUAD's Fright Club and Alt.Fiction. Together with the Festival, they were able to screen classic ghost stories and grindhouse-style films that were gory.
Whether it was for just a day, or for geeking out over horror and its societal impact, the Mayhem Horror Film Festival became a tradition for the Nottingham community in the UK. Obviously, the horror genre was gaining popularity in the UK especially in cinema and on the screen.
The website for the film festival was up until around 2015-2016.