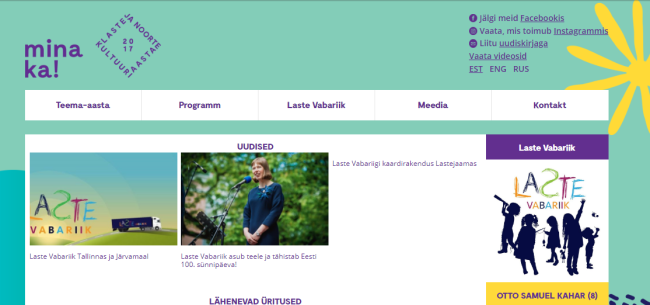 In January 2017, Mina ka started under the minaka domain name.
The site functions as a page to promote the activities of the Estonian Children's Literature Center.
Children's Literature Center of Estonia
The Estonian Children's Literature Center assists users in gaining access to all children's materials dispersed throughout the Center. There were many assistants in the literature center to help keep the place organized and help visitors with finding information on the children's books and media.
The Library holds thousands of children's books and periodicals including maps, visual and audio media and secondary materials.
The collections include: books and other printed materials recordings photographs maps sheet music manuscripts children's and adults' musical instruments toys and stuffed animals many interactive games many more items.
The children's books in the Estonian Children's Literature Center cover many genres, including fiction, poetry and folklore in many languages. However, non-fiction children's books are scattered throughout the Library's complex collections. For example, non-English language children's books are housed in the respective language divisions; maps for children are held in a separate map area; bound children's periodicals are shelved in the general collection. Children's book art has its own section; children's books in Braille exist; and television programs for children are also within its collection.
Special Events
The Children's Literature Center of Estonia has put on many events for children and adults alike for many years.
"The Year of Children and Youth Culture Program" is an example of this and was just one of many events helpd by the Children's Literature Center of Estonia each year to encourage children to enjoy and improve their reading skills.
"The 50 Years Ideas Competition for Children and Young People's Culture" encouraged children and young people to make their cultural life more meaningful and exciting through various initiatives and events. The design contest ended on May 1, 2017. Everyone--including families, fellowships, communities and institutions participated in the event. Projects where children and young people where the authors or co-authors of the idea and participate in the implementation of the project were given priority in making grant decisions.
Involving children and young people in the planning and conduct of their activities by supporting and inspiring the next generation was the ultimate goal of this organization and its website.
The website closed at the end of December, 2018.