As summer approaches, people across the globe start looking for holiday destinations. With many options available, it's tough to decide.. We all want to know where everyone else is going. To answer this question, iVisa conducted a study revealing the most popular travel destinations by country.
Using Google destination insight iVisa has determined where people from specific countries were searching to holiday. Also, looking at inbound searches to determine which countries are visiting destinations such as the UK, US, and Spain the most.
For Americans, the top international destinations are Mexico, Italy and the Dominican Republic, with the most common inbound visitors to the states reigning from Mexico, Canada, and the UK.
For Brits, the most popular destinations are Spain, the US, and Greece, with the highest number of visitors coming from the US, Spain, and Germany.
Hotspots France, Dominican Republic and Brazil are predicted to be popular destinations which could be due to increasing interest in unique cultural experiences, natural beauty, and sustainable tourism according to American Express Travel.
The United States
The US is a popular travel destination for both domestic and international tourists, with diverse landscapes, attractions and lots of different cultures stretching coast to coast.
However, while it may boast a range of different holiday offerings, US travelers do branch further afield. The study found that US travelers have a range of favorite destinations from sunny Mexico.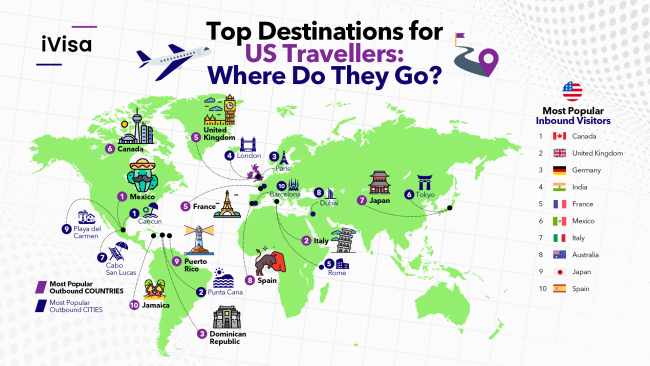 The top 10 destinations for US travelers
Mexico

Italy

Dominican Republic

United Kingdom

France

Canada

Japan

Spain

Puerto Rico

Jamaica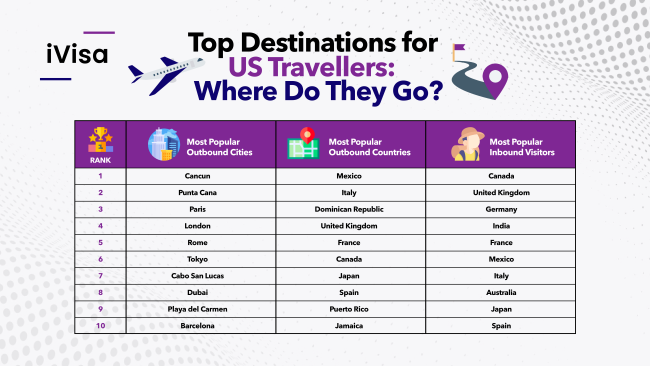 1. Mexico
A vibrant country that attracts US travelers for its sandy beaches, ancient ruins, colorful cities, delicious cuisine, and rich culture. From the Caribbean Sea to the Pacific Ocean, Mexico boasts many breathtaking locations, such as Mexico City, the sandy beaches of Cancun and Playa del Carmen, and the ancient Mayan ruins of Tulum.
2. Italy
Known as a beautiful European country with a rich history, stunning architecture, and beautiful landscapes. The country is famous for its world-famous cuisine, fashion, and art. From the ancient ruins of Rome to the stunning Amalfi Coast, Italy has many iconic destinations that attract US tourists. As proved by its recent surge in popularity, coined the "White Lotus effect," a TV series showcasing Sicily.. Visitors can wander the streets of Florence, take a gondola ride in Venice, or hike the scenic trails of Cinque Terre.
3. The Dominican Republic
The DR is an island that boasts all-inclusive resorts, beautiful beaches, turquoise waters, and a lively nightlife. Punta Cana, Puerto Plata, La Romana, and Samana are some of its most visited destinations. Visitors can enjoy the sun, sand, and sea, or immerse themselves in the local culture by exploring the colonial city of Santo Domingo or the Samana Peninsula.
4.The United Kingdom
Rich in history, culture, and iconic landmarks The UK is the 4th most visited country by Americans. There's no doubt that the UK is steeped in history which draws people from all over the globe. However, the shared history, language, social and cultural values create a strong connection with American tourists as soon as they arrive in the UK British Heritage. London, the capital, is one of the most visited destinations in the world, with attractions such as Buckingham Palace, the Tower of London, and the British Museum. Elsewhere, visitors can explore the historic city of Edinburgh, the Roman Baths in Bath, or the quintessential Cotswold villages.
5. France
France is a romantic country with beautiful landscapes, art, wine, and cuisine. Paris, the City of Light, is the most visited destination in France, with iconic landmarks,the Eiffel Tower and the Louvre Museum. The country boasts stunning locations like the lavender fields of Provence, the glamorous French Riviera, the wine region of Bordeaux, and the beaches of Normandy.
6. Canada
Experience the stunning natural beauty and vibrant cities of Canada. From the towering Rocky Mountains to the picturesque coastlines of Nova Scotia, this diverse country offers endless outdoor adventures and cultural experiences. Travelers can immerse themselves in the multicultural city of Toronto, explore the historic streets of Quebec City, or witness the breathtaking Niagara Falls. Canada welcomes US travelers with open arms, offering a friendly atmosphere and a perfect blend of nature and urban charm.
7. Japan
Embark on a captivating journey through Japan, a land of ancient traditions and modern wonders. Immerse yourself in the bustling streets of Tokyo, where futuristic technology coexists with ancient temples. Discover the serene beauty of Kyoto, home to iconic shrines and stunning gardens. Explore the majestic landscapes of Hokkaido or relax in the hot springs of Hakone. Japan offers a unique blend of history, culture, and gastronomy, ensuring a memorable experience for US travelers.
8. Spain
Spain is a beloved travel destination for US citizens, and it's hard to disagree.. Indulge in the vibrant spirit and rich heritage of Spain. From the lively streets of Barcelona to the romantic charm of Seville, this Mediterranean gem offers a tapestry of experiences. US visitors can expect to immerse themselves in the architectural wonders of Gaudi, savor authentic tapas and paella, or unwind on the sun-kissed beaches of Costa del Sol. With its passionate flamenco music, stunning art collections, and historic landmarks like the Alhambra, Spain is a captivating destination that entices US travelers year after year.
9. Puerto Rico
Discover the Caribbean paradise of Puerto Rico, where vibrant culture and natural beauty converge. Explore the colorful streets of Old San Juan, adorned with colonial architecture and vibrant street art. Lounge on pristine beaches, hike through tropical rainforests, or snorkel in crystal-clear waters. Puerto Rico offers a unique blend of Latin American and Caribbean influences, creating a vibrant atmosphere filled with music, delicious cuisine, and warm hospitality that enchants US travelers seeking an island getaway.
10. Jamaica
Escape to the rhythm of reggae and the laid-back vibes of Jamaica. This tropical island paradise offers breathtaking beaches, lush mountains, and a vibrant culture that captivates US travelers. Immerse yourself in the vibrant markets of Montego Bay, soak up the sun in Negril, or explore the cascading Dunn's River Falls in Ocho Rios. Indulge in Jamaican cuisine, from mouthwatering jerk chicken to refreshing rum cocktails. With its stunning landscapes, friendly locals, and relaxed atmosphere, Jamaica is a destination that promises relaxation and adventure in equal measure.
Top 10 nations visiting the US
Canada

United Kingdom

Germany

India

France

Mexico

Italy

Australia

Japan

Spain
The United States is a great destination for tourists looking for diverse landscapes and attractions.It's no surprise that it's popular with domestic and international visitors. However, Americans do vacation elsewhere. Whether it's indulging in delicious Italian cuisine, exploring the all-inclusive resorts of the Dominican Republic, or wandering the historic streets of the United Kingdom, there's something for everyone on this list.
It seems that while Americans travel abroad, many tourists from other countries also enjoy exploring what the US has to offer including the UK and Germany. Canadians are one of the largest groups that holiday in the US due to the fact the countries are neighbors, making it a convenient 'quick-trip' destination. Additionally, there is also a favorable exchange rate between the Canadian and US dollar, 1 CD to 0.74 USD, making it an affordable destination for Canadians Forbes. It's no wonder that with many visitors from around the world, the US has become a melting pot of cultures.
The United Kingdom
The United Kingdom is a sought-after destination for global tourists, renowned for its rich heritage, culture, and iconic landmarks. London is one of the most visited cities worldwide, yet, visitors can discover many other fascinating destinations across the UK.
Cities worth exploring include Manchester, a vibrant hub of culture and music, Liverpool, famous for its association with The Beatles, and Bristol, a creative city with a fascinating maritime history. Glasgow, Scotland's largest city, is famous for its art and architecture, while Cardiff, the capital of Wales, is a cultural hub with a rich history and striking landmarks.
The UK is among the top 10 favorite destinations for US travelers. But UK citizens don't just stay put - they love to explore the world! Spain, the US, Greece, Italy, and Turkey are among the top countries they visit. And who can blame them? From gorgeous beaches, historic cities, and unforgettable festivals like La Tomatina in Valencia, Spain. To a vast array of experiences, from theme parks to natural wonders like the Grand Canyon in the US, there is so much to see and do across the pond.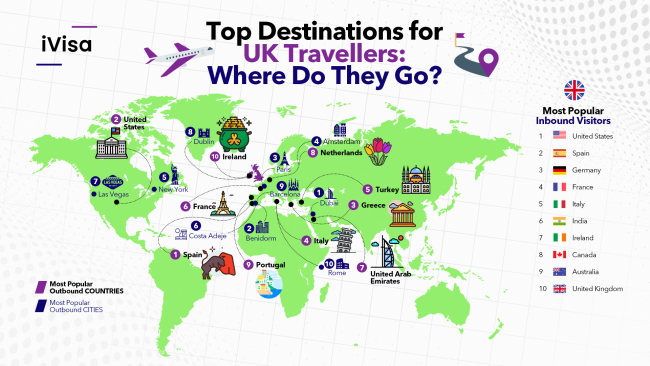 Top 10 countries people in the UK are going to
Spain

United States

Greece

Italy

Turkey

France

United Arab Emirates

Netherlands

Portugal

Ireland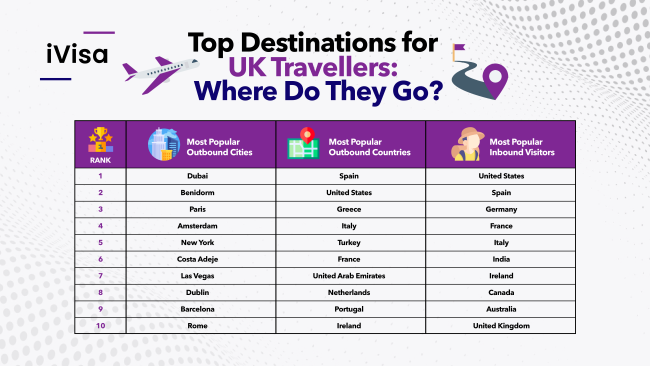 Here's a blurb on the destinations popular with UK tourists that didn't make it onto the US list.
The US
The United States is another popular destination for UK citizens, attracting approx 22.1 million visitors each year (statista). The US offers an array of experiences, from the bright lights of New York City to the natural wonders of the Grand Canyon and the sandy beaches of California. The country is perfect for road trips, theme park visits, and outdoor adventures. With so much to offer, it's no wonder why the United States is a bucket list destination for many UK travelers.
Greece
Greece is a fascinating country that enthralls visitors with its stunning islands, ancient history, and mouth-watering cuisine. It's a country of contrasts, from the azure waters surrounding the Greek islands to the fascinating ruins of Athens and Delphi. Greece is a great destination for a relaxing holiday or a cultural adventure. Visitors can immerse themselves in the culture by trying out the delicious Greek cuisine, exploring picturesque villages, and soaking up the tranquil surroundings. The Greek islands like Santorini, Mykonos, and Crete are popular, and Athens is a must-see for its ancient Acropolis and Parthenon.
Turkey
Turkey is a country that fascinates travelers with its history, culture, and stunning landscapes. The country is known for its ancient ruins, gorgeous beaches, and vibrant bazaars. Visitors can explore the ruins of Ephesus, relax in a traditional Turkish bath, and sample delicious cuisine. The hot air balloon rides in Cappadocia are a must-do, and the bustling city of Istanbul is full of historic sites, lively markets, and impressive architecture. With its diverse offerings, Turkey is a fascinating destination that appeals to lots of travelers.
United Arab Emirates
Immerse yourself in the opulence and grandeur of the United Arab Emirates. From the dazzling cityscape of Dubai to the cultural treasures of Abu Dhabi, this Middle Eastern gem offers a unique blend of modernity and tradition. Marvel at the iconic Burj Khalifa, indulge in luxury shopping at the Dubai Mall, or explore the cultural heritage of the Al Fahidi Historic District. With its stunning desert landscapes, luxurious resorts, and world-class entertainment, the UAE beckons UK travelers seeking an extraordinary experience in a land of endless possibilities.
Netherlands
Experience the charming and picturesque Netherlands, a country renowned for its iconic windmills, tulip fields, and cycling culture. Explore the vibrant city of Amsterdam, with its historic canals, world-class museums, and vibrant nightlife. Discover the cultural heritage of The Hague, visit the famous Keukenhof Gardens in Lisse, or wander through the medieval streets of Utrecht. Netherlands offers a delightful blend of art, history, and natural beauty that captivates UK travelers and promises a truly memorable journey.
Portugal
Delve into the beauty and warmth of Portugal, a country that combines captivating history, stunning landscapes, and a relaxed way of life. Explore the charming streets of Lisbon, with its colorful tiles and panoramic views, or get lost in the medieval alleys of Porto, known for its port wine cellars. Relax on the golden beaches of Algarve or venture to the rugged cliffs of the Azores. Portugal enchants UK travelers with its rich heritage, delectable cuisine, and welcoming atmosphere, making it a perfect destination for those seeking a blend of culture, nature, and coastal beauty.
Ireland:
As the UK's closest neighbor, it's no shock this is on the top 10 list. Travelers can embark on a journey to the enchanting Emerald Isle of Ireland, where lush green landscapes, historic castles, and lively pubs await. On this diverse island visitors can explore the vibrant streets of Dublin, home to literary heritage and lively music scenes, marvel at the spectacular Cliffs of Moher, meander along the Ring of Kerry, or visit the iconic Giant's Causeway in Northern Ireland. Ireland captivates UK travelers with its breathtaking scenery, friendly locals, and legendary hospitality, offering an authentic experience filled with folklore, traditional music, and a warm embrace of its rich cultural heritage.
Top 10 countries visiting the UK
United States

Spain

Germany

France

Italy

India

Ireland

Canada

Australia

United Kingdom
The United Kingdom is an enchanting place that draws travelers from every corner of the globe and ranks as one of the top countries with inbound interest. According to Visit Britain, inbound visits for 2022 total £25.9 billion. Its heritage, multifaceted culture, and famous landmarks make it a destination like no other, promising an experience that will stay with you for a lifetime. Whether you're drawn to the hustle and bustle of its cosmopolitan cities or enjoy the rural countryside, the UK has it all.
So whether you're exploring the charming streets of Edinburgh or soaking up the sun on a beach in Santorini, there's no shortage of exciting experiences to be had. The world is full of amazing destinations, and UK citizens are lucky enough to have so many at their doorstep.
Future popular destinations
As the travel industry continues to recover and adapt post-pandemic, many are looking ahead to future popular destinations. By analyzing the trends in popular travel destinations from 2021 to 2023, we can predict which countries will be hotspots in the near future.
Top 10 countries in demand (2021)
United States

Dominican Republic

Spain

Mexico

Peru

France

Venezuela

Italy

United Kingdom

Netherlands
Top 10 countries in demand (2023)
France

Dominican Republic

United States

Spain

Italy

Mexico

United Kingdom

Netherlands

Portugal

Brazil
Surprisingly, the United States, which was the top holiday destination worldwide in 2021, has been knocked off the top spot by France in 2023. Alongside France, the Dominican Republic, Spain, and Italy continue to be in high demand, while Portugal and Brazil have joined the top 10 list. The United Kingdom is showing a steady climb up the ranks YoY, from 9th place in 2021 to 7th in 2023.
Factors such as distance, taxes, and exchange rates may be contributing to this shift away from the US. Furthermore, global events such as pandemic restrictions, political unrest, and natural disasters can greatly impact travel patterns.
Based on Google Search trends, Mexico holiday and Spain holiday alike shared the top spot for up and coming destinations in 2023 with a search volume of 74,000. Additionally, the Dominican Republic, Italy holiday and Portugal holiday followed second with 40,500.
According to the World Tourism Organization, the growing interest in sustainable and eco-friendly tourism has led to increased demand for destinations that prioritize conservation and responsible tourism. Overall, a combination of factors have led to changes in travel patterns over time.
So, where to next?
This research revealed interesting insights about how holiday destinations have changed and are predicted to change. We can see that Americans have a variety of favorite destinations, from the sunny beaches of Mexico to the romantic streets of France. Meanwhile, Brits love to explore Spain, France, and Italy. Elsewhere, Brazil and Portugal are emerging hotspots with their unique cultural experiences, natural beauty, and sustainable tourism practices.
It's clear that people from all over the world are eager to explore the diverse landscapes and cultures.
People are ready to get out and explore the world once again. With so many amazing destinations to choose from, it's a great time to plan your next adventure and create memories that will last a lifetime. Check out iVisa for all your visa needs.