Visiting different parts of the world is always an exciting prospect, but it isn't always an easy one. That's because many of the world's most appealing travel destinations have specific visa requirements to meet before a visitor can legally enter the country. Getting the right visa can be challenging, and often requires careful planning and foresight. However, depending on how you choose to go about it, the process can be greatly simplified.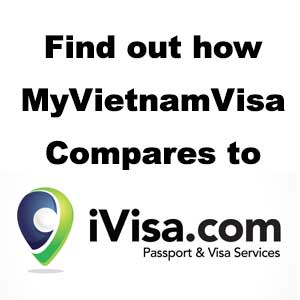 Take Vietnam, for instance. Vietnam is a highly attractive destination for tourists from the United States and other Western nations, due to its lush scenery, rich culture, and the potential for adventure. From the architecture to the cuisine and the souvenirs, Vietnam has much to recommend it to visitors with a broad range of interests. Like so many other countries, however, getting into Vietnam requires the proper visa. Without one, your Vietnam experience may end at the airport.
When it comes to entering Vietnam, several companies can help make sure you acquire the correct visa. Two popular choices for US tourists are MyVietnamVisa and iVisa. In this article, we'll take an in-depth look at the pros and cons of each service, and try to help you determine which one will best serve your travel needs. We'll examine several key factors to see how both companies compare: customer service, price, and ease of use. Then we'll deliver our recommendations, and the rest is up to you!
Customer Service
Because obtaining your visa can be an arduous process at times, it's always nice to work with a company that focuses on making your experience easy and stress-free. In this respect, both iVisa and MyVietnamVisa seem more than adequate. MyVietnamVisa has been featured on several blogs such as visahunter.com, which specifically lists their customer service as a reason to use them. iVisa, on the other hand, is the subject of numerous positive user reports, which consistently cite their politeness and professionalism when dealing with clients. iVisa also tends to respond very quickly to email inquiries—often getting back to potential users within the same day.
Efficiency
Speed is a crucial factor to consider when comparing different visa services, because of the way in which the visa process works. In most cases, you'll need to send your passport to the visa service along with your trip details beforehand—they'll compile the relevant information, create the visa and then send it back to you with the passport. This makes it essential that the company you choose sends back your passport and visa before the date of your departure.
When looking through user reports from MyVietnamVisa, we noticed that most people seemed to have a positive experience—receiving their visa in sufficient time to make their trip as planned. However, it's worth noting that Vietnam's Ministry of Foreign Affairs did issue a warning about MyVietnamVisa back in 2011, urging potential travelers to get their visas directly from Vietnamese overseas missions as opposed to using their service. While the notice doesn't explicitly say why this is, it struck us as something worth noting.
When it comes to the same issue, iVisa seems to have received universally positive reviews. Many travelers have gone on record saying that iVisa is particularly honest, and offers accurate estimates for turnaround times. Even the few accounts of processing issues list iVisa's diligence when it comes to contacting customers and communicating with them about errors, to solve the problem before it runs the risk of impeding any travel plans.
Price
Both iVisa and MyVietnamVisa are third party services that offer a fee-based visa approval letter service, so it's important to compare their prices and see exactly why each one is different. iVisa bills themselves as a hugely reliable premium service, so we expected that they might come in on the more expensive side. Using their on-site calculator, though, we were surprised to discover that their estimated cost for a single US traveler was only $30.00 USD per visa, whereas MyVietnamVisa tended to be much more expensive. MyVietnamVisa applies something called a "stamping fee" to their customers, driving the total cost for one of their single-entry visas to a whopping $65.00 USD. We're not sure how iVisa can offer the same service at less than half the cost, but since both companies are well reviewed and have high success rates, this seemed like an important consideration.
Ease of Use
The main reason to use a third-party organization to help procure a visa for you is that they streamline the experience and make it more convenient than getting one from the appropriate consulate or embassy by yourself. This means that whatever company you choose should be transparent and offer ease of use. Both MyVietnamVisa and iVisa ranked highly in this category, with users of both companies going into detail about the clarity of their various web pages and accessibility of information.
Summaries and Recommendations
MyVietnamVisa is by all accounts a particularly effective way to procure a legal and functional visa. They appear to be a professional, customer-focused operation with a high rate of success. The only drawback we could find with regards to this company was their price point.
iVisa, on the other hand, appears to offer a comparable service concerning quality while charging significantly less for their work. This makes them an attractive prospect, as they appear to have the reputability and consistency of MyVietnamVisa while remaining more budget-friendly.
We recommend considering iVisa.com when it comes time to book your next trip to Vietnam. When you reach the homepage, you'll be asked to provide your destination and nationality, after which a second page will display the cost of the service and your estimated processing time. This page will also show you the various visa requirements for Vietnam, which will serve as a checklist of sorts to make sure you have everything you need. Once you submit a few personal details, send your payment, and provide copies of any required additional documents, you'll be well on your way. Remember: using a reliable service is the surest way to make sure your trip happens just as you intended.