Do you have your sights set on exploring the world? Traveling abroad is a fun activity that people of any age can enjoy, whether you're flying solo or exploring with a group of friends and family members. However, like any great trip, you'll receive the most out of your experience by planning and making sure you cover all the fine details.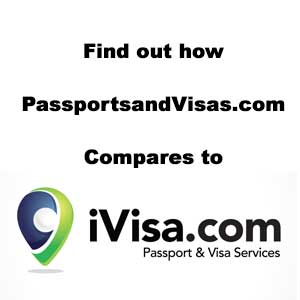 Unlike national travel, international travel has hundreds of immigration requirements and travel rules that can be difficult to navigate. While you may have easily traveled abroad to Australia, you might find your trip to India comes with an entirely new set of travel regulations, including different types of travel documentation.
Not being prepared can take the fun out of your trip, but figuring out all the specific needs of each country you visit can be complicated and confusing. Luckily, there are services like iVisa and Passportsandvisas.com that can take the guesswork out of your international travel and ensure you have the trip of your life. These companies also allow you to apply for your travel documents quickly when time is running out.
Read on to find out which services each company offers so you can decide which is best for your travel plans.
Online Applications
When it comes to dealing with complex travel forms, no one wants to seek help, only to be bogged down with many additional confusing forms. Luckily, both companies offer incredibly smooth and uncomplicated application processes.
PassportsandVisas.com boasts a basic 4-step process to obtaining your visa or passport. Just apply online, wait to hear from your assigned account manager, allow your application to process, and receive your passport or travel visa via a secure FedEx delivery.
iVisa offers a 3-step process to obtaining your travel visa. You merely complete their online application, receive your e-visa in your email, and then present the electronic document at the airport. Unlike passportsandvisas.com, this visa is electronic.
Customer Service Experience
Of course, a company is only as good as their customer service team. Sure, receiving your visa without any issues is great, but what happens if something doesn't go as planned or if you have any questions along the way?
Both iVisa and passportsandvisas.com offer incredible customer service, 24/7. Passportsandvisas.com even assigns you to your personal account manager, so you always know who to reach out to in a pinch. Their primary means of customer service contact is email or telephone. iVisa also offers excellent customer service options. You can choose live chat options for resolving issues, as well as toll-free telephonic and even email assistance.
When it comes to making sure you know what's going on with your travel visa, both these companies have you covered.
Visa Delivery Times
Many of the users who opt for online visa services are reaching out because they can't wait the usual time it takes to receive a travel visa by mail. While it can take weeks and sometimes even months to receive your standard travel visa, services like Passportsandvisas.com and iVisa cut out the wait time.
When you apply for your travel visa with Passportandvisas.com, you'll receive your travel visa in as little as one week before your trip. Some visas can be rush delivered to you sooner, but most travel visas will arrive at your home one week after ordering. All visas are delivered via FedEx and security is guaranteed. Sometimes, you might need your travel visa in less than a week. If time is of the essence, turn to iVisa for the fastest delivery times. In fact, depending on the country you're traveling to, you can receive your electronic travel visa in as little as 15 minutes after applying. Most visas will be emailed to you 24 hours after application.
Price Expectations
When it comes to buying travel visas online, both these companies offer competitive prices. However, the two services do have some core differences when it comes to pricing.
iVisa.com reviewers show that the prices they were told they would be charged match up exactly to their end bill. iVisa makes sure you know exactly what you'll pay for your visa, without including any hidden surprises.
Passportsandvisas.com offers similar pricing, but some reviewers noted that they were charged up to $30 more than expected or advertised. Be sure to read the fine print before applying to make sure there won't be any unexpected charges popping up on your bill.
Overall Processes
From reviewing their websites, both these convenient travel visa companies seem to offer simple processes that will get you your visa quickly and without confusion. However, when looking at reviews of the overall process flow, one company received better remarks than another.
While many Passportsandvisas.com users were satisfied with their experience, others complained that the process was much more complicated than advertised. Some users struggled via email to find out where they were in the process, while others reported receiving their visas weeks after ordering (rather than a few days to a week). While this service does work, if you're looking for fast, effective results, be sure you read all instructions to make sure you know how this process will work for you.
iVisa.com users all seem to indicate that this site's process works as quickly and efficiently as advertised. One user even claimed it was the "smoothest application process ever" and thanked the customer service team for all their help. Almost all reviews agree that this process is quick and easy and delivers the results expected.
Overall Comparison
While both these online visa companies will get you travel visas faster and easier than traditional methods, when it comes to speed, delivery, and ease of use, iVisa scores higher with users than Passportsandvisas.com. If you'd like a transparent process without any hidden fees, opt for iVisa for simple, no-hassle electronic travel visa delivery. If you'd prefer to wait a while longer for a paper document, check out PassportsandVisas.com.