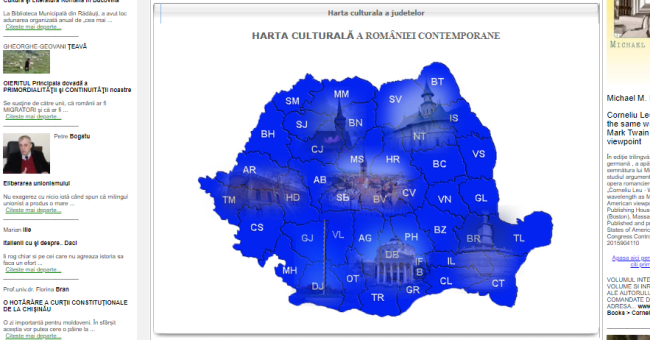 In March 2007, Carte Si Arte was published on the web.
Romania Cultural Expression and Collection of Culture
Owned by the Realitatea Publishing House, this Romanian online portal promoted freedom of speech and expression. Their main mission was to expand thoughts and opinions about Romanian cultures and subcultures and wanted to bring people together in Romania to support the pursuit of robust Romania cultural expression.
This open-source domain inspired many points of culture from all regions of Romania to contribute to its mission. This included submissions from:
Private citizens who love Romanian culture;
Local cultural institutions;
Book and magazine publishers;
Show organizers;
Romanian cultural event organizers;
Romanian universities and research institutes;
Theaters, museums and music venues of Romania;
Local Romania municipality officials;
City and county councils and their respective institutions in Romania;
Other Romanian citizens and organizations that want to contribute to the cultural initiative.
As long as each submission followed the basic guidelines, Carte Si Arte published submissions that came through their site by these institutions and citizens.
Romania Interactive Cultural Map
The Romanian interactive map showed the different districts of Romania. One could click on the district of Romania of their choice to be taken to a dedicated cultural page for that district. This allowed the delineation of information to be based on the region of Romania in an effort to enrich the culture of that region and possibly promote tourism and intellectual curiosity. Also, differing viewpoints on the history of each region of Romania was made possible by this cultural exchange site.
For example, the district of Teleorman in Southern Romania featured links to cultural writings and institutions such as:
"Culture, Cults, Patrimony"
"Biblioteca 'Marin Preda'
Museum of Teleorman
Center for the Promotion of Traditional Culture
Romania Newspapers, Media, Museums, Writers, Event Calendar
Partnerships with cultural institutions were made with Romanian cultural institutions such as the Romanian Academy, the Romanian Cultural Institute, the Ministry of Culture and Religious Affairs, the Goethe Institute, the Website of Cultural Minorities, the Romanian Culturalists, and more.
Partnerships with newspapers and other Romanian media outlets included features by Adevarul de Arad, Agenda, Banateanul, Banat Zeitung, Deutsche Zeitung, Romanian Soccer, Reality Romanian, and the National Courier.
There was no competition promoted to be the most culturally-focused website, so Carte Si Arte also linked to other cultural pages. Its goal was to become a compendium of sorts for those interested in Romanian culture.
Carte Si Arte also linked to book and art sites, Romanian library webpages, socio-political sites and studies, and personal websites as well.
Also featured were calendars where event organizers from around the country could post their events to the large audience of culturalists. There was also a Forum for Romanians who wanted to debate culture in Romania.
If you wanted to find out more about the featured artists and writers, you could click on the link of pages about writers and artists directly from the main menu.
As it was an open, public project, Carte Si Arte needed donations for financial support. Donations came from a variety of sources such as private citizens, national institutes, and private and public companies.
The domain was shut down sometime after May 2018.