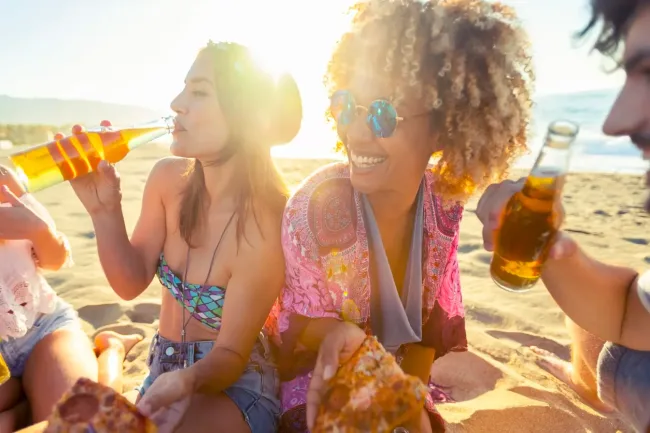 If you like to take every opportunity to get a new stamp on your passport, Spring Break is the time to process your documents with the iVisa app! Not only will you get the smoothest experience possible, but you will also be participating in a giveaway.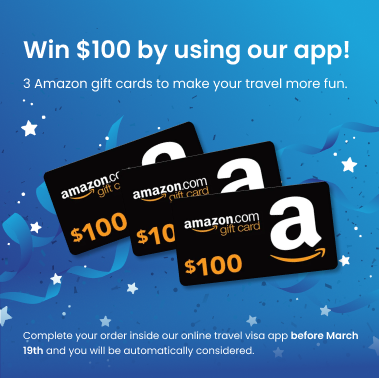 Keep reading to learn more about this incredible chance to win a $100 Amazon Gift Card! You can be one of the three lucky winners.
Also known as March Break, the world-renowned Spring Break is happening on April this year. It is a period that typically lasts around a week or so where students unwind and catch their breath between classes and exam season. This vacation period often includes the Easter holidays, but the schedule depends on each university. Little by little, a tradition that originated in North America soon expanded to other countries. In Canada, it is named Reading week, and in many South American countries, it is called Semana Santa or Passover, depending on the religious beliefs. However, those celebrations have a whole different meaning.
What they all have in common is that to make the most out of this free time, many people tend to look for new spring break destinations to visit.
Need inspiration? Check our travel check tool for your dream destination.
What is the prize?
As you may already know at this point, iVisa is all about convenience for travelers, and that leads us to think, how can we reward you for choosing us to make your travel life simpler? We thought of several ways, but ultimately, we all agreed that each traveler has different tastes and preferences, so why not let you choose?
That is why we are giving away a $100 gift card from Amazon to three winners that they can use to splurge on any item of their choice to make their spring break travel even better. The winners can choose from a 12 million-item inventory and pick what they want or need to be ready for their next trip.
Not planning any trip for this particular week? No worries, online shopping is also one of the fun things you can do over spring break without traveling.
How to spend the $100 in an intelligent way // Need ideas on which to spend the $100?
Here are the top items travelers take with them on their cheap spring break trips. Get inspired!
There are many things to do during spring break, and every traveler should be able to experience them while carrying their essentials with them at all times. A comfortable crossbody is perfect for keeping your hands free and taking all your documents, water, technology, and snacks with them during the trip.
Visiting a new country is all fun and games until you run out of battery and go to plug in your charger, only to find that the outlets are different than in your home country. Don't let that happen to you; pack a power adapter in advance.
Musicalize your trip, and don't let the take-off noise distract you from the end of your favorite series. These earbuds block up to 90% of external noise, meaning they are perfect for uninterrupted napping as well. Their battery lasts 10 hours with a single charge, the whole duration of a Singapur-New York flight!
What could be better than visiting the best spring break destinations for families? Doing it while smelling good. This incredible atomizer set has five containers that can be refilled with the owner's favorite fragrance. And they can be taken on the plane without worries, as the capacity is 0.2 fl oz, below the limit airlines allow.
We tried to make the item selection process easy for you too, but you don't necessarily have to stick to these ideas. Navigate through Amazon and come up with your wishlist. Maybe a fishing net and shark repellent are way more appealing to you than a set of mini-lipsticks and a portable notebook battery. It will all depend on whether you prefer an adventurous getaway or a digital-nomading week.
How can I participate in the giveaway?
Read the official rules below to know the ins and outs of the giveaway, we understand it might be pretty detailed, but it is essential to have clarity, and working with documentation, we learned that the hard way.
Prizes
Each of the three (3) winners will receive one out of the three (3) available Amazon Gift Cards worth $100 Amazon Gift Cards. There will be no substitution, transfer, or cash equivalent for the prize(s). The winners will receive the information to unlock the gift card via email after they provide our Customer Support team with their personal information within the estimated time.
Eligibility
The giveaway is open only to participants who are 18 years of age or older at the time of entry and who follow all the required steps to enter the giveaway (detailed below) from the following countries:
Argentina, Bahamas, Bolivia, Brazil, Canada, Chile, Colombia, Cook Islands, Costa Rica, Croatia, Czech Republic, Dominican Republic, Ecuador, El Salvador, Fiji, France, Georgia, Germany, Greece, Guatemala, Honduras, Hong Kong, Hungary, Iran, Israel, Italy, Jamaica, Japan, Kuwait, Lithuania, Macau, Mexico, Panama, Peru, Philippines, Portugal, Russia, Slovakia, South Korea, Spain, Taiwan, UAE, UK, US, Uruguay, Venezuela.
Nationals from the following countries are eligible to participate in the giveaway. Still, due to country-specific Amazon restrictions, they might be unable to claim the price or will probably have to face additional steps. iVisa is not responsible for ensuring winners from this list of countries successfully receive their items.
| Algeria | Lebanon |
| --- | --- |
| Argentina | Libya |
| Bahrain | Malaysia |
| Bangladesh | Morocco |
| Bhutan | Myanmar (Burma) |
| Bosnia-Herzegovina | Oman |
| Brunei | Pakistan |
| China | Qatar |
| Egypt | Saudi Arabia |
| India | Singapore |
| Iran | Sudan |
| Israel | Syria |
| Japan | Tunisia |
| Jordan | Turkey |
| Kuwait | United Arab Emirates |
People from the following countries are not eligible to participate because of Amazon irregularities that include the company not being able to accept any order for delivery there or restricted items.
Cuba

Iran

North Korea

Sudan

Syria
How To Enter
To enter, you must meet the eligibility criteria and complete -start and finish- any visa order on the iVisa iOS app -winners will be exclusively chosen from that platform- at any given point between Monday, March 13, 2023, through Sunday, March 19th, 2023, at 23:59 (Eastern Time (EST)
Purchase is required to participate in the giveaway. Only one entry per purchase, per person. Making more purchases does not guarantee more chances to win.
Selection of Winners
A total of 3 (three) Potential winners will be randomly selected on March 20th & 21st and notified of the prize at the phone number they provided when completing their purchase. If the Customer Support team is unable to get in contact with them, they will send out an email to collect their personal information and make the giveaway effective. Within 24 (twenty-four) hours of winning, prize(s) will be forfeited, and an alternate winner from the shortlisted substitute winner list will be selected. If a potential winner cannot be contacted, or if a prize or prize notification is returned as undeliverable, the potential winner forfeits the prize. The winners will be randomly chosen between march 20th & 21st. The three winners will be publicly announced via Social Media and our blog by Friday, 24th of March 2023.
Amazon.com is not a sponsor of this promotion.
**Disclaimer and Representations. Winner assumes all liability for any injuries or damages caused or claimed to be caused by his or her participation in the giveaway and/or the acceptance and/or use of any prize and releases iVisa and their respective parent companies, subsidiaries, affiliates, officers, directors, agents, and employees, from any such liability. Neither the Station nor their respective parent companies, subsidiaries, affiliates, officers, directors, agents, and employees are responsible for: the failure of any entry to be received by iVisa due to computer failures of any kind, traffic congestion on the internet or at any website, telecommunications, network, electronic, telephone or mobile service outages, delays, busy signals, or any equipment malfunctions or other technical difficulties that may prevent iVisa from receiving any entry submission; entries that are stolen, misdirected, garbled, delayed by computer transmissions, lost, late or damaged; any injury or damage to the entrant's or any other person's computer related to or resulting from participation or downloading any materials in this giveaway; or any human errors, any inaccurate transcription of entry information, errors in any promotional or marketing materials or errors in these Official Rules.
Don't let the Terms & Conditions discourage you from participating in this incredible giveaway. It is straightforward, and processing your travel documents is already winning: peace of mind, time, and money!
Best spring break destinations for 2023
Not sure where to go? Here are some ideas. Remember to check the requirements to enter each country with iVisa Checker Tool, and process the documents on our app to be eligible for the giveaway.
Cancun
In front of the Caribbean sea, full of nightclubs, shops, and restaurants, this bustling city located in the Yucatán peninsula is one of the top-picks for travelers who want balance between raving at night, and going swimming in crystalline waters the next day.
Cabo San Lucas
This Mexican spot in Southern California is becoming increasingly popular, as you can have both the luxury of a yacht, and the incredible wildlife scene together, under a golden sunset. Spa, golf, and walks on the beach, what else can you ask for?
Jamaica
The Jamaican vibes are a vibe themselves. Experience its unique landscapes, and turquoise waves. And -why not- try a traditional dish like Ackee and Saltfish this Spring Break?
Punta Cana
No wonder why this is a top location for all-inclusive resorts. Unlimited food and entertainment were the only things missing in this heavenly beach spot. There is no sand like Dominican Republic's fine sand, your feet will feel the difference!
Stay tuned to find out if you are one of the lucky winners, and keep an eye out for more opportunities like this.
Winners
Congratulations to our winners: Jumayi Sani, Carmela Arnold and Kandace Laurel Jones!!! In case you have not confirmed you accept the prize and the T&C, please do so within the next 24 hours of receiving our email by replying to it.
Then we can move forward with sending you your $100 Amazon gift card for you to enjoy on your next trip!