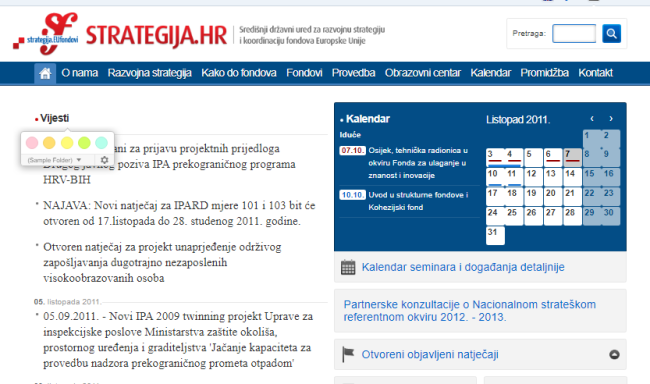 The website strategija.hr started in 2006.
The website was created to serve as the information hub for the Central Office for Development Strategy and Coordination of EU Funds for Croatia.
About the Central Office for Development Strategy and Coordination of EU Funds Croatia
The main tasks of the Central Office included:
professional and administrative tasks that dealt with the developmental strategy for the Republic of Croatia;
monitoring the government of Croatia to make sure strategy goals were being met in a reasonable manner;
act as responsible party for delegation of EU funds that are available to the Republic of Croatia;
coordinating the Strategic Coherence Framework for the promotion of economic and social developments for Croatia.
The Secretary of State of Croatia oversees the work of the Central Office for Development Strategy and Coordination of EU Funds. In Croatia, there are also two deputy state secretaries who work for the Secretary of State and on their behalf. All Secretaries are elected or appointed by the government of Croatia.
Strategic Framework for Development 2006-2013
For the challenges this Office faced, the overarching goal was to enhance economic and social development. They saw "development" as a big-picture idea that could help discover cultural significance and economic growth by the coordination of the multifaceted Croatian government and NGO institutions.
The Strategic Framework for Croatia included progressive economic ideas like opening up the economy, making market competition a priority, and replacing traditional thinking when it comes to economic growth for Croatia. They wanted to compete with the European markets and be in the 21st-Century of ideas for economic growth and stability in an increasingly international world.
As a country entering into the European Union at the change of the century, Croatia worked hard to get into the European Union which opened the country up to programs and they became beneficiaries of programs such as PHARE, ISPA, and SAPARD. They will also get access to the Structural Funds and the Cohesion Fund. A lot of these are through the CARDS program.
The Office website also showcased and linked to funding programs for local governments and Croatians. Some of the funds for Croatians included:
European Social Fund - for EU member countries who have high unemployment
European Regional Development Fund - for EU member countries who may have civil and social unrest due to regional culture clashes
European Agricultural Guidelines and Guarantees Fund - helps EU member states to promote sustainable farming and help support the farming community
European Community Initiatives

Initiative INTERREG III
Initiative URBAN II
The LEADER + Initiative
The EQUAL Initiative

Cohesion Fund
Also the website hosted announcements and reviews of the Office's seminars and conferences or related seminars and conferences from related organizations that may correlate with the Office's initiatives or goals.
After mid-2012, the website redirected to an alternate domain.