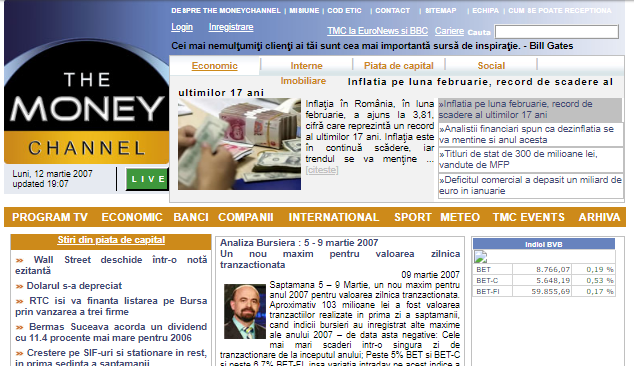 TMC TV started their website at the end of 2006. The Money Channel (TMC) was a Romanian website and one of several financial information sites owned by Grupul Realitatea Catavencu.
Market ticks were on display in the top header to show market rates for currencies such as the US Dollar, the Euro, the Canadian Dollar, and the Swiss Franc.
The site talked about Romanian and international news about currency, finances, governmental contracts, and other money-related topics. They also had an online TV channel where they would discuss the financial news of the day and have analysis on market trends, etc.
They would feature special guests on the shows they produced. For example, on October 12, 2007, The Money Channel featured the following guests:
Adrian Nastase on MONEY TALK
Iulian Panai on PM THE BROKER OF THE DAY
Dana Dobre on PERSONAL FINANCE
Paul Prodan on PERSONAL FINANCE
Alin Galatescu on BUSINESS TRAVEL
Liviu Ion on TREND AUTO
Alexandru Gugoasa on TREND AUTO
Some of the news articles that they covered included topics like: "The stock market suspends Banca Transilvania securities on Monday to operate the capital increase"; "Stock market summary - SIFs closed with slight increases"; "The Warsaw Stock Exchange bought 1.8% of the Sibiu Stock Exchange for 281,000 euros"; "Banca Transilvania announces quarterly results on October 16"; and, "Banca Transilvania Group reduced its holding at SIF Banat Crisana."
So, a lot of the articles were around the stock markets in Romania and other international markets that affect the financial markets of Romania like the Warsaw Stock Exchange. Any financial institutions in Romania that would affect the economy were discussed as well such as the Banca Transilvania Group.
They would also do a daily poll for their site visitors and a weekly poll as well.
For those that wanted to find videos about Romanian news and videos about Romania stock markets and financial institutions, one could do that on the Money Channel website.
The three main areas they covered were Romanian and international markets, finance and banking, and companies.
Within each category, you would find financial reports and up-to-date news about each of these topics and entities.
You could also subscribe to their newsletter or even get a desktop version of The Money Channel on your computer for quick access to important Romanian market updates as well as international financial news for Romanians.
The Money Channel website stayed at tmctv.ro until the middle of 2009, and then they changed domains a few times over the next decade.