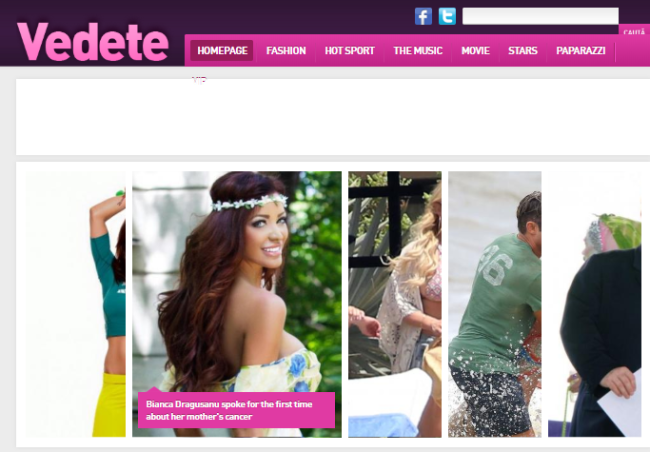 About VDT Online
VDT Online was a Romanian entertainment website that went live in 2008. It covered several topics such as sports, fashion, music, TV, film, as well as famous people in Romania at the time. It was some sort of online tabloid if you will.
If you were the kind of person to be interested in the life of stars, VDT Online had an extensive section with news covering actors, singers, and other people in the Romanian entertainment business. If you accessed the website, you would come across all kinds of information, from who was in a relationship with whom to what star was caught drunk in a famous club in Bucharest.
VDT Online also covered the latest in the Romanian music industry. Apart from the gossip news about different singers in that period, the website would also include the latest hits, interviews with bands, future events, information about concerts, and so on.
Fashion was also a topic on VDT Online. Not only would you go there to find out what is trendy to wear, but it showed, again, different stars and how they took fashion seriously or not. 'Hot or not' sections were pretty popular back then, and Romanian stars would always fall in both categories. Not to mention that the fashion industry had some gossip-worthy characters back then. Every Romanian person has heard about Bianca Dragusanu.
The website also had a VIP section. This would cover the most prominent people in Romania over the years the site was live. Here, you would find news about politicians and their families, famous singers and actors, fashion moguls, etc. Romania has different categories of 'famous people,' but this section would cover people that are famous even today. You know, the ones whose fame lasted more than 5 seconds.
The 'Paparazzi' page was among the favorites on VDT Online. What regular Joe didn't like to see a photo of a famous singer with no makeup and looking terrible? We all did. It's one of those guilty pleasures. But the page would cover stars on vacations, coming and going from the gym. The whole point was to catch someone famous on the wrong foot. And Romania did not lack that.
Lastly, VDT Online would also have a sports section. But this is a tabloid we are talking about. Don't imagine that it would have articles on who played against whom in the last quarter and who won. No. The page would have articles about famous sports players. Mostly football players. Not to mention the news about Gigi Becali, the Romanian mogul whose football team was also on the front page of written and online publications. Plus, he was quite the character.
The bottom line is that VDT Online was mostly a gossip website. It covered different types of entertainment, but most people went on it for the 'wow,' not the news. The website did not have a long lifespan. It somewhat slipped through the cracks in 2011, and it was used as a redirect for Antena 3, a major TV station in Romania.