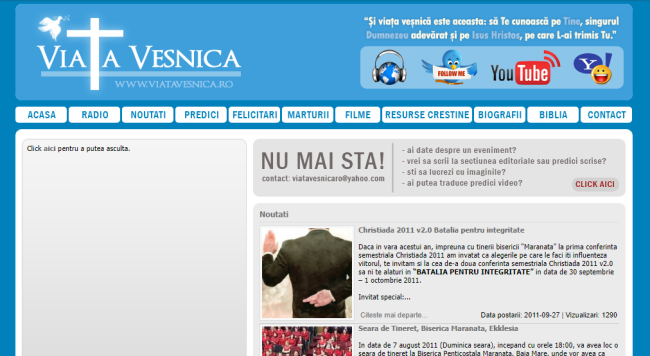 Viata Vesnica's website started on March 10, 2009.
The site was a display of the literature of Viata Vesnica and its cohorts in Christian spirituality. There was an online radio, news, sermons, videos, Christian movies, Christian resources, Online Bible, and contact information.
There was a verse of the day. For example, one day, the verse was Matthew 5:5 which states, "Blessed are the meek, for they shall inherit the earth."
One could find links to sermons on the site so if you missed it in church you could listen to it online.
Viata Vesnica Christian Radio, News, Sermons, Movies, Poetry
Their radio program covered live broadcasting of sermons, live broadcasting of music, pre-recorded music, and was on seven days a week. Some songs they played were:
Michael W. Smith - Forever
Alin Timofte - I See Him
Jaci Velasquez - Flower in the Rain
Spot 41
Simina - I Found You
Alin Timofte - I'm Waiting for You Jesus
Simply - Sing, Shout, Clap
Alin Timofte - I'm Not Afraid
Iasi Youth Choir - Jesus, I Only Worship You
Maranata - Jesus Beloved
The radio station was started by young people who were in the Maranata Church in Baia Mare. They wanted to spread the positivity of Christianity to help counteract all of the "bad" stuff out there on the internet. The goal was to eventually have shows around specific topics to widen the discussion of issues facing the Christian community in Romania and around the world.
The News section contained international news that pertained to the Christian faith. Some of the headlines included:
The pastor of the Baptist Church in Maryville, Illinois was shot dead during the job.
Urgent Message - David Wilkerson
Peniel National Conference, April 13-14, Baia Mare
Opening the Website
Sermons that were on the website covered a variety of spiritual and Christian topics. These topics included "Baptism with the Holy Spirit", "Effecting calling", "The true and the false gospel", "False substitutes for the Holy Spirit", "Salvation belongs to the Lord", "A false spiritual awakening"; "The people God is looking for today";"The parable of the unjust judge"; "What is redemption?"; "God, the lover of people"; "Fear of the Lord in the New Testament and godliness"; "Salvation"; "Birth again"; "God-loving people"; "Who did Jesus die for?"; and, "Free Will - a Slave".
Movies that are Christian that were on the Viata Vesnica website included Flywheel, Tribulation Apocalypse III, The Last Sin Eater, Something, and Facing the Giants.
Poetry about the faith was listed under the Christian Resources section of the site. Also, spiritual devotionals are written and listed on the site. Any song lyrics that were shared by the pastor were on the site.
Their partners were "Bible Online" and "Crestin Total."
The Viata Vesnica website was on the internet until the end of May 2018.