Government visa applications can be a bureaucratic nightmare, with ambiguous forms and varied requirements depending on nationality and travel intentions. This bureaucracy has given rise to many travel agents offering visa services, with some focused mainly on tourist visas and others specializing in long-term emigration. Some of these services have proved invaluable to thousands of travelers while others are reportedly not worth the investment.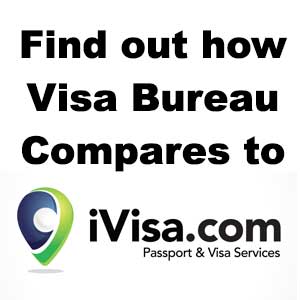 To help you find the right visa service for you, this article reviews iVisa, which serves the majority of nationalities and specializes in tourist visas, and Visa Bureau, which specializes in immigration assistance to the UK and Australia but also processes tourist visa applications for some other destinations.
Customer Service
Depending on the type of visa you need, visa applications can take anywhere between a day and several months to process, so you should expect five-star customer service at all times during the stressful waiting period. This is especially important if you're trying to emigrate, and Visa Bureau scores highly in this category thanks to professional, ongoing customer communication throughout the application process. On Facebook, Richard reviewed Visa Bureau with gratitude: "A huge thank you to Kimberley and Darren. We thought the boat had passed by as I am forty-five next month. We started the process at the end of July and obtained our PR 189 visas last week. The team at Visa Bureau was there for us during our ups and downs offering support and advice. For anybody thinking of using agents for emigrating [to Australia] I would highly recommend Visa Bureau."
Because it's usually easier to obtain tourist visas than long-term visas, many people don't leave lots of time before their trip to apply, which is why tourist visa services must respond to queries within minutes. According to most reviews on Trustpilot, iVisa never ignores questions and replies with useful and understandable guidance. John Williams said in his review: "I found iVisa to have been very easy to understand. They were prompt with obtaining our visa approval letters as well as answering any queries I had during this process."
Efficiency of Service
Due to the different nature of each company' primary purpose, it's difficult to compare them side by side regarding timeframes. Australian and UK immigration visas usually take several months to process whereas tourist visas take just a few hours in many cases. However, the reviews almost unanimously say that both iVisa and Visa Bureau make visa applications more efficient.
According to most testimonials, iVisa is one of the best companies to contact if you've left your tourist visa application until the last minute. William Carlson reviewed iVisa on Trustpilot, saying: "I tried to get an India E-Visa for two days on their [government] website. After having one problem after another I finally gave up. iVisa got the visa in less than 12 hours."
Price
A visa service's profits usually come from a service fee. It's up to you to decide whether simplicity, efficiency and a better chance of success are worth the investment, and that means companies need to make their prices transparent. However, it works slightly differently in Visa Bureau's situation because each all immigration application take different lengths of time to process, meaning costs will vary.
Even though Visa Bureau mostly arranges long-term visas, it also processes some of the same tourist visas as iVisa. However, it's difficult to find pricing details when using Visa Bureau, whereas iVisa clearly displays the service fee before you've entered any personal details. Nevertheless, most customers report that Visa Bureau is worth the investment.
iVisa's service fee is reasonable compared to most of its direct competitors, being as little as $20 for many countries. Thanks to full transparency on all visa types and competitive prices, iVisa is our winner of this category. Writing on Trustpilot, Chandra said: "Professional, courteous and expeditious, quite affordable."
Ease of Use
Needless to say, you want a visa service's application process to be simple, especially when you can avoid the service fee if you're willing to go through a tedious government application process instead. Of course, you will need to jump through a lot of hoops when applying for a long-term visa regardless of whether or not you hire an agency, but Visa Bureau makes every step of the process simpler and checks to ensure you've done everything right to prevent delays.
iVisa has developed an intuitive, easy-to-use website platform where you can fill out tourist visa application forms in as little as five minutes. Its website's design is clean and modern, navigating couldn't be simpler, and all the visa advice you need is displayed on the second page. It also scores especially highly in this category because if you ever get confused, a professional iVisa agent will provide immediate assistance and explain things in understandable terms.
Visa Bureau Summary
Visa Bureau's website looks a little outdated design-wise and prices aren't displayed clearly, but that's primarily because prices for long-term visas vary case by case. Those who have used Visa Bureau seem overall pleased with their experience, so we recommend contacting them if you need assistance with migrating to the UK or Australia. You'll be treated with respect, receive updates regularly and increase the chances of being accepted.
iVisa Summary
Contrasting iVisa's strengths and weakness isn't easy because it scores extremely highly in every category and has almost no negative reviews. iVisa always addresses queries and problems promptly, and the user experience is exceptional. If you need a tourist visa for any country, iVisa will make the process simple when it's possible and provide clear guidance on its website if it isn't.
How to Get Your Visa
Visa Bureau's target market is significantly smaller than iVisa's, and its 4.2 out of 5 rating on Facebook suggests it does its job extremely well. However, you should probably trust the 1,800 plus happy customers who've reported fantastic things about iVisa on Trustpilot if you need a tourist visa. To get your visa, head to iVisa.com and click the 'Visa Application' button on the menu, or you can enter your nationality and destination on the homepage to get started. After a few simple steps, your application will be ready for processing.