Planning a holiday can be stressful because you need to book flights and accommodation, purchase travel insurance and make travel plans, but obtaining a visa can be the most complicated planning aspect. Some countries allow certain nationalities to travel visa-free while others have stringent requirements that make visa applications a nightmare. Thankfully, many companies expedite the process to make things simpler and quicker for you, but it's important to find the right one for your needs.
VisaCentral, a subsidiary of CIBTvisas, and iVisa process and obtain visas on behalf of travelers, with iVisa focusing on tourist visas and VisaCentral offering a variety of visa services. This article compares and reviews each company to help you decide which to choose, and it will be particularly useful for those needing a tourist visa.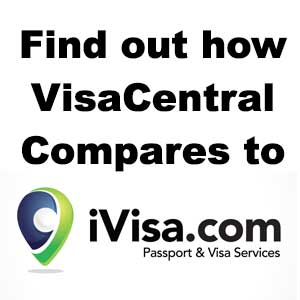 Frequently Asked Questions (FAQs)
How is the iVisas's customer service?
Visa services exist to make visa applications simpler, but if you find yourself confused at any point during the process, you need an agent to offer guidance quickly, especially if you're applying late. Plus, you expect to be treated with respect as you would any other company.
For VisaCentral there are patchy reports of excellent customer service depending on the employee. However, they don't score very highly in this category overall according to many reviews written on Yelp. Bharadwaj said: "I was told a supervisor would contact me. I never got a call but in the records, the supervisor had indicated that he spoke to me and things were resolved. Highly unprofessional."
iVisa, on the other hand, scores tremendously well in this category, with almost all reviews on Yelp and Trustpilot showing gratitude towards iVisa's customer service skills. Additionally, iVisa has a live chat window available 24/7 that you can use to ask questions. Oliver said on Trustpilot: "Used the service to get the visa to China, really worked well, very quick to get back to you with any problems, and if you have any queries their chat service works very well. Very good took a lot of the stress out of getting the visa. Will use again."
What about the efficiency of the service?
Many travelers use visa services to streamline the application process and increase the chances of success when they've left it until quite late to apply for their visa, so it's vital to choose a company that sticks to its promises regarding timeframes. Again, iVisa scores exceptionally high in this category while VisaCentral falls further behind.
iVisa consistently exceeds customer expectations by obtaining visas faster than anticipated. iVisa openly states the expected processing and delivery times of visas, but many customers say their visas arrived before the stated timeframe. Reviewing on Trustpilot, Gladys said: "It was the fastest application ever. The visa was approved in less than 24 hours. Thank you much for your help."
Unfortunately, many customers say that Visa Central's process is drawn-out, and some customers even reported missing their trip because of a delayed visa delivery. While most Visa Central customers get their visas in time for their journey, it's worth thinking carefully before choosing a company that occasionally misses the mark.
What about the prices?
Needless to say, you don't want to pay too much for a service that's not clearly superior to a cheaper alternative. iVisa is always upfront about its service fee, and there are no hidden costs, but unfortunately, the same can't be said for VisaCentral.
All it takes is a quick price comparison between VisaCentral and iVisa's service fee to find that iVisa's the most modest in almost every case. Plus, while VisaCentral clearly displays its service fee on the application page, some customers have reported being charged for items on their final bill that they never agreed to pay. In many cases, VisaCentral's service fee is significantly higher than the consulate fee, so you might want to compare it with iVisa to find out whether you could be paying less.
Is it easy to use?
Visa services exist to take the headache out of visa applications, meaning they need to have an easy-to-use, intuitive application process to make them worth their money. In this regard, both iVisa and VisaCentral score highly, but iVisa edges ahead for many reasons.
Both websites allow you to quickly enter your nationality and destination on the homepage to find the requirements and application form on the second, but things become more complicated going forward. VisaCentral confronts you with various document requirements and convoluted information, but iVisa only asks for a few personal details and supporting documents if required. Additionally, you can use the chat window to speak to an agent in real-time with iVisa, and many tourist visa applications take as little as five minutes to complete.
VisaCentral Summary
VisaCentral has received mixed reviews from previous customers. Although there are certainly some success stories, we'd recommend at least comparing with other visa services prior to committing due to a lack of pricing transparency, occasionally missed deadlines, and hit-and-miss customer service skills. The chances are VisaCentral will get your visa on time, but you could end up paying more than necessary for the same visa from a different agency.
iVisa Summary
There are very few negative things to say about iVisa because they score highly in every category. The few negative reviews we've found relate to issues that weren't iVisa's fault, and with a 9.5 'Excellent' rating from over 1,800 reviews on Trustpilot, you can see that negative reviews are few and far between. Thanks to its consistently fantastic reviews, undeniably attractive and intuitive platform, and transparent prices, we'd highly recommend using iVisa.com for all your tourist visa needs.
How to get your visa?
Thousands of customers highly recommend using iVisa, and as you can see from our detailed review and comparison above, we'd say the same. iVisa serves a wide variety of nationalities and streamlines the visa application process for a range of countries, and you can always check the visa requirements in rare cases when iVisa can't help. To apply for your visa with iVisa, head to iVisa.com and enter your nationality and destination on the homepage. You'll instantly see the total cost and visa requirements before deciding to go ahead, and it only takes a matter of minutes to complete your application form.