Planning an international trip is no small undertaking. Not only do you have to book a ticket, find accommodation, and figure out how to get around a completely new environment, ever-shifting travel regulations and visa requirements can turn planning even the simplest vacation into a major headache.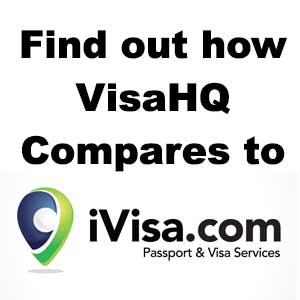 Regardless of whether you are travelling internationally for work or pleasure, hiring a visa service company to make sure your travel documents are in order is a smart move. Hiring a third party to take care of your international travel visa not only saves you the hassle of figuring out complex travel regulations, but it can also help avoid costly travel delays that result from incorrectly filling out complicated visa applications. Whether you're a first time traveller or a frequent jet setter, knowing the name of a trusted visa service company can be a lifesaver, both before and during your trip.
Unfortunately, not all visa service companies are created equal. Many companies charge exorbitant fees for processing paperwork relative to the value they provide in return. Here we illustrate our case by comparing what you might expect from a highly-rated provider such as iVisa with a competing service such as VisaHQ.
Customer Service
Time is money: Nobody wants to take time off work to stand in long lines at the consulate dealing with impatient clerks. You don't want to hire a visa service and then waste almost as much time making phone calls trying to track down what happened to your application!
Both iVisa and VisaHQ offer the ability to reach customer support through online chat as well as e-mail and phone. This makes it easy to follow up on your application during the busy workday. While iVisa claims that its specialists are available 24-7, VisaHQ's US support currently has limited, time-zone specific hours. Getting quick answers about the status of your application when you need them can be a game changer in the hectic days leading up to an international trip. iVisa's 24-7 customer service is particularly helpful if you want to make changes to your itinerary after you are already travelling.
In general, users of iVisa report higher satisfaction with the tone and efficiency of customer support agents as compared to VisaHQ users. Although VisaHQ users were generally satisfied as well, some users reported in public reviews that they were not informed of missing documents and other necessary information in a timely or respectful manner.
Our VisaHQ review also looked at how issues raised on public review sites were handled by company representatives. We found that VisaHQ representatives tended to only respond to positive reviews, with a few defensive responses to select negative reviews. While we did not find any deeply negative reviews about VisaHQ (e.g., cases in which the customer had to cancel or postpone their trip), VisaHQ representatives respectfully replied to even mild complaints to ensure that the customer was satisfied with the resolution of their enquiry.
User Friendliness and Range of Service
Both iVisa and VisaHQ allow users to manage their applications online. Both companies have streamlined websites that provide cost estimates and allow the user to begin their application by filling out a simple form. Both companies allow users to save information online for future applications, which is a major benefit for frequent travelers! Users on both platforms are also provided with application status updates and, as mentioned before, have access to an online chat feature. The website for VisaHQ provides general information about visa requirements for almost every country, making it a handy reference if you are still planning your trip and not sure which countries you would like to visit. In addition to visas, VisaHQ also processes US Passports for a fee.
iVisa's website on the other hand provides a more limited range of services. This can make it faster to navigate if you already know what visa you need.
Efficiency of Service
While many users express satisfaction with VisaHQ's services, there are also a number of complaints, ranging from difficulty reaching customer service agents to users not being informed in a timely manner about missing documents, which in some cases resulted in people having to reschedule their trips. Most concerning among the complaints, though, are two reports of identification documents being lost and never returned.
Even a few reports of customers missing their trips throws up a huge red flag for a visa processing company! The primary reason for using a visa processing service is to save time and ensure that your documents will be returned correctly and on time.
In contrast, our review of VisaHQ only revealed a few reports of minor issues that were resolved before the visa was issued and did not result in anyone having to change their travel plans.
Cost
While the cost of using a visa service is always more than going directly to a consulate, the time the customer saves reviewing requirements, ensuring that their application is complete, travelling to the consulate, and waiting in line, is often more than worth the service fee visa processing companies charge. Both iVisa and VisaHQ do an excellent job providing clear and transparent cost estimates on their websites. We did not find any reports of users encountering unexpected or hidden costs.
While a full comparison of the cost of every possible visa available from the two services is outside the scope of this review, a quick check of comparable visas found significant savings when using iVisa as a US Citizen.
Based on our review of the services provided by VisaHQ and iVisa, we feel that iVisa offers better or similar service in almost all respects. When entrusting your important documents to a visa processing service before a big trip, it is of utmost importance that you can depend on that service to complete your visa application in a timely manner. While many travelers have successfully used VisaHQ, our review suggests that these customers may have paid more for a less reliable service. Are you planning an international trip soon? Head over to iVisa.com to see if a visa processing service is right for you.