Obtaining a visa to enter China is notoriously difficult because of China's stringent requirements. All US citizens must obtain a visa before traveling to China, but the process can take several weeks, and while most applications are approved, there's no guarantee of success. This has given birth to many travel agents offering an expedited China visa service, but with so many companies for US citizens to compare, it can be difficult to make the right choice.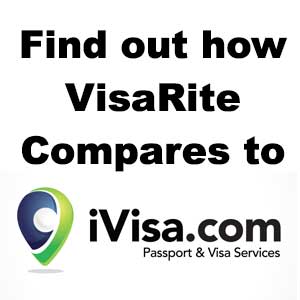 To help you find the right China visa expediting service for your needs, this article reviews and compares iVisa, a company that can obtain group China visas with ease for many nationalities, and VisaRite, an agency that specializes in securing a broad range of China visas specifically for US passport holders.
Customer Service
Visa services exist to make a nightmarish application process much simpler, and that means it's integral that they provide exceptional customer service. There can be all kinds of confusion with filling out forms and gathering the required additional documents, and travel agents need to respond to any and all queries quickly and professionally.
Both iVisa and VisaRite get five stars in this category because previous customers report a professional and prompt service. Speaking about VisaRite on Yelp, Bloss Said: "Loved using this visa service! I wish they all were as courteous as VisaRite. Everyone I spoke to was helpful and nice."
Similarly, iVisa has received outstanding reviews regarding its customer service offering, with many customers saying the staff are friendly and reply to queries within minutes, which is just what you need from a visa service. Reporting on Trustpilot, John said: "I found iVisa to have been very easy to understand. They were prompt with obtaining our visa approval letters as well as answering any queries I had during this process."
Efficiency of Service
Regarding customer service, both iVisa and VisaRite are at an equal standing according to the reviews, but iVisa pulls slightly ahead in this category thanks to currently being the only visa expediting service that can obtain a China visa for US citizens without visiting a consulate or posting any documents. However, this is only possible for travelers in groups of two or more who plan to enter and exit China at the same time.
VisaRite also assists with group tourist visa applications, though its website states travelers must be in groups of five or more people, all of whom must send their passport, completed application form and supporting documents to VisaRite's address. VisaRite's process takes between 10 and 14 working days to complete whereas iVisa's service takes under five business days.
However, we should note that iVisa is only capable of obtaining group visas, and given VisaRite's sterling reputation, you might want to contact its professionals for all other types of China visa, whether you intend to study, work or travel alone in China.
Price
This is another category in which iVisa steals a win because it's reasonably priced when compared to its direct competitors and much more modestly priced for the group visa than VisaRite. There has also been mention of high prices and hidden charges with VisaRite, though customers who reported this were overall very pleased with the service.
Jonathon reviewed VisaRite on Yelp, saying: "Now, the only negative thing I have to say about this place is the price. It is very expensive. After I had all my paper work and passport FedEx to them and had all of the processing done, it ran me about $315. I did, in fact, pay for rush service which was great, but I think everyone understands, price is price."
With iVisa, you can get your group China visa for $170 per person, which includes the consulate fee and iVisa's service fee. Plus, you don't need to factor in the cost of postage and packaging because you don't need to send any documents – including your passport – to iVisa to get your visa. Speaking on Trustpilot, Chandra summarized: "Professional, courteous and expeditious, quite affordable."
Ease of Use
If a visa expediting company's application platform isn't intuitive and easy to use, it's not worth investing in its services. Travelers turn to companies like iVisa and VisaRite to make a notoriously bureaucratic visa process much simpler, and though both companies have received positive reviews, iVisa again edges ahead in this category, mainly because you don't need to post any documents to get the China group visa.
However, that's not to say that VisaRite isn't good at what it does; its customers say it makes filling out the application forms clearer regardless of which type of visa you need, though, in our opinion, iVisa's website looks sharper and is easier to navigate than VisaRite's.
VisaRite Summary
VisaRite is a reputable service with close ties to the US Department of State and the Chinese consulate, which means you're almost guaranteed success for any visa as long as you meet the requirements. If you need a visa to work, study or travel alone in China, we highly recommend this company. However, if you're traveling as a group of two or more, you might be better applying for a visa at iVisa.com.
iVisa Summary
iVisa ticks all the boxes for 99 percent of its customers, and it's currently the only company that obtains China group tourist visas without consulate visits and posting documents. It's worth noting that the group visa only grants a 15-day stay, and you'll have to enter and exit China together regardless of the size of your group. However, this is by far the easiest way to visit China, so we recommend visiting iVisa.com if a couple of weeks in China is just what you need.
How to Get Your Visa
If you need a different visa to the group visa, you should visit visarite.com and follow the on-screen instructions. If you're traveling as a group, you can head to iVisa.com and fill out the simple application form by first entering your nationality and destination. You can obtain your China group tourist visa in as little as five working days, and we're sure you'll agree the $30 service fee is more than reasonable.