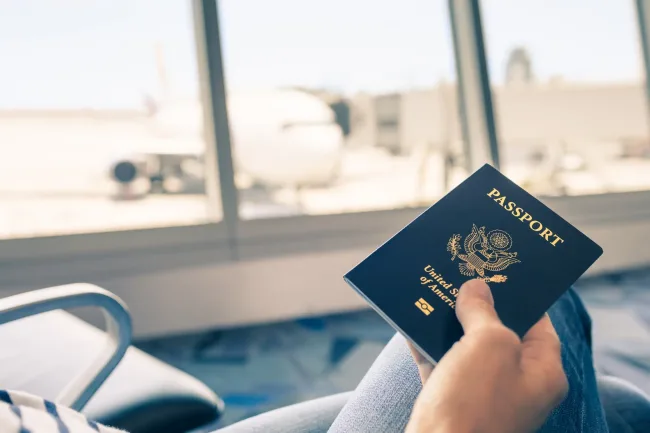 Applying for a visa can be daunting and time-consuming, but the internet and innovation have made traveling abroad much more accessible. Many countries now offer eVisas for travelers, literally an 'electronic visa' to make the application quicker, easier, and more affordable.
This type of visa is often making it unnecessary to get a physical stamp or label in your passport. The entire visa application process is online, which makes complete sense in our connected world.
Keep reading to find out what eVisas are, the benefits, and how they differ from other visa types.
What is an eVisa?
An eVisa is an electronic version of a traditional visa that allows travelers to enter a foreign country for a holiday, business trip, or other purposes. Sometimes an eVisa is spelled as an e-Visa or an e Visa, but they are usually the same category.
The biggest benefits of eVisas is that the traveler doesn't have to visit an embassy or consulate to get their travel document anymore.
For example, these countries have already successfully granted an eVisa system:
You can obtain an eVisa 100% online by entering your personal and travel details, paying the visa fees with a credit or debit card, and uploading the necessary documents.
This process makes it much easier for people to get their visa from the comfort of their homes, but also for the local authorities, which have an optimized system to access travelers' information.
eVisas are issued by the country's immigration authorities and are stored electronically, linked to the traveler's passport.
The differences between an eVisa and other visa types
The eVisa is one of the easiest travel documents to apply for since the process is 100% online. It is usually offered for a business or tourist visa, mostly short-term trips. The main differences between an eVisa and other popular types of visas are:
ETA
The eVisa process is similar to that of an ETA. However, technically, an ETA is an Electronic Travel Authorization, while the eVisa is a visa linked electronically to your passport. Often, countries offer an eVisa for some nationalities and an ETA for visa-exempt travelers.
Visa on arrival
While you can apply for an eVisa before you travel to the destination, you get the Visa on Arrival as soon as you arrive.
The eVisa advantage is that you already have all documents and don't have the risk of a denied visa at the airport (or having to wait in long queues). Sometimes a Visa on Arrival is free, but not always.
Paper visa
The regular visa typically requires visiting the embassy and, sometimes, a visa interview. It is way more bureaucratic than an eVisa, which you can apply for from home with a few clicks. Also, a paper visa used to take longer to process than an eVisa.
Guided visa applications
Sometimes, applying for a paper visa is the only option. Count on iVisa guided applications to simplify the process. This exclusive service helps you to apply for regular visas with:
A simplified application form.

Step-by-step manual in PDF format to guide you through the process.

Tips to help yu prepare for an interview, if applicable.

A complete list of documents you need in order to apply.

Full review by an iVisa Expert and 24/7 contact possibilities in case of questions.
The US B1/B2 visa, Australia Visitor Visa, Japan Visa, United Kingdom Visitor Visa, and the France Schengen Visa are some of the travel documents you can get with this expert guidance!
Click here to learn more about the different types of visas.
What are the benefits of applying for an electronic visa?
Saves time: Don't waste time visiting an embassy or standing in long lines to get a visa on arrival. Travelers can get an eVisa from anywhere in the world with an internet connection, eliminating the need for physical visits to the embassy or consulate. Additionally, it offers faster processing times than regular visas.

Easy application form: Forget the long government forms with confusing questions. By applying for an eVisa with iVisa you get a simple and concise form with clearer questions. Additionally, you can choose to apply on the website or download the iVisa app. Both options allow you to save your information and take a break anytime to continue later.

Cost-efficient: eVisas are more cost-efficient than traditional visas because they eliminate the need for additional expenses, such as travel and accommodation costs associated with physical visits to embassies or consulates.

Fewer visa requirements: eVisas usually have just a few requirements, unlike traditional visas. You can apply for most electronic visas by providing a passport scan and some personal and travel details. Need some extra confidence? Everything gets better when you have the iVisa experts to review your visa application, reducing the risk of rejection. Our customer service team is also available to help you with any questions during the process.
How to apply for an eVisa
The eVisa application process takes around 10 minutes to complete online. Simple follow these three steps to apply for eVisas on iVisa:
Step 1: Complete the form on the iVisa application page. You must provide your passport number, personal details, and travel information.

Step 2: Verify that your provided information is correct to avoid mistakes and rejected visas. Choose the processing option that best suits your needs. Then, pay the visa fee using a debit or credit card.

Step 3: Upload any additional required documents, such as a copy of your passport. Click 'Submit' and wait for the document to arrive in your email!
Once you complete all three steps, sit back and plan your trip without hassle! Once you receive the eVisa, we recommend printing the confirmation and carrying an electronic copy to show to immigration officers on arrival.
Use the iVisa Visa Checker Tool to check if your next destination offers an eVisa option!
Who can I speak to if I have more questions?
Travel documents may seem confusing, but iVisa is here to simplify travel! We offer easy visa applications, and you can count on us to help you to explore the world.
Contact our customer service team if you want to know more eVisas or have any queries about visa applications. Our iVisa experts are always happy to help and are available 24/7.