Please note: All Zambia COVID-19 testing requirements have been lifted. Also, the Zambia Health Declaration is no longer required.
COVID-19 has pushed many countries to close frontiers to stop the spread of the pandemic. However, some countries are taking some specific procedures to still allow travelers into their territories. This is the case of Zambia, in which visitors just need to fill out a Health Declaration and follow a measure for a 14-day quarantine requirement. Keep on reading to find out more about this.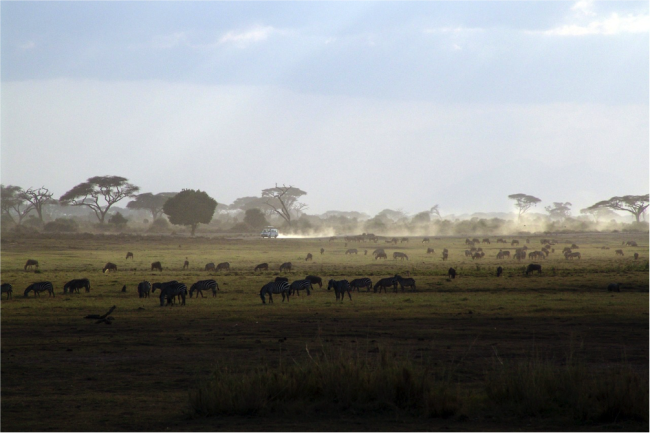 Any traveler who wants to enter Zambia needs to present the Zambia Health Declaration. This document will allow you a smooth entrance to the country. It is very important that you follow this requirement, failure to do so could be grounds to deny your entry.
Do you want to have all set without going through so much trouble? You can apply online with iVisa.com, you will have everything ready just a few minutes away. Check our FAQs and keep on exploring how to get your Health Declaration.
Frequently Asked Questions (FAQs) about Zambia Health Declaration
Why do I need a Health Declaration to enter Zambia?
Zambia's government is requiring a Health Declaration to all travelers with an intention to visit the country. As a result of COVID-19 spread, authorities are requiring this specific document to assure visitors' health conditions so they don't pose a threat to the Zambian population.
NOTE: There are no mandatory quarantine requirements for travelers to Zambia.
Do I need a COVID vaccine or vaccination certificate to enter Zambia?
No, you don't. As of today, COVID vaccination passports or certificates are not mandatory to enter Zambia. Since information may change quickly, we advise you to follow up on the latest Zambia travel updates and/or contact your local embassy.
Do I need to take a COVID-19 test to enter Zambia?
COVID test prior to arrival: PCR within 72 hours

COVID test exemptions: Children under 5 and fully vaccinated travelers.
Is it mandatory to quarantine on arrival to Zambia?
Quarantine requirements: There are no quarantine requirements in Zambia.
Is it easy to get the Health Declaration?
Yes! You are able to choose iVisa.com to follow through the process, we have a fast method in which you just need to provide us with basic information and you are set to go.
Don't lose more time! Apply now for your Health Declaration with iVisa.com.
What documents do I need to provide?
For your online application in order to obtain the Zambia 14 day requirement, you just need:
Passport Scan: send a scan of your passport where we can see your personal data and photo.
Email address: make sure your email address is valid, as we will send all the information just by email.
Payment options: we offer you different payment options, either you want to use a credit/debit card or if it is easier, we also work with Paypal. Remember that we charge you a small fee for this service, just to make this process the smoothest possible.
What about prices and processing times for the Zambia Health Declaration?
We are completely aware of how important is to keep a budget for your travels and we want to make sure this process fits your needs in this sense. iVisa.com does not just offer you one option to get the Health Declaration, but three!
Check them out:
Standard Processing Time: you will have your document in less time and it will cost you less money.
Rush Processing Time: we will work on your application in a shorter time for a higher price.
Super Processing Procedure Time: the fastest way to get your declaration in no time at an higher price.
We know you want your Health Declaration, go for it now!
What steps do I need to follow to get my Zambia Health Declaration?
You just need 3 steps to get your Health Declaration. We know time is your biggest concern so the process with iVisa.com only takes you 15 minutes to complete our form.
Complete the online application form using your personal information and picking a processing time.
Review all the information completed in step 1 and make sure there are no mistakes. Now you are ready to proceed payment.
Upload the scanned copy of your passport and any other document if required and you are ready to submit your application. That's all you need to do!
You should receive an email confirming the reception of your application so you are aware we have begun checking on your requirement.
Do you need some extra help? Just contact our iVisa.com's customer service and we gladly take you to step by step in your application.
What exactly will get to my email?
We will send you a QR code to your email. When you are entering Zambia, have the QR code in hand, precisely on your phone so you show it once requested by officials at the airport. Remember to have all your required documentation with you (visas if this is the case) and the QR code of your Zambia Health Declaration.
At your arrival, your QR code will go through an electronic device, this will allow the officers to check on your information. Once this is all clear, you will enter Zambia.
If I am coming with minors, do they also need the Zambia Health Declaration?
Yes! nobody is exempt from getting the Health Declaration, not even minors. Keep in mind that children will need to get their own Health Declaration, so prepare to go through the process for them. This document is an assurance that everybody entering Zambia has detailed their health condition and will allow the Zambia government to have better control of the COVID-19 pandemic. Children are not excluded from this document.
I made a mistake in the application, what can I do to fix it?
You need to contact our customer service team immediately so they are able to support you with this matter. In case your application was already processed, you will need to fill out your information again but we will not charge you the extra service tax.
How safe is to apply through iVisa.com to get my Zambia Health Declaration?
iVisa.com is a specialized company in all these procedures. We have numerous comments on the success of our processes and we make sure you get what you need. Although we do not work directly with the Zambian Government, we have all the authorizations necessary to make this type of application.
I want to have more information, where can I get my questions solved?
We are very happy to help you every step of the way, so do not doubt to contact us so you can receive as much information you need.
Do not miss the opportunity to get your Health Declaration now! Apply here.