Canadian travelers are no longer required to go to the Zambian embassy in Canada to obtain their visas. If you are a Canadian, you now have the possibility to apply for a Zambia e-Visa using the online services provided by iVisa. You no longer need to stay in line at the embassy, the process is highly efficient, and you do not even have to get out of the house.
Here we'll answer some of the doubts you might have about this visa.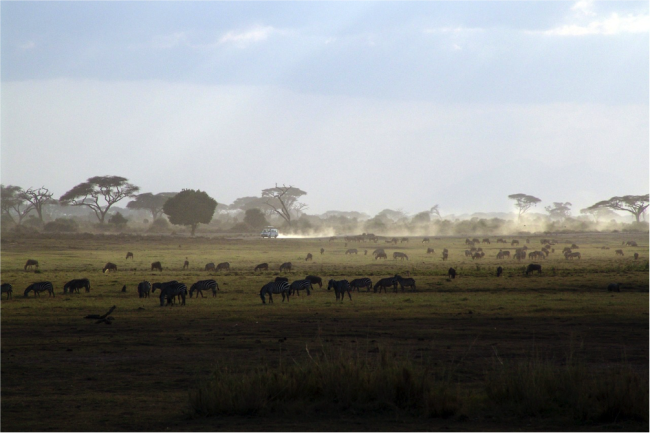 Frequently Asked Questions
I'm Canadian, do I need a visa to enter Zambia?
You're one of the nationalities that requires a Visa if you visit Zambia. So yes, you need a visa.
What is a Zambia visa?
It's a well-known official document made to give you permission to enter and visit Zambia, as long as it's only for tourism.
How long can visitors with Canadian passport stay in Zambia?
While you have your Zambian e-Visa, you can stay for 90 days in Total.
What documents are required to apply for a Zambia visa if I'm Canadian?
iVisa provides the easiest way to obtain your visa, which means you do not need much to get started. There is a small list of documents you are required to have, and they are as follows:
Applicant Photo

Passport Personal Details Scan

Last Page of Passport (if applicable)

Airline Confirmation

Cover Letter

Invitation Letter (if applicable)

Business Registration of Inviting Company (if applicable)

Cover Letter from employer/school (if applicable)

Host's ID (if applicable)

Proof of Accommodation (if applicable)
Is there a limit time for a Zambia visa?
This e-Visa can be used only 90 days after issued. If you decide to use it later, it won't be valid.
What are the fees and times for a Zambia visa?
As for the timeline in which your Zambia e-Visa will come, you have three choices:
The Standard processing time guarantees that your e-Visa will be ready within 3 Business Days. It is the cheapest option, and the most commonly used. It costs USD 55.00.

The second option is Rush processing time. This one means that you will receive your e-Visa in 2 Business Days, but it costs USD 99.00.

Last but not least, the Super Rush processing time requires a bit more cash, USD 112.00 to be precise, but your application will be processed in just 1 Business Day.
Aside from the fee that you must pay to iVisa, you will also pay for the visa that will be given to you by the immigration office in Zambia. The price depends on the country of origin and you can check more about it here.
How long does it take to apply for a Zambia visa?
If you decide to apply for this visa online, it'll take you less than 20 minutes.
How is the Zambia visa application?
Getting all the documents is simple, and the application is no different. It is quite effortless, and if you find yourself in need of assistance, iVisa provides a 24/7 support service that is ready to take your call and talk you through the process.
As a result of applying for a Zambia e-Visa, you will receive an approval letter, which will allow you to fly to Zambia on one of the three listed airports:
Kenneth Kaunda International Airport in Lusaka
Harry Mwaanga Nkumbula International Airport in Livingstone
Simon Mwansa Kapwepwe International Airport in Ndola.
Once you get there, the immigration office will hand you the visa itself.
As a note to yourself, remember that the application form consists of three steps:
At first, you need to fill in your basic information like name, passport info, address, and more. You are also required to choose the processing time.
The second step will ask you to revise what you filled in and make the payment. You can do that using a credit or a debit card. If you have a Paypal account, you should know that iVisa accepts that as well.
The last step will ask you to upload additional documents. Once you get that done, you can submit your application. Your Zambia evisa will arrive via email in the timeframe you selected.
How many times can I enter Zambia with my e-Visa?
You obtain a Single Entry visa. You can enter just once.
Do I have to visit Zambia on the exact date specified in my application?
No, it's not necessary because of the number of days available once you issue your visa. Just remember that failure to enter within this period renders your e-Visa invalid, and thus you will have to apply again.
How does this e-Visa look like?
How will I know if my e-Visa is approved?
As soon as the Zambia Government approves your form, we will send you your e-Visa via e-mail, so you should be patient in that part. That's why is so important to provide a valid e-mail address
WHAT CONDITIONS MUST MY PASSPORT HAVE FOR THE ZAMBIA E-VISA?
The only condition required is that your passport has at least 6-months validity from the time of entry into Zambia and at least one blank page.
DO I NEED TO PRESENT MY E-VISA UPON ENTRY?
You don't need to do that since immigration officers will verify your e-Visa approval in their systems. But keep in mind that's recommended you always carry your printed e-Visa in case of any emergency.
IS IT TOTALLY SAFE TO GET MY ZAMBIA VISA WITH IVISA?
We can guarantee you that it is. We work with a professional team that has provided official visas for at least 6 years and counting. It's true that some people tend to believe that online information can easily leak and put them in danger, but that's far from reality with our services. We offer maximum safety for your personal data.
I STILL HAVE MORE UNRESOLVED QUESTIONS, WHERE CAN I FIND MORE INFORMATION ABOUT IT? More questions to answer? Don't worry, in that case, you can start chatting with one of our talented customer service representatives who'll be glad to assist you.
As a second resource, you can click here if you want to stay updated about the Zambian visa for Canadian citizens.
Start your application here and enjoy this exotic and magical African country known as the home for thousands of wild animals.
It is easy to see that iVisa simplifies the process by a lot, and it can save you a lot of trouble. Applying for a visa from the comfort of your own home is something highly appreciated, which is why thousands of travelers use iVisa.