Zambia is a stunning country with many things to offer. The natural parks and wildlife reserves are reasons enough to convince you to take a trip, and if that is not your cup of tea, then the possibility of participating in all sorts of water sports will undoubtedly prove to make your trip worth your while.
Fortunately for you, iVisa came into existence a few years ago. The company's primary activity is expediting the process of obtaining an eVisa. Together with the Zambian Government, the company has put together a very simple process, entirely online, that can help you get your Zambia eVisa in only 1 Business Day.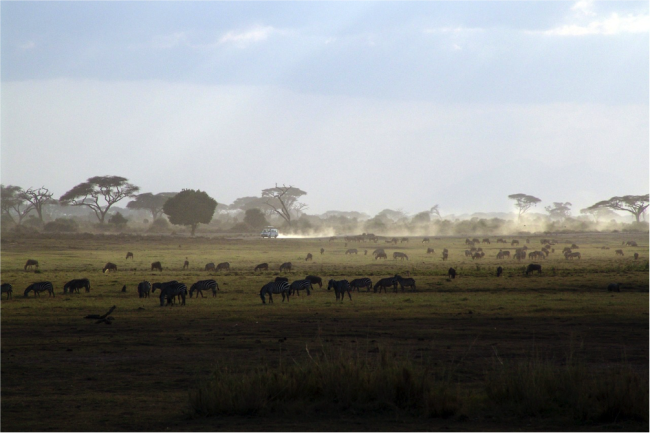 Frequently Asked Questions (FAQs)
Do I need a visa to visit Zambia?
It will depend on your nationality. To check if you are eligible for the Zambia eVisa that we offer, you can use our Visa Checker, just introduce your country of origin and choose Zambia as your destination.
What is the Zambia eVisa?
An eVisa is an official document permitting entry into and travel within Zambia. It is an alternative to visas issued at Zambia missions and at the ports of entry. Upon arrival at the Port of entry, you are expected to present your passport and your visa approval letter.
How long can I stay in Zambia with an eVisa?
Visitors with an eVisa can enter Zambia for a maximum of 90 days in Total with a Single Entry.
What do I need to apply for a Zambia eVisa?
Depending on your nationality and the purpose of the visit there may be additional requirements, but the essential requirements we need you to provide us are:
Applicant Photo

Passport Personal Details Scan

Last Page of Passport (if applicable)

Airline Confirmation

Cover Letter

Invitation Letter (if applicable)

Business Registration of Inviting Company (if applicable)

Cover Letter from employer/school (if applicable)

Host's ID (if applicable)

Proof of Accommodation (if applicable)
How long is Zambia eVisa valid?
This eVisa has a validity of 90 days after issued.
What are the processing times and prices?
iVisa offers three alternatives for its applicants:
Standard processing – your visa application is processed within 3 Business Days, and the price is USD 55.00 (service fees included).

Rush processing – you will receive your visa within 2 Business Days, and the total price of it is USD 99.00 (service fees included).

Super rush processing – this is the fastest option. You will get your eVisa in only 1 Business Day, and you will be charged USD 112.00 (service fees included).
Click here to start your application.
How can I apply for Zambia eVisa?
The application for a Zambia eVisa should take you less than 10 minutes to fill in by following these three easy steps:
The first step will ask you to fill in your general information. You also need to choose the processing time from the options mentioned above.

The second step will ask you to revise step one and make the payment.

The last step consists of a questionnaire. It is at this point when you need to upload your passport scan. Other documents may be required as well, but it depends on personal circumstances.
Click here to start. After you are done, you submit your form and wait for your visa to arrive. In case you need assistance to fill your application, iVisa has a fantastic support service that you can call 24/7.
How does a Zambia eVisa look like ?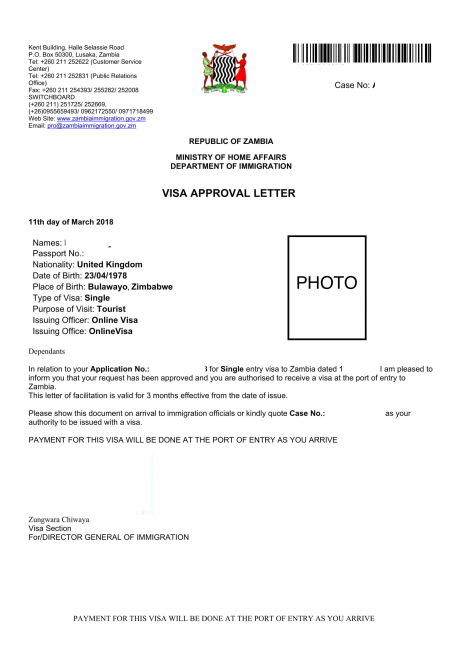 How can I apply for my family or friends?
Just apply here introducing his or her data and with his or her documentation required. In case you need to apply for more than one person, you can do so by clicking on 'Add new applicant' in the application form and completing the data required.
What can I do if I make a mistake in my application?
Mistakes are always possible. If this is your case, then please contact our customer service representatives as soon as possible to assist you.
Your eVisa is linked to your passport number, if we already submitted your application, then you can NOT make any changes and you will have to apply again but we will NOT charge you another service fee.
Is it safe to use iVisa to get my Zambia eVisa?
iVisa provides maximum safety for your personal data, confidentiality, and we invest a lot in the security of our database. Your personal information could not be safer. You can check the testimonials of hundreds of happy customers here.
I have more unresolved questions, where can I find more info?
For a faster resolution click here and start chatting with one of our customer service representatives. Alternatively, you can find more info and FAQs here.