Zimbabwe is a land of wonder in Southern Africa. Long rivers snaking across lush plains, towering mountains, and impressive wildlife, including the big five - leopard, lion, rhino, elephant, and buffalo, await you! But before you go, make sure to prepare for your trip by checking all the travel requirements.
Read below about everything you need to know to travel to Zimbabwe, including the Zimbabwe Customs Declaration, and get ready to have the trip of a lifetime.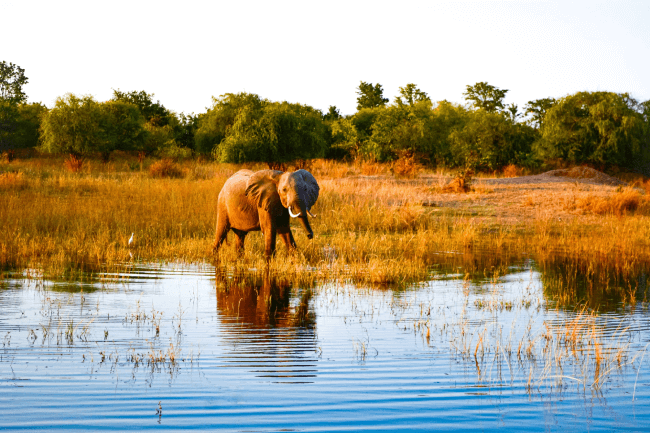 What do I need to travel to Zimbabwe?
Depending on your nationality, you might need a Zimbabwe visa to enter the country for tourism. Check if you need a visa and how to apply at your nearest Zimbabwe embassy or consulate.
Besides the visa, which is mandatory only for some international visitors, all incoming national and foreign travelers must fill out a Zimbabwe Customs Declaration. On this form, you must indicate whether you are bringing gifts, merchandise, or alcoholic beverages into the country. The document must be presented to the local authorities upon arrival.
Step-by-step guide to fill out the Zimbabwe Customs Declaration online
The good news is that you can now obtain this document entirely online. This will give you a stress-free trip, knowing that you have prepared all the necessary documents before departure.
To process your Zimbabwe Customs Declaration correctly, you will need to complete these three steps:
First, fill out our simplified online application form with your personal information, details of your trip, and any goods you're bringing to Zimbabwe.

Second, ensure all the information entered is correct, and choose how fast you would like to receive your Zimbabwe Customs Declaration.

Lastly, upload any supporting documents, if needed, and pay the fee for your travel document.
After you've submitted your application, one of our travel experts will carefully review it to ensure that it's error-free. Afterward, your declaration is processed and sent to you via email. It is recommended that you print the document to present it upon arrival.
How much does it cost to get a Zimbabwe Customs Declaration?
When you use the services of iVisa, you can choose from three different processing times and fees. Select the option that best suits your needs and budget.
Standard Processing Time: USD $33.49 - 24 hours
Rush Processing Time: USD $58.99 - 8 hours
Super Rush Processing Time: USD $94.99 - 4 hours
What are the requirements for the Zimbabwe Customs Declaration?
You don't need any additional documents to apply for your customs declaration. However, you have to provide some specific information related to your luggage, such as the amount of alcohol, gifts, and more.
Please note: Remember that depending on your nationality, you might need to apply for a visa, in addition to your customs declaration. Check with the nearest consulate or embassy for more information.
Zimbabwe travel recommendations
Traveling to Zimbabwe can be a fantastic experience, but as with any other country, you might need to consider a few things before you go.
Local laws, culture, and traditions in Zimbabwe
Here are a few things that can be good to know to have a fun and rich travel experience in Zimbabwe.
Bring cash: After the collapse of the Zimbabwe dollar, the country started using US dollars as their local currency, but credit cards are not widely accepted, and ATMs frequently run out of cash. We recommend you bring enough money to cover all your essential expenses during your trip.

Don't wear military-style clothes: Avoid wearing clothes with camouflage patterns, as the government forbids them.

Monitor local media: Many parts of Zimbabwe are safe to visit for tourists. However, it's always a good idea to stay up-to-date with local news before and during your trip.

Be mindful when taking photos: Zimbabweans are friendly, but they don't always want to be photographed, so make sure you ask for permission before doing so. Also, remember that photographing government buildings and military establishments is strictly prohibited.

Bring your international driving permit: If you're planning to drive around Zimbabwe, bring your driving permit and learn the local traffic laws. If driving during a blackout, be careful as traffic lights might not be operational.
Safety advice for Zimbabwe
Before and during your trip to Zimbabwe, we encourage you to follow some additional safety recommendations.
Get travel and health insurance: Although it's not mandatory, we highly recommend getting travel insurance before your trip. The medical facilities and services you need are easily accessible if you have health insurance. Make sure that your insurance covers overseas medical services, such medical evacuation, and medical treatment.

Be mindful of your belongings: Don't leave them unattended, and wear your backpack on the front side of your body when in crowded places. Petty crime is common in Zimbabwe, and you don't want to lose your travel documents during your trip. Always keep them in a safe spot at your accommodation or in your bag. If needed, check where the embassy of your home country is located to request an emergency travel document.

Mind what you eat and drink: Exercise caution when eating at local restaurants. Don't consume raw and undercooked food, and make sure to only drink bottled or disinfected water.

Check where the nearest police station is located: Ask the hotel receptionist or your host where you can find the local police station in case of an emergency.

Bring your prescription medicine: This might be a no-brainer, but many travelers forget to bring their medical supplies when traveling. If it's a medicine you might need, bring it, as some medicine may not be available in Zimbabwe.
Best places to visit in Zimbabwe
We've saved the best for last! Here's a list of the top places to visit in Zimbabwe.
Victoria Falls National Park - The most popular attraction in the country. The waterfalls are a must-see all year long, and you can even take a dip at the top of the falls on the [Zambia] side.

Great Zimbabwe - This mysterious ruined city shows us how African tribes lived here between the 11th and 15th centuries.

Matobo National Park - Considered Zimbabwe's spiritual home, this national park has some otherworldly structures consisting of massive granite rocks mysteriously stacked one on top of another.

Khami Ruins - An impressive archaeological site dating back to the years between 1450 and 1650 as the capital of the Torwa dynasty, a must-see for any traveler.

Gonarezhou National Park - Zimbabwe's second-largest park and the best location to admire the local wildlife.
More questions about traveling to Zimbabwe?
If you can't find the answer to your question about traveling to Zimbabwe on this page, feel free to contact us at any time. Our customer service team is available 24/7 via online chat or email at [email protected].