If you want to explore the wonders of Africa, Zimbabwe is a destination you can't miss. This country is home to one of the biggest tourist attractions in the world, the mighty Victoria Falls. In addition, it offers some of the best safari experiences in Southern Africa, friendly locals, and numerous thrilling activities.
Let's take a look at some of the answers to the most frequently asked questions by travelers about traveling to Zimbabwe, including travel advice, entry requirements, the Zimbabwe eVisa, customs forms, and more.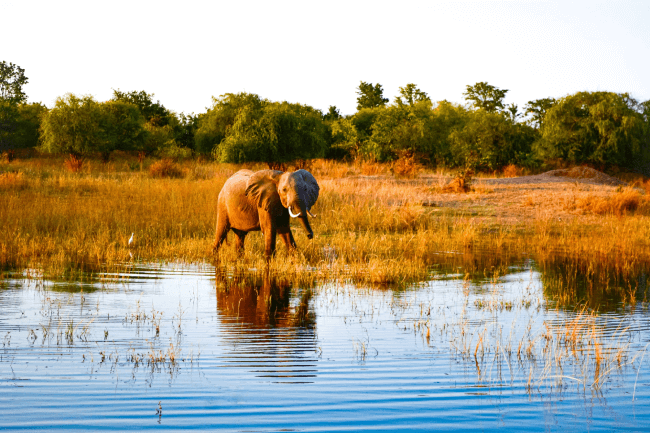 What types of visas are available for Zimbabwe?
Zimbabwe offers three different categories for international travelers, category A, B, and C.
Category A - Travelers from category A countries do not require a visa for Zimbabwe.

Category B - Travelers from category B countries are issued a Zimbabwe tourist visa on arrival.

Category C - Travelers from category C must apply for a visa prior to departure. You can apply online through iVisa.
Check if you're eligible for the eVisa with our handy Visa Checker tool and apply immediately.
What is the Zimbabwe eVisa?
The Zimbabwean government has recently implemented an electronic visa application system for international travel. You can now apply for your Zimbabwe Visa entirely online, and once approved, the document will be sent to you by email. Then, all you have to do is print the document and present it to local authorities upon entering the country.
This travel document is valid for a total of 90 days after issued. It is possible to choose between a single-entry or double-entry visa.
What are the requirements to apply for a tourist visa for Zimbabwe?
To submit your visa application online, you need to provide the following information and documents:
Passport with a minimum validity of 6 months from the date of arrival in Zimbabwe

Return flight ticket to your home country

Proof that you have sufficient funds to cover your trip

At least one blank page in your passport
How do I apply for a Zimbabwe travel visa online?
Applying for your Zimbabwe visa with iVisa is easy. Just follow these steps:
Step 1: Fill out your basic information, contact and travel details. Then, choose your preferred processing time.

Step 2: When you have finished completing the form, make sure that all the information you have entered is correct. Then, pay for the processing using a credit or debit card.

Step 3: Finally, upload the required documents and click 'Submit'.
An email confirmation will be sent to the address you provided once the application has been approved. The message may be in the SPAM folder if you can't find it in your inbox.
What is the Zimbabwe Customs Declaration form?
The Zimbabwe Customs Declaration Form is a mandatory travel document for all passengers arriving at the airport in Zimbabwe. This is not a substitute for a visa.
On the form, you'll need to provide information about goods and cash that you're bringing into the country. To facilitate faster border control, the Zimbabwe government implemented an online service to obtain and submit the document online before departure.
Besides the eVisa, iVisa can also help you process the Zimbabwe Customs Declaration. Simply go to the application page and follow the steps.
COVID-19 requirements or restrictions
Every traveler should be informed about the country's guidelines. Therefore, we have collected relevant information regarding the COVID-19 regulations and restrictions in Zimbabwe.
If you are not vaccinated, you need to present a negative PCR test performed within 48 hours prior to the start of your trip.

Children under five years of age are exempt from COVID-19 requirements.

There are currently no quarantine requirements in Zimbabwe.

It is not mandatory, but it is recommended to visit the country with travel insurance that covers overseas medical costs, immediate medical attention, medical services, medical treatment, and medical evacuation to your country in case of an emergency.
All of this information may change quickly, which is why we recommend to monitor local media and the government official health website to stay up-to-date.
Travel advice for Zimbabwe
Zimbabwe is a beautiful country, but a high degree of caution is advised. Here are some tips to make your trip stress-free and enjoyable.
The currency used in the country are the U.S. dollar, South African rand, pound sterling, and Botswana pula, among others. The previous currency, the Zimbabwe dollar, was abolished after years of hyperinflation.

To drive in the country, you need an international driving permit. Always follow local laws and keep your vehicle doors locked. Traffic lights and street lighting do not always work, so exercise caution whenever driving in a city or busy area.

Air Zimbabwe is the national airline.

In most places you can pay with your international bank card, however, it is also recommended to bring cash in case ATMs run out of money or you are traveling in remote locations.

It is prohibited to take photos of military establishments, security forces, and government buildings.

Exercise caution at local restaurants and never eat raw and undercooked food.

Wildlife viewing is at its peak between July and October in Zimbabwe. As the natural waterholes dry up, huge herds gather at lakes, rivers, and man-made waterholes. The rainy season starts just after that and runs from October to March.

Keep valuables and passports in a safe spot at your accommodation. Locate your nearest home embassy, in case your passport gets lost or stolen and you need to get an emergency travel document.
More questions about traveling to Zimbabwe?
For additional information about consular services, Zimbabwe travel documents, or iVisa, please contact our expert customer service team visa online chat or email us at [email protected]. We are available 24 hours a day, seven days a week, to answer any questions.