When you plan a vacation, you're already aware that you may have to go through a tedious process because most of the time you need certain travel requirements. You'll probably have to visit the embassy of the country you're planning to visit in order to get everything under control. However, that's no longer an issue with iVisa.com in the picture. iVisa.com is a company that helps tourists get their visas through an online process that will take you less than 10 minutes.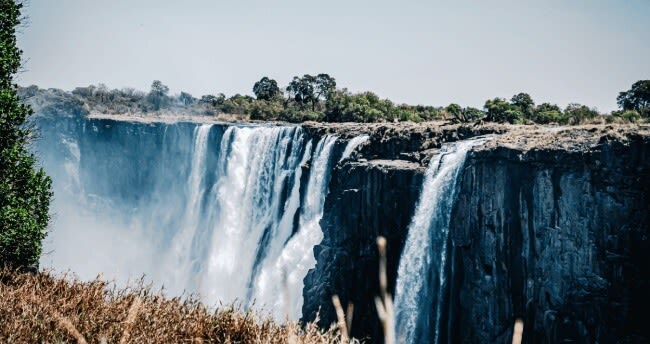 If you want to visit Zimbabwe you can enjoy this benefit. However, you need to see if you are eligible first. Unfortunately, not everyone can get a Zimbabwe eVisa, but if your country is one of the ones eligible, you will be able to apply online with us. Keep reading the questions below to learn more about the Zimbabwe visa cost and the application process.
Frequently Asked Questions
Am I eligible for a Zimbabwe eVisa?
Some citizens of African countries can apply for a Zimbabwe eVisa, but not all of them. Other countries that aren't from this continent have the same option, but since the list is not that long, we recommend you to use our Visa Checker. By using this tool you'll be able to verify your eligibility. You only have to select your nationality from the upper menu and leave 'Zimbabwe' as the country you want to visit.
What is a Zimbabwe eVisa?
The Zimbabwe eVisa allows foreign citizens to enter Zimbabwe. This document permits you to enter the country with an electronic link, eliminating the need to send your passport to an embassy.
This eVisa will be sent to you via email, and you simply have to print it and present it when you enter Zimbabwe.
With a Zimbabwe eVisa, you can enter the country for a maximum of 90 days in Total, and you can choose between a Single Entry or Double Entry visa. Don't forget that your visit to Zimbabwe must be only for tourism reasons with the eVisa.
What items do I need to apply for a Zimbabwe eVisa?
We only ask you to offer the following items to complete the application form:
Passport with at least 6 months validity.
Scanned copy of passport bio page.
Credit/debit card or PayPal account for payments.
A recent passport-size photo.
Previous Zimbabwe visas (if applicable).
Address in Zimbabwe (could be a letter from the host, hotel confirmation, etc.)
What is the Zimbabwe visa cost?
The price you'll have to pay for the Zimbabwe visa cost will depend on the processing time you choose while applying. iVisa.com provides three options to choose from:
Standard Processing Time: when you select this option, all you have to pay is the minimum service fee of USD 70.49 (total price). You have to wait 6 Business Days. If you don't have an urgency to travel and you plan ahead, this could be your option.

Rush Processing Time: this cuts the waiting time in half. You have to wait 4 Business Days for the eVisa, but as you may expect, it costs a little more. The total cost is USD 111.99.

Super Rush Processing Time: for this service, you have to wait for only 2 Business Days, but the fee is higher, the total price is USD 145.99.
Keep in mind that these prices are based on the Single Entry Zimbabwe eVisa and that they're calculated with the government's fee.
How can I apply for a Zimbabwe eVisa on iVisa.com?
All you have to do is to complete the following steps to get your eVisa on time and prepare your trip peacefully:
Firstly, you have to fill in the questionnaire you see on screen with basic details. After that, you'll have to choose the processing time from the options mentioned above.
Secondly, you'll have to revise step one before making the payment.
Lastly, you have to attach some items to the online form once you make sure that the information is correct. That would be all!
You wouldn't have to do anything else after that, just wait for your Zimbabwe eVisa, which will be delivered to you through an email. If you have issues while completing this form, contact our customer service center here.
Since all you need to do is to fill our application form, it will take you less than 10 minutes. Then, we handle the rest and you will receive your Zimbabwe eVisa safely.
What should I do after I apply?
Once the application is done, you'll obtain the Zimbabwe eVisa by email. You don't need to do anything else after that, so you can avoid a trip to the embassy. Once you get the eVisa, present a printed version along with your passport once you enter the country.
Should I apply for my kids?
Yes, you should apply for them as well. Remember that all foreign citizens wishing to travel to Zimbabwe need a visa, even kids.
Should I apply for a Zimbabwe eVisa if I have to make a connecting flight?
You need the Zimbabwe eVisa only if you plan to leave the transit area. If you have to make a connecting flight and you don't intend to leave the airport, then you shouldn't apply for it.
Is it safe to use iVisa.com's online form?
At iVisa.com we are aware that security is a serious issue and of course it's normal to be careful when using online applications. Therefore, there's no need to be afraid of our service, as we have a modern automated system that protects our database to the maximum.
We also have a team that will help you with any questions. If you have doubts about our services, then we invite you to read these reviews so you can learn more about what we offer.
Where can I find more information about the Zimbabwe visa cost?
If you want to receive more help about this service, or you want more information about the Zimbabwe visa cost, then contact us through this link.