Zimbabwe - Open for Tourism, here's what you'll need
Zimbabwe - Open for Tourism
Trustpilot recommended. We lead the industry in innovation and reputation
Learn More: eVisa
Content updated, December 2022
Visit Zimbabwe with an eVisa! Start your online application with iVisa
If Africa is on your travel bucket list, Zimbabwe is a great destination to start exploring the continent. This landlocked country located in Southern Africa is home to one of the world's greatest natural treasures, Victoria Falls.
Additionally, Zimbabwe's many safari parks offer a variety of wildlife viewing experiences. But before you plan your trip, it's important to apply for a Zimbabwe visa.
Fortunately, iVisa has collected the most up-to-date information about the Zimbabwe eVisa and how to apply. Simply follow the online process for the Zimbabwe visa application, and avoid any hassle or paperwork.
What is the Zimbabwe e-Visa?
To eliminate long border queues, the Zimbabwe government has recently implemented an electronic visa application system for international travel.
That means that now if you wish to travel to Zimbabwe, you can apply 100% online for an eVisa which is an official travel authorization that allows you to enter this country for tourist purposes, to visit family and friends, and to do sightseeing.
If you want to go to Zimbabwe for business purposes, you will need a business visa and if you wish to visit this country to attend conferences you will need a conference visa.
Don't be afraid of rejections because our iVisa team reviews your application to ensure is error-free so you can have an application that perfectly meets the government standards and a smooth entry to Zimbabwe.
You can apply for the Zimbabwe visa online with iVisa here!.
Do I need a visa for Zimbabwe?
If you want to know if you need to apply for a Zimbabwe eVisa in advance you can our Visa checker here.
Take into account that there are certain nationalities that don't need a visa to travel to Zimbabwe and that travelers from countries like Canada, the UK, Canada, Australia, and the majority of EU countries can apply for a Zimbabwe visa on arrival at the airport.
Check below the country categories, according to the Permanent Mission of Zimbabwe to the United Nations.
Category A: Travelers from countries in category A don't require a Zimbabwe visa.
Category B: Travelers from countries in category B are granted a Zimbabwean tourist visa upon arrival, on payment of requisite visa fees. You can also pre-apply for the Zimbabwe visa online on the Zimbabwean government website.
Category C: Travelers from countries in category C are required to apply for and get a Zimbabwe visa prior to their trip.
How long is the Zimbabwea eVisa valid?
The Zimbabwe visa is valid for 90 days in Total from the moment you enter Zimbabwe. Furthermore, you will have to start your trip in Zimbabwe within 90 days of the visa being granted. At iVisa you can apply and choose between a Single Entry or Double Entry visa.
What are the requirements to apply for a Zimbabwe tourist e-Visa?
We require you to submit the following documents for your online visa application:
Your passport. It needs to be valid for at least 6 months from the date you enter Zimbabwe and to have at least one blank page.
Your airplane return ticket to your home country.
You need documents to prove that you have enough funds to cover your entire stay in Zimbabwe. These documents could be, for example, your latest bank statements.
Do you have all these documents? Apply now!.
Do I need a Zimbabwe eVisa to transit through the country?
If you are making short stopovers at the airport in Zimbabwe or traveling to another country as your final destination you will need to get a non-renewable transit visa online.
Please note, this visa does not replace a Zimbabwe eVisa. Contact your local Zimbabwe embassy or consulate for more information about the application process for transit visas.
Benefits of getting your Zimbabwe eVisa with iVisa
Application 100% government-compliant: Our iVisa team will review each one of the answers you give on the form and adjust them to be 100% compliant with the government requirements.

Simplified Form: While on the Embassy website, you will have to answer confusing and tedious questions, at iVisa, you will only have to answer a simplified form with clear questions. It will be like filling out a short survey.

Fill out the form at your own pace: With the iVisa platform, you can fill out the form at your own pace, make changes whenever you want, and save your progress, so you do not have to start from scratch, unlike the embassy website which cuts you off from their website every time you take a break.
iVisa values your safety. That is why we have a solid security system to protect your personal information. We recommend you go over to our reviews section and read what our past customers have said about our services. We're sure you'll find them to your liking.
How do I apply for the Zimbabwe travel visa online?
Applying for your Zimbabwe visa with iVisa is easy, reliable and fast. Simply follow these steps:
Step 1: Fill out our simplified application form. Make sure you're applying for the right document or visa and review all the information you wrote on your form.
Step 2: After you have ensured that you have supplied all the necessary information, choose your preferred processing time, and pay online for your Zimbabwe Visa. You can use a credit/debit card or PayPal.
Step 3: Finally, upload any required documents, and click 'Submit.'
Once you're finished with the process, our expert team will take care of your request, and you will receive your final travel document via the email address you provide us in your application form.
We advise you to print your Zimbabwe digital Visa and to also have this travel document or your smartphone or any electronic device to avoid any delays at the airport.
Please note that it is not possible to change any details on the e-visa once it's issued. If you realize you made a mistake before your visa has been issued, then please contact us ASAP via online chat or by sending an email to [email protected].
Pretty easy, right? Apply now!.
What are the costs and processing times of the Zimbabwe eVisa?
On iVisa, you can choose any of the three processing times and fees according to your time and needs:
The government of Zimbabwe charges a fee of USD $30.00 for a Single Entry visa, and USD $45.00 for Double Entry. Applicants can pay for the visa service fee with a credit or debit card on iVisa.
Standard Processing Time: For those planning ahead, you can obtain your visa to enter Zimbabwe in

6 Business Days

for a service fee of

USD $58.99

.
Rush Processing Time: This option takes just

4 Business Days

for a fee of

USD $100.99

, and is ideal for travelers planning a last-minute trip.
Super Rush Processing Time: This is the fastest option and will suit anyone in a rush, as it takes only

2 Business Days

for a service fee of

USD $147.99

.
Visiting Zimbabwe with minors
All travelers, including minors, have to apply for a Zimbabwe visa to enter the country. Traveling to other countries in Southern Africa with children may require additional entry permits or documentation. For further details on the supporting documents you might need for your trip, we encourage you to contact the Zimbabwe Embassy.
How does the Zimbabwe eVisa look like?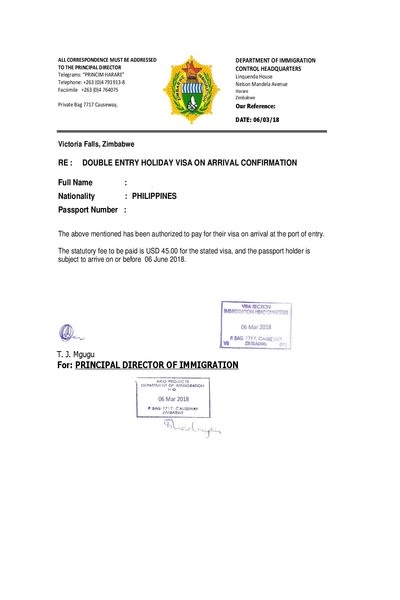 COVID-19 requirements or restrictions
Regardless of the destination, travelers should exercise increased caution when taking part in international travel. For further information about the implemented measures in Zimbabwe, read below.
Do I need to do a PCR test or vaccination certificate to visit Zimbabwe?
If you're unvaccinated and cannot show proof of vaccination, you need to obtain a valid negative test certificate of a PCR test taken within 48 hours prior to the start of your trip.
You can visit Zimbabwe without doing a PCR test if you're fully vaccinated with proof of vaccination.
Children under 5 are exempt from COVID-19 requirements.
Do I need to quarantine once I get to Zimbabwe?
There are currently no quarantine requirements in Zimbabwe.
Which ports of entry accept the Zimbabwe eVisa?
Travelers can enter Zimbabwe with a Zimbabwe eVisa through the following border ports of entry:
Beitbridge (from South Africa)
Harare International Airport (air travel)
Chirundu
Plumtree
Forbes - Mutare
Nyamapanda
Kariba
Victoria Falls
Joshua Mqabuko Nkomo International Airport
A proof of Yellow Fever vaccine is required if you're traveling from a country with a risk of yellow fever transmission.

Credit cards aren't widely accepted in Zimbabwe, so make sure to bring enough cash to pay for your tours, transportation, and tips. You can pay with US dollars and South African rands in most places, but notes dated before 2003 are not accepted. High denomination notes may also not be accepted.

Please don't wear clothes with camouflage patterns or designs, the Zimbabwean government does not allow this. Visitors to Zimbabwe are urged not to wear or carry military-style clothing.

Please exercise increased caution when photographing people. Zimbabweans are friendly, but not everyone likes to be photographed. Taking photos of government buildings, military personnel, or government institutions is prohibited.
Where can I learn more?
For additional information about other documents or the online application process for the Zimbabwe visa, contact our expert customer support team or email us at [email protected]. We are available 24/7 to answer your questions!
Required Documents to Apply
Applicant's Photo

Passport Scan

Last Page of Passport (if applicable)

Proof of Accommodation (if applicable)

Proof of Residence

Invitation Letter (if applicable)

Cover Letter (if applicable)

DVST Application Letter (if applicable)

Airline Confirmation (if applicable)
Important Instructions
The Zimbabwe eVisa is an official travel authorization that allows you to enter this country for tourism or visit family and friends.

This e-Visa is valid for 90 days after issued and the permitted stay time is 3 months.

With iVisa, you can choose between a single-entry Zimbabwe eVisa and the double-entry Zimbabwe eVisa. Both have the same validity period.

The Zimbabwe e-Visas can take up to 6 Business Days (Monday to Friday) to be issued.

The cost of the Zimbabwe eVisa government fee is $45 USD for the double-entry eVisa and $30 USD for the single-entry eVisa.

Citizens from different nationalities can be eligible to apply for this travel document. Check if you're eligible to apply here.

To get this travel document, the government requires you to have proof of accommodation. And, the dates in this document must match the travel dates selected in your e-Visa application.

Your passport must be valid for at least 6 months from the date you enter Zimbabwe, and it must have at least one blank page.

You need a transit visa to transit through Zimbabwe.

If you're not fully vaccinated against COVID-19, you will need to present at the airport a negative PCR taken 48 hours before your trip date.

If you're vaccinated against COVID-19 (2 doses) you need to show a vaccination certificate on arrival.

iVisa is a legitimate company, accredited and recognized by the International Air Transport Association (IATA). For more information, see the FAQs below.