If you're a non-resident who has recently been stranded in Portugal due to situations beyond your control, you may be thinking of soliciting a visa extension.
Foreign citizens who haven't been able to leave Portugal and are obliged to remain there for a period that exceeds the one that was originally permitted may be granted an extension of stay. To get one, you will have to apply to the SEF to renew your visa through its online pre-booking system.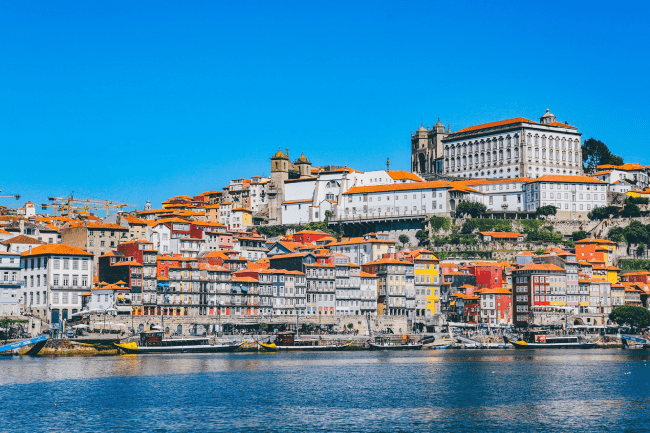 On the other hand, if you're planning to visit the home of Cristiano Ronaldo in 2020, you might need to take a few things into account. First thing is, you need a Schengen Portugal Visa to be allowed entry to this country. This kind of visa is also allowed in any other country that belongs to the Schengen agreement.
Another thing you should keep in mind is to try to Register your trip with the Embassy. This way, you can get information from the consulate more efficiently and evade any sort of issue with the immigration officers. The good news is, iVisa.com can help you process this document fast and reliably from the comfort of your own home before you have to travel.
Learn all the advantages that our platform can bring you and your upcoming trip to this European country full of historic cities, world-renowned cuisine, natural landscapes, and spectacular beaches by reading our FAQs below.
Frequently Asked Questions (FAQs)
WHY DO I NEED A VISA TO ENTER PORTUGAL?
Unless you are from a visa-exempt country, you need a visa to verify your entry and prevent inconveniences with the border control authorities. You can learn if you require a visa to enter Portugal through our Visa Checker Tool.
You should be advised that without a visa, you will not be allowed to enter Portugal.
WHY SHOULD I ALSO REGISTER MY TRIP WITH THE EMBASSY?
Travel Registration is a service provided by the Government of Portugal. This service will allow you to save information about your coming trip to the Department of State, so it can be later used to assist you in case of an emergency. If you live abroad, you may also get routine information from your closest consulate or embassy more reliably after you list that you're traveling.
Register your trip with the embassy at this link.
WHAT DOCUMENTS DO I NEED TO PROVIDE YOU TO REGISTER MY TRIP WITH THE EMBASSY?
You will only need to provide the documents listed below so you can register your trip with the embassy through iVisa.com's exceptionally secured platform:
Passport Scan: you must submit a valid passport scan so we can have all your personal and contact information.
Return Flight Ticket: take note that this document is only valid for one single entry. This means that you are allowed to stay in the country for a specific time frame. Because of this, you will have to show proof of your valid return flight ticket to the immigration officer.
Accommodation Proof: it can be your hotel reservation or a written letter from your host in Portugal.
Valid Email Address: our expert team of specialists will send the document straight to your email, this is why you have to provide a valid email address.
Payment Method: you will be allowed to use Paypal or any valid credit or debit card to pay for the fees.
WHAT ARE THE STANDARD PROCEDURE TIMES AND FEES TO REGISTER MY TRIP?
A very important question indeed. We get why these are your main concerns. Due to this, iVisa.com has come up with an easy and reliable system for you to apply for your travel documents from the comfort of your own home in just a couple of minutes. Here are the available processing times and fees for you to register your trip with the embassy with iVisa.com:
Standard Procedure Time – you'll have your document in 24 hours, and the price will be USD 20.00 (fees included).
Rush Procedure Time – you'll receive your ETA along with the Health Declaration in 4 hours, and the price for it is USD 50.00 (all service fees included).
Super Rush Procedure Time – this is the fastest option available. You will acquire the document in 1-hour, by paying USD 70.00.
Take note that you can get in touch with us at any time if you need further assistance or if you've got doubts in any step of the process.
If you have already chosen the procedure time that best suits you, you can register your trip with the embassy here.
HOW PRECISELY DO I REGISTER MY TRIP WITH THE EMBASSY?
After you've sent all your documents to iVisa.com, you'll enjoy the simplest way to register your trip without ever having to leave your house. The best thing is, iVisa.com's platform is very safe! We assure you that it won't take you longer than just a couple of minutes to complete your application form if you follow these three simple steps:
First, Complete your application form. Now, select the procedure time that is the most beneficial for your travel needs.
Second, make sure to double-check the information you've provided and kindly review that is correct. Now, you will be able to complete the online payment via Paypal or with your valid credit or debit card.
Third, upload your passport scan and any other documents if it's required. Now, the last thing to do will be to send the online form after you click on the Submit button.
When you've correctly submitted the application form, iVisa.com's amazing review team will take care of it to help you Register your trip with the Embassy and will send the document to your email.
HOW SECURE IS IVISA.com TO REGISTER MY TRIP WITH THE EMBASSY?
Rest assured that our platform is highly reliable. Although we are not related to the Portuguese government in any way, we are an efficient travel company with a remarkable team of experts that will handle your application the best way there is! If you want to find out more information about our services, you can read what our customers say about us on this page.
WHERE CAN I FIND EXTRA INFORMATION IF I HAVE OTHER QUESTIONS?
Feel free to contact us whenever you want! Reach out our customer service agents and they'll clear all your doubts. Our amazing team is always keen to answer any of our customers' questions 24/7. Get in touch with them by emailing [email protected].