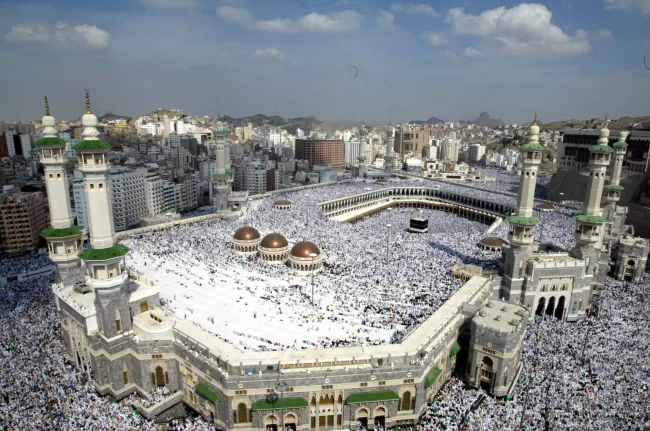 Are you yearning to go to Saudi Arabia for the Umrah pilgrimage? If you are a Muslim citizen of Canada, you will need a visa to enter Saudi Arabia to perform Umrah.
Saudi Arabia's first choice for Muslim tourists is the Umrah Visa, an electronic visa that Canadian passport holders can apply for without visiting a Saudi embassy.
Those who wish to perform Umrah can now get a visa online in just a few clicks. Be aware you are only allowed to use the Umrah visa outside of the Hajj season, so you cannot use this visa to perform Hajj. Read all the requirements for Saudi Arabian authorities and how to obtain your Umrah Visa below.
What is the Umrah
Muslims from all around the world travel to Saudi Arabia to visit the Islamic holy sites. Mekka is one of the most visited holy destinations, receiving millions of pilgrims to perform Umrah, a special Islamic practice. Also known as the lesser pilgrimage, Umrah is a voluntary pilgrimage to Mecca that Muslims can perform anytime.
Unlike the Hajj, which is mandatory for all non-disabled Muslims once in their lifetime, Umrah is not obligatory but highly recommended. This spiritual journey allows Muslims to purify their soul, strengthen their relationship with Allah, and seek forgiveness for their sins.
Due to the high flow of visitors, the Saudi ministry has introduced measures to improve security and manage crowds. Entering Saudi Arabia, pilgrims must present a valid passport and Umrah visa. Additionally, reserving an Umrah appointment via the Nusuk or Tawakkalna apps is now mandatory.
Check more details about travel documents below.
Umrah Visa from Canada
Canadians can apply for an Umrah Electronic Visa to visit Saudi Arabia on the Umrah pilgrimage. Generally, it takes five to ten days to process Umrah visas — depending on your country of residence.
The Umrah visa fees cost between US$380 and US$490, depending on your Umrah travel package.
Can I travel any time with an Umrah e-Visa?
Performing Umrah, Muslims can enter Saudi Arabia year-round with an Umrah e-Visa. The only exception is during the Hajj season, which would require a Hajj visa.
Hajj is recognized from the 8th to the 12th or 13th of Dhu al-Hijjah or the last month of the Islamic calendar.
How long can I stay in Saudi Arabia with an Umrah visa?
The Umrah visa allows you a single entry and two-weeks-stay in Saudi Arabia.
Can I extend the Umrah Visa?
No. You can't extend the Umrah Visa validity. The stay starts counting on the traveler's entry date.
Saudi Arabia Tourist Visa to perform Umrah
While the Saudi government designed Umrah Visa specifically for Muslims traveling to perform Umrah, they also accepts the use of a Saudi tourist visa for the same purpose. Tourist visas also allow Muslims to visit other holy sites without problems outside of the Hajj season.
The benefit of the tourist visa is that it is a Multiple Entry visa, valid for a year, meaning you have unlimited access to the holy land. Best of all, you can apply online with us for the Saudi Arabia Tourist eVisa to perform Umrah. Not only do you receive the document via email but the application process is simplified by our team making it easier to obtain than other Saudi visa options.
An Umrah specific visa, it is a single entry visa and will need you to apply via the Saudi government which can be confusing. You will also need to contact the Saudi embassy for information about other visas such as a business visa, student visa, or long-term visas for Saudi Arabia.
How long can I stay in Saudi Arabia with a Tourist Visa?
The Tourist Visa validity is 1 year after issued. This e-Visa for Canadian citizens performing Umrah allows Multiple Entry and a maximum stay of 90 days in Total.
Can I travel any time with a Tourist e-Visa?
As for the Umrah Visa, Muslims can only enter Saudi Arabia to perform Umrah out of the Hajj season. During the Hajj season, you would require a seperate Hajj visa.
Saudi Arabia Tourist visa requirements for Canadian citizens
Canadian citizens and other nationals eligible for this e-Visa must provide the following items to fill out the visa application form:
Valid Canadian passport:The original applicant's passport must remain valid for at least six months after arrival.

Recent color passport photo: It must have a plain white background and passport size. Use our Passport Photo Service if you need one.

Email address: You will receive the visa via email.

Payment method: Credit or debit card to pay the visa fees.

Medical insurance
Steps to apply for a Saudi Arabia Tourist Visa online
The application process is pretty easy for a Canadian citizen. Follow these three steps to obtain your Tourist Visa:
First, complete the Saudi Arabia Tourist Visa application form with your personal and trip details. Double-check all the information to avoid mistakes.

Second, choose the processing time that suits you better and pay the fees using a credit or debit card.

Third, upload the required documents and click "Submit". Wait for the visa to arrive in your email.
We recommend printing the Tourist Visa to present to local authorities upon arrival.
What are the Tourist visa fees and processing times for Canadians?
The Saudi Arabia Tourist Visa fees vary according to the applicant's nationality and chosen processing time. These prices include the government and service fees. Canadian citizens have the following processing options:
Standard Processing: Get your Tourist Visa in 5 days paying USD $206.99.

Rush Processing: If you need a faster option, you can take the document in 3 days to process your visa for a USD $263.99 fee.

Super Rush Processing: If it is an emergency travel document, count on this option to receive the visa in 24 hours paying USD $293.99.
Tourist Visa cancellation policy for Canadian passport holders
iVisa will review your documents for 100% government compliance. However, suppose the Saudi authorities cancel or reject your visa. You'll be eligible for a full Saudi Arabian visa service refund, but we do not refund government fees.
Otherwise, if you change your mind and don't want to proceed with the trip, but the visa is already issued, you can't cancel it. In this case, you won't be refunded.
Benefits of applying for a Saudi Arabia Visa with iVisa
100% government compliance: Our visa experts check all your answers for compatibility with Saudi government standards.

Simplified form: Unlike the government website, we offer a short and clear application form, which takes only a few minutes to complete.

Save your time: You can save your progress to complete the form at your own pace. Additionally, there are no visa appointments at the embassy; the entire process is online.

24/7 Support: Reach out to iVisa Experts any time to solve your question or problems. They will assist you at every stage of the application process.
Tips for a smooth Umrah journey
The Umrah pilgrimage is a life-changing experience. You must prepare yourself and all the trip details to enjoy this experience fully. Here are some valuable tips before traveling:
Ensure you have all the documents for the trip, such as a valid passport and Saudi Arabia Tourist Visa. Without a visa, you will have denied entry.

Book your flights, accommodation, and transportation in advance to avoid the last-minute hassle. You can find great guided Umrah packages from a travel agency specializing in trips for Muslims.

Plan your Umrah trip to avoid peak seasons such as Ramadan and Hajj. You'll find better prices and fewer crowds.

Download the Nusuk or Tawakkalna apps to book an appointment for Umrah. This is now mandatory, according to the Saudi interior ministry.

Pack appropriate clothing according to the Saudi Arabian dress code. Men should wear ihram (two white sheets of cloth), while female pilgrims should wear modest clothing that covers their entire bodies.

Keep your important documents, such as your passport, visa, and tickets, safe and secure during your trip.

Be aware of your surroundings and follow local laws and customs.

If you need to travel with medicine, ensure you carry your doctor's prescription.

Traveling with a group, accompany them from the beginning to the end of the Umrah journey.

Be prepared for Saudi Arabia's high temperatures. Stay hydrated!
Our Saudi Arabia Travel Guide provides more detailed information about the weather, safety, transport, and places to visit on your trip.
Do you have questions about traveling to Saudi Arabia?
Contact our customer support team if you have questions about the Saudi Arabia Tourist eVisa or any other travel document. The iVisa experts are available 24/7 and will be happy to help you! If you prefer, email us at [email protected].