Same as many other nationalities, the citizens of Qatar cannot travel to Mexico without obtaining a visa in advance. You will also need to buy a Mexico tourist card, otherwise known as a Forma Migratoria Multiple.
You can apply for the latter on the plane on your way to Mexico, or you can get it on arrival. However, there is a better way to obtain it. With the services provided by iVisa, you can acquire the FMM card online before departure in only 30 minutes.
We'll explain to you how to apply for the FMM in this informative article, so you'll be prepared to follow the next step, which is only to apply for your visa at the Mexican Embassy.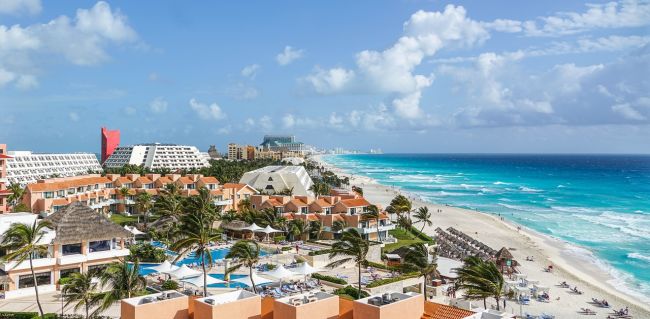 Frequently Asked Questions // FAQs
I am from Qatar, do I have to acquire a visa to travel to Mexico?
Sure, you must get a visa to travel to Mexico. Also, you must obtain a Forma Migratoria Múltiple, which can be obtained with our services.
Please, remember that if you plan to visit Mexico, you'll need both documents. If you don't have them, you couldn't pass the migration point. We firmly suggest that you get your FMM first and then request your consular visa.
What is a Mexican FMM for Qatar?
A Mexico Tourist Card or Forma Migratoria Múltiple (FMM) is an official authorization that certain nationalities need to enter Mexico.
Can I know the documents that I need to obtain the Mexican Tourist Card?
The first thing you have to do when you plan to apply online for a Mexico tourist card is to make sure that you can come up with everything you need for the application process. Here is what you must have at your disposal:
Valid Passport – to obtain a Mexico tourist card, you must need a valid passport. It should be valid for at least 6 months from your arrival in the country of Mexico.

Airline ticket – this is an important item to consider. Keep in mind that you must provide this document only if you intend to travel by plane.

E-mail address – you'll receive your FMM by e-mail in PDF format. Don't forget to make a copy of it. In addition, we recommend that you take note of your tourist card number.

Payment Methods – iVisa allows multiple payment options. You can use a credit or debit card or PayPal.
How long may I stay in Mexico with my Tourist Card?
You can be there for 180 days in Total.
May I enter Mexico with a Forma Migratoria Múltiple and not a visa?
If you are from Morocco, you can't enter Mexico with this FMM, you'll need to acquire a visa. The last document can be obtained at the Embassy.
It's compulsory that you get both documents to visit Mexico, and in order to simplify the entire procedure, we provide you the opportunity to get the FMM online in order that you will not have to wait long queues at the airport once you arrive in Mexico.
Can you tell me the procedure times and prices for the Tourist Card?
The total price you have for your Mexico tourist card is based on a few choices you have to make. You must choose a processing time for your online application and a means of travel. When it comes to processing, iVisa offers you the following options:
Standard processing time – it is not too costly. The price is USD 20.00, and in 24 hours your electronic document will delivered in your email.

Rush processing time – obtain your Mexico tourist card within 4 hours and the amount to pay will be USD 40.00.

Super Rush processing time – choosing this fastest alternative, your official permission will be done in 30 minutes. The cost is USD 60.00.
In case you travel to Mexico by land, you will be charged more. The fee will be USD 32.00. As a result, you'll pay USD 52.00, USD 72.00 and USD 92.00 for every procedure.
How much time do I need to request an FMM?
You will need 20 minutes of your valuable time to fill out the online form.
How can I make my application?
Putting all the requirements together is not enough. You also have to fill in an application form. Usually, it takes applicants about 20 minutes to complete it, but if you have questions or concerns, iVisa's customer support can be reached via online chat or phone 24/7.
As you will notice, the form is broken down into three steps:
Step one requires you to provide your personal information. You also have to choose a processing time for your application and mention your mode of transportation so that the total price of your Mexico tourist card can be established.

When you get to the second step, you must handle the payment and you have to review your form so that it does not contain inaccurate information. Otherwise, your tourist card will be invalid, and you have to apply for a new one.

And finally, the third step comes with a set of instructions on how to provide iVisa with the necessary documents that support your application. When you are done with every single step, you can submit your request, and iVisa will take it from there.
What do I have to do once I finish the application for my FMM?
After you finish your form to obtain your Mexican FMM, you will get the Mexican FMM through email. Then, request your consular visa at the Mexican Embassy.
How many entries do I have with the FMM?
In this case, your Tourist Card will have a Single Entry.
How will I know when my Mexican Tourist Card is ready to use?
We'll inform you by email address. Just be sure to provide us a proper e-mail.
What can I do if I travel by land?
You will need to acquire a visa and apply for a Tourist Card by Land. As we mentioned before, it has an extra cost.
How does the Mexican Tourist Card Look Like?
Where can I read more?
We are ready to help you! In iVisa you can get more info by contacting any of our super operators.
Furthermore, you can visit this website to know more about these electronic visas.
Get ready and apply with us! Your new adventure is coming.