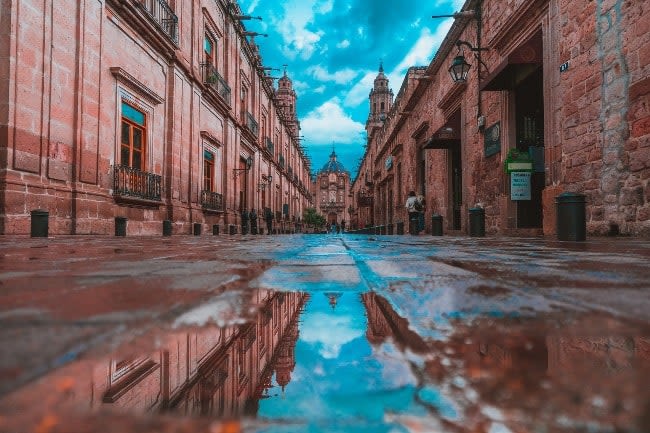 Planning to visit Mexico but need clarification about the Mexico Tourist Card and how to obtain one? We have the answers!
Mexico's exotic culture and delicious gastronomy draw tourists from far and wide. However, those traveling to this magnificent country require a Mexico Tourist Card.
We understand that the application process can be tedious and confusing. Therefore, this blog post will answer all your questions and explain how to obtain the Mexico Tourist Card with iVisa.
If you need help determining what documents you require for your trip, remember to use our visa checker tool to verify what you need.
What is the Mexico Tourist Card?
The Mexico Tourist Card (FMM) is a mandatory single-entry travel document for all foreign nationals entering Mexico. It is NOT a visa. If your nationality requires a paper visa, you have to apply through the Mexican embassy or consulate. Both documents must be presented upon entry into Mexico.
That said, most travelers are eligible for a Mexico tourist card and do not need a Mexico visitor visa. There are two types of Mexico tourist cards depending on how you will enter the country, i.e., Mexico tourist card by air or Mexico tourist card by land.
There is no processing time difference between the two options. Still, the Mexico travel card by land tends to be slightly pricier. You must apply for the correct Mexico Tourist Card type.
How long is the Mexico Tourist Card valid?
Both the Mexico Tourist Card Land and Air allow a maximum stay of 180 days in Total. However, the Mexican immigration authorities at the point of entry will decide the number of days you are given.
You can stay in Mexico with this document for a maximum of 180 days in Total, but the immigration officer usually allows you to stay for 30, 60, or 90 days. You must leave the country before your Mexico Tourist Card expires.
If you intend to stay in Mexico longer than 180 days, you can apply for an extension, a Mexico tourist visa, or a Mexico business visa.
Mexico Tourist Card extension
To extend your Mexican tourist card, you need to visit any National Institute of Immigration Office. You have to bring your valid passport, and the Mexico Tourist Visa or Mexico Tourist Card with you. You must also prove that you can financially support yourself during the extension.
There will be an extension fee to pay, and applying for an extension is usually quite tricky. However, if the Mexican officials had not granted you a full 180-day stay when you arrived in Mexico, you can extend your stay up to 180 days.
If you want to stay longer than 180 days, apply for a Mexican visa that best suits your intentions for a more extended visit.
Who is eligible to apply for the Mexico Tourist Card?
All travelers to Mexico for tourism, visiting family, doing business, or other short-term purposes that will be under or up to 180 days long, require a Mexico Tourist Card, even if you are from a visa-exempt country.
Do minors need to apply for the Mexico Tourist Card?
All children entering Mexico are required to have a Tourist Card. Parents or legal guardians must apply on their behalf if the applicant is a minor.
Do I need a Mexico Tourist Card if I'm transiting through Mexico?
You do not require a tourist card to transit through Mexico if you:
Stay at the airport between flights

Leave the country within 24 hours of arriving.
These conditions will also apply to Mexican visa requirements. Transiting foreign citizens do not require Mexico tourist visas if their journey meets the above criteria.
Required documents to obtain a Mexico Tourist Card Online
To apply for a Mexico Tourist Card, immigration officers will require the following information and documents:
Passport valid for the duration of your visit to Mexico or at least six months. This must be the same passport used to fill out the Tourist Card form.

Contact information

Flight details.

Full name of the hotel or address where you are staying in Mexico.

Valid email address to receive the Mexico Tourist Card.

Credit or debit card to pay.
Have all the information and required documents? Then you're ready to apply. Here's how:
Application process for a Mexico Tourist Card online
You can apply for a Mexico Tourist Card (Land or Air) with iVisa at any time; however, applying a few days before your trip is recommended to avoid complications at the airport.
We know that filling out paperwork is tedious and confusing, so iVisa has simplified the application process into three simple steps:
Complete the form with the required information and double-check it is correct.

Choose your preferred processing option and pay the Mexico tourist card fees.

Keep an eye on your email for your completed card. Download and print it.
When you arrive in Mexico, you must present the printed Tourist Card and your passport. The immigration officer just needs to stamp your Tourist Card on arrival in Mexico. Those traveling from a country that requires a Mexican visa should also have a printed Mexico visitor visa. You should write down your FMM number in case it is lost or stolen.
What are the costs and processing times for the Mexico Tourist Card?
The Mexico Tourist Card fee varies depending on whether you enter Mexico by land or air, your nationality, and the processing time you choose, as iVisa provides 3 processing options. They are:
Standard processing which takes 24 hours

Rush processing which takes 4 hours

Super rush processing which takes 30 minutes
To check the exact cost of the Tourist card for your nationality, use our visa checker tool.
Mexico Tourist Card Common Errors
Common mistakes that travelers applying for a Mexican tourist card may make are:
Confusing the Mexico Tourist Card with the Health Declaration. The tourist card is NOT the same as the Health Declaration, which travelers are no longer required to fill out when landing at a Mexican airport or entering a land border.

Not printing out the Tourist Card or getting it stamped at the port of entry. You must have a hard copy of the card when entering Mexico! The Mexico Tourist Card is a two-page document. Please make sure you print both pages to present to immigration officials at the border. Ensure they stamp one of the pages and keep the other for your records. When you leave Mexico, you will need the page you keep.

Mistakes while filling out the form or waiting for it to be processed. Remember that once you submit the Mexico Tourist Card application, you cannot edit it. You would need to reach out to the Mexican Immigration Service, but you may not hear back before your intended trip. Applying with iVisa helps avoid these issues, as our experts verify your answers before submitting the form.

Applying for one card when you're traveling in a group. Each person in the group will require a tourist card.
How can I learn more about the Mexico Tourist Card?
If you require further information or advice about the Mexico Tourist Card, reach out to our 24-hour customer service team or via email at [email protected].