The Netherlands (sometimes also called Holland) is one of the many fascinating holiday destinations in Europe that will steal your heart. This small country boasts tons of history, heritage, architecture, culture, and art. But which places are absolutely not to be missed on a short visit? Check out some of the best places to visit in Netherlands that'll make you pack your bags right away.
You'll find everything you're looking for in the relatively small country of Holland, from the canals of the capital city Amsterdam and endless flower fields, to many museums and famous landmarks. For practical info, check out our ultimate Netherlands Travel Guide for more great information on traveling to the Netherlands.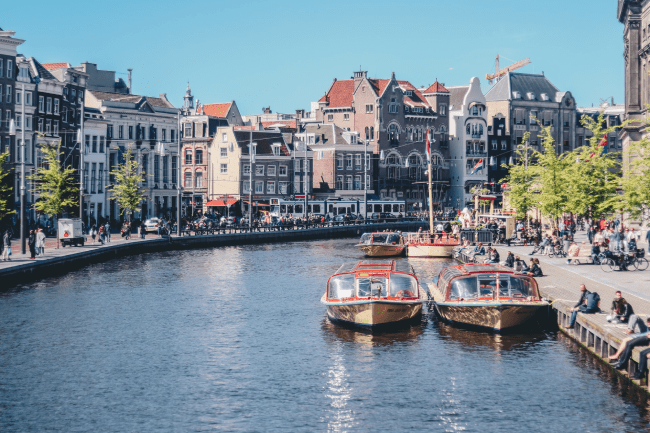 1. Stroll around in the picturesque city of Amsterdam
Known for its picturesque canals, Amsterdam is the Netherlands' capital city. This vibrant, cosmopolitan destination boasts numerous museums, exciting nightlife, and an excellent restaurant scene. If you want a complete Amsterdam experience, don't miss the Rijksmuseum, Van Gogh Museum, or Anne Frank House, all located in the city center.
The inner canal wharf system of Amsterdam is a key feature of the city, and the Canal Ring is recognized as a UNESCO World Heritage Site. It's also the central area where the main architecture, the quaint 17th-century canal houses and bridges, can be found, along with the controversial Red-Light District. This city center neighborhood was and is famous for its cannabis cafés (known locally as coffee shops) and brothel window displays, but is also home to some of the best art galleries and hipster hangouts of this progressive town.
2. Admire the colorful Keukenhof Gardens
Keukenhof Gardens, one of the Netherlands' greatest attractions, is the second-largest flower garden in the world after Dubai Miracle Garden and is a must-see while in the Netherlands. The Keukenhof is a spring wonderland of color and scent, located between Amsterdam and The Hague, and is sometimes also called "Flower City" or the "Garden of Europe". Admire the gorgeous floral landscape by helicopter, bike, or boat, but make sure to get there in spring, when the fields are in full bloom.
3. Explore the Dutch countryside by boat in Giethoorn
With its numerous waterways, thatched-roof farmhouses, and idyllic setting, Giethoorn is a fairy tale come to life. Located in the northeastern Dutch province of Overijssel, the charming village is one of the most famous tourist attractions of the Netherlands, outside Amsterdam. Giethoorn, consisting of a cluster of small peat islands, is also called "the Dutch Venice", with over 55 miles of canals, hundreds of wooden footbridges, and no car streets. It's no wonder that the Dutch have tried to get this tiny town on the UNESCO World Heritage Site list.
It is only possible to explore this charming hamlet by boat, bicycle, or on foot. Besides exploring the gorgeous surroundings on the water, Giethoorn is also a must-visit for museum lovers and cyclists.
4. Get your Dutch on in Volendam
Volendam is an old fishing village located on Lake IJsselmeer not far from Amsterdam. A charming harbor, delicious fish restaurants, and traditional Dutch costumes make it one of the most popular attractions of the country. A good way to discover Volendam is to walk around its neighborhoods, such as the Dijk or the Doolhof. Here you'll find authentic fishermen' homes in a labyrinth of streets that have inspired many artists and musicians for centuries.
In the Wooden Shoe Factory you'll learn more about the making of klompen, the famous Dutch wooden shoes, which you can also purchase a pair. And to top it off, get your portrait taken in typical Dutch garb at Foto de Boer, a great souvenir to take home.
5. Visit Gouda, the city of cheese
Gouda is a typical Dutch city with lots of cobbled streets and a historic town center. It is of course known for its world-famous cheese and is a popular tourist destination on a day trip from Amsterdam. Popular attractions in the city center of Gouda include the beautiful 15th-century town hall, the local history museum, and its cheese museum and historic market, held every Thursday morning from April to August. It's quite a show, so don't miss it!
6. Get a taste of world peace in The Hague
The royal city of The Hague (Den Haag) is the home of the Dutch royal family and the location of the Dutch parliament. The city also plays an essential role in maintaining world peace and justice, being home to some of the country's most famous landmarks, such as the International Court of Justice and the Peace Palace.
In addition, The Hague boasts world-class museums and art galleries, the Royal Picture Gallery Mauritshuis, a vast collection of hundreds of Dutch paintings with works by Rembrandt and Vermeer. Add in the nearby beaches, the well-preserved historic center, miniature city Madurodam, and live music venues, and there's no chance to get bored.
7. Experience urban vibes in port city Rotterdam
Possibly Amsterdam's greatest rival, the vibrant city of Rotterdam is the second-largest city in the Netherlands. Rotterdam stands out for its young university vibe, unique architecture, cutting-edge modern art, and fascinating history. The city was bombed in WWII by the Germans in a mere 15-minutes, which led the Dutch to enthusiastically build a totally new, modern city.
This is especially shown in Rotterdam's unique architectural landmarks, such as the cube houses, market hall, Rotterdam Central Station, the Erasmus bridge and its many skyscrapers. It also houses the largest port in Europe on the North Sea, which is why the Maritime Museum Rotterdam is worth a visit.
8. Bike around Hoge Veluwe National Park
A continuous nature reserve of 5,400 hectares, or 13,343 acres, De Hoge Veluwe National Park is one of the largest nature areas in the Netherlands. Experience the beautiful natural landscape and wildlife on a hike or by free iconic white bike, and visit the Kröller-Müller Museum, an art gallery surrounded by nature, home to the world's second-largest collection of Van Gogh artworks. The national park is also one of the best places to visit in the Netherlands for bird-watchers, as it is an important bird sanctuary.
9. Go craft beer tasting in Haarlem
Known for its great culture, architecture, shops, and restaurants, Haarlem is as charming as Amsterdam, minus the crowds. As well as being home to some of the Netherlands' best museums and world-famous art, it is also one of the best places to visit if you like beer! As a result of good local water, Haarlem was one of Europe's best beer producers in the 16th century. During the 1990s, craft beer was resurrected, and you can sample a variety of beers at the many breweries. The pride of Haarlem is de Jopenkerk, a brewery housed in a former church.
Explore the cobblestone streets, numerous intact medieval structures, windmills, Teylers Museum, brown cafés and breweries on a walking tour, or simply explore around the Grote Markt square yourself, you can't go wrong with getting lost in Haarlem.
10. Discover UNESCO World Heritage Site Kinderdijk
Kinderdijk has been UNESCO World Heritage since 1997 and most people visit Kinderdijk just to see the Dutch picturesque windmills. It is just as beautiful in real life as it is in the pictures! However, Kinderdijk, a Dutch national museum, also boasts a fascinating story of Dutch inventiveness and natural history. Here, in a constant struggle between human brains and windmills, windmills and pumping stations have kept Dutch soil dry for centuries.
Enjoy the peaceful surroundings, historic windmills, and the opportunity to learn about the Netherlands' centuries-old battle against rising waters.
Whether you're wanting to visit world-famous museums, such as the Van Gogh Museum or Anne Frank House, learn more about the country's rich history, discover historic churches, or see contemporary art, the Netherlands is one of the best places to visit in Europe. Also read our ultimate Netherlands Travel Guide for practical information on traveling to the Netherlands and beyond.
Convinced? Then take the next step and book those flights! And don't forget to get all your documents and visa in order, such as a Netherlands Schengen visa or the upcoming ETIAS visa waiver. And if you need any assistance, iVisa is here to help you along the way.