Home
>
Netherlands Travel Guide: All you need to know to visit the Netherlands in 2023
Netherlands Travel Guide: All you need to know to visit the Netherlands in 2023
Welcome to Netherlands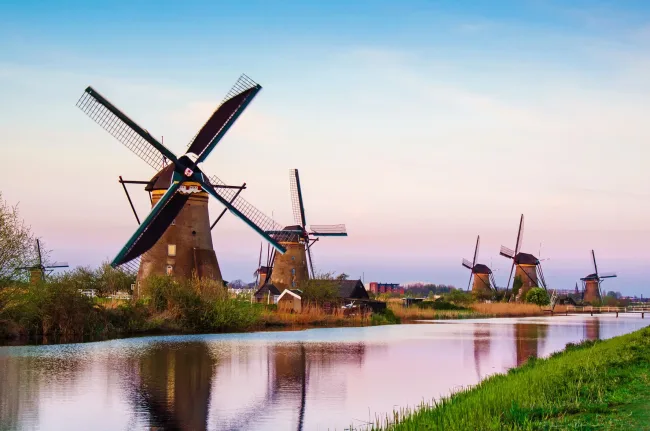 Well known for its picturesque capital city Amsterdam, bicycle-friendly landscape, the Anne Frank House, Van Gogh museum, and colorful spring tulip fields, the Netherlands should be absolutely added to your Eurotrip destination list.
Thanks to its small size and impressive train network it's very easy to get around. In this ultimate Netherlands travel guide, we will share some travel tips and tricks and everything you need to know about how to enter the Netherlands hassle-free.
Document checklist for the Netherlands
Visa

Valid passport (must be valid for at least 6 months from date of entry in the Netherlands)

Sufficient funds to cover your trip

Return or onward ticket
Essential Netherlands travel information
Currency - Euro (€). $1 is equivalent to approx. €0.98.

Daily budget for 1 person - Allow a daily budget of €139 ($145).

Languages - The official spoken language in the Netherlands is Dutch. English is spoken by over 90% of the population.

Socket type - Types C and F, 230V supply voltage and 50Hz.

Time zone - Central European Time (CET): ET +6.

Top 3 cities to visit - Amsterdam, Rotterdam, and The Hague.

Top 3 landmarks/monuments - The Anne Frank House, Rijksmuseum, and Keukenhof tulip fields.
Visa information for the Netherlands
Entering the Netherlands is easy because it makes up part of the Schengen Zone. The majority of foreign nationals who wish to enter the Netherlands can do so for up to 90 days within a 180 day period, for tourist or business purposes, without a visa. Foreign nationals from the EU, EEA or Switzerland as well as other countries are able to enter and travel within the 26 Schengen countries visa free.
Citizens of the U.S. are included in the visa-free countries able to enter the Netherlands right now. However, keep in mind that as of May 2023, it will be mandatory to apply for an ETIAS visa waiver to enter the Netherlands.
ETIAS explained
ETIAS (European Travel Information and Authorization System) is a visa waiver part of the new EU travel agreement. It's designed to help Dutch border authorities monitor travel within the Schengen area and improve the level of security within the EU. You are able to travel freely between the 26 Schengen countries while your ETIAS is valid.
The Netherlands ETIAS will be available, and mandatory, from May 2023 for all nationalities who are currently able to visit the Schengen area visa-free.
Schengen explained
If you are not eligible to apply for an ETIAS and cannot currently enter the Schengen zone visa free, you may need to apply for a Netherlands Schengen Visa.
Typical costs and budget for the Netherlands
A basic guide to what you'll spend on a daily basis traveling through the Netherlands on a decent budget.
Daily spending - Around €139 ($145)/per person/per day on a budget vacation. This includes:
Meals - €37 ($38)

Transport - €21 ($22)

Hotel - €146 ($152), for two people.
A trip for two, for one week, will cost on average €1,948 ($1,990).
Transport and best ways to travel around the Netherlands
Dutch culture very much means that riding a bike as transportation within the major cities is common practice, especially due to its flat terrain. The country ranks top 10 for bike-friendly cities and there is a network of bike paths all over the country. Cyclists are highly respected here and renting a bike to get around and explore is an attractive option.
For longer distances, the main public transportation is the train, and where there is limited train service there are buses available. Buses, trams and metros are the easiest way to travel within Dutch cities and you can hop on one easily by obtaining a single-use chip card or an anonymous OV-chipkaart (smart transport card).
Safety in the Netherlands
European countries are generally very safe to travel around, and the Netherlands is no exception. You have no need to worry because it is ranked 16th in the world's safest country list and crime rates are very low.
It's common to see police patrolling the major cities like Amsterdam, so you should always feel in safe hands if anything should happen.
Weather in the Netherlands
Located on the North Sea, the Netherlands enjoys a moderate climate where all four seasons are evident. There is no dry season, precipitation is relatively constant throughout the year. Summers are cool and comfortable reaching 22°C in summer, while the Netherlands enjoys mild winters with temperatures as low as -2°C.
When the first ray of sun appears in spring you'll start to see tulips bloom and Dutch people lounging on one of the endless sandy beaches by the North Sea. Travel tips for autumn would include wearing layers and going for walks in the Dutch moorlands or spending the day in a world-class museum. Every autumn the city of Amsterdam organizes 'Museumnacht' (night of the museums) where you can visit the cities' most popular museums by night.
Top tip: Don't forget your raincoat when packing, whatever season of the year it is.
Popular cities and towns in the Netherlands
From a popular university town, to a deeper look into the historic Netherlands and the most expansive tulip fields you'll ever see, you won't be short on travel destinations here.
Amsterdam - The country's largest city and one of the most visited cities in Europe.

Utrecht - A charming, traffic free city with very well preserved architecture and historic houses.

Maastricht - The history of this attractive city dates all the way back to 50 BC.

Rotterdam - Home to the busiest and largest port on the planet whose growth was stimulated by the Dutch Golden age.

The Hague - Host of the famous United Nations' International Court of Justice and the Permanent Court of Arbitration.
Must do and see in the Netherlands
Don't miss these awesome sights on your trip to the Netherlands:
1. The Anne Frank House in Amsterdam and learn more about the impact of World War II on the country.
2. Rent a bike and tour the city, its many cobbled streets, and canal views.
3. Visit the iconic Rijksmuseum art museum.
4. Visit Zaanse Schans, an open air museum styled as a traditional Dutch village.
5. Enjoy the signature tulip in the largest flower garden in the world, at the Keukenhof, also known as the Garden of Europe, just outside of Lisse.
Typical Dutch food to try
Erwtensoep - Made using green peas, with a dash of celery, onions, leeks, carrots, and potatoes. A typical hearty meal usually served after ice skating (or even on the ice, like a fast food truck). Slices of smoked sausage are added just before serving, accompanied by a piece of rye bread (roggebrood) topped with smoked bacon (katenspek), cheese, and butter. If that doesn't warm the soul?

Pannenkoeken - Hearty Dutch pancakes that are often topped with sweet or savory ingredients, such as bacon, salmon, apple, cheese, chocolate, powdered sugar, and stroop (a treacly Dutch syrup). Fun fact: Dutch pancakes are also perfectly acceptable to have for dinner! The mini version of pancakes are called 'Poffertjes' and make a delicious snack.

Haring or 'Hollandse Nieuwe' - Dutch herring, a famous and notorious national delicacy, for which there are many different ways of eating it, but typical Dutch people have it raw topped with chopped onion. Herring can only be called 'Hollandse Nieuwe' if the fish is caught between May and July.
Vaccine information for The Netherlands
It's important to know what routine vaccines and COVID-19 measures are required to enter the Netherlands and any other EU country before travel. We recommend you check out the CDC website to find out about all vaccine requirements and any recommended guidance or medicine lists.
Cannabis laws in the Netherlands
Despite the freedom and legality of cannabis use in the Netherlands the country actually has low usage rates compared to other European countries.
The possession of under five grams of cannabis is tolerated throughout the country, and coffeeshops sell a variety of safe and legalized cannabis products to customers over 18 years.
Ask your Dutch friends for the best advice on where to go in terms of quality and price. Other class A and B drugs are still prohibited.
Fun facts about the Netherlands
Find out some fun facts about the Netherlands that will help you get to know it better on your visit, not to mention impress your friends at your next trivia night!
The tallest people in the world live in the Netherlands, it may come as no surprise but the average height for a Dutch man is 183cm (6ft), while women average 171cm (5ft 7in).
The Netherlands is the world's biggest flower exporter, producing around 80% of the world's flower bulbs and accounts for nearly 90% of the world's total area of tulip farms.
⅓ of the country is under sea level! Hence its name, the lowlands, even the famous Schiphol airport is over 3 meters below sea level.
On 1 April 2001 The Netherlands became the first country in the world to legalize same-sex marriage and Amsterdam is one of the worlds most LGBTQ-friendly cities.
There are over 1000 windmills in the country and even the trains in Holland are powered by 100% renewable wind energy.
Trustpilot recommended. We lead the industry in innovation and reputation
Our Customers Have Great Stories About Us