Australia can be a fantastic destination for your next trip. It's a paradise for US citizens that love nature, but also offers business opportunities. So, if Australia is part of your travel plans, you will need a visa.. US citizen can apply for an ETA (Electronic Travel Authorization).
The ETA is one of the electronic Australian tourist visas. Australian authorities developed this Australian ETA to facilitate the flux of tourists in the country without needing embassy appointments to get a valid visa. But, it's important to know that Australian immigration only permits tourism and business travel with this visa. If you travel for medical treatment or work, you will need other travel documents to enter the country.
US passport holders can apply for an ETA online, making this the best way to get a visa for Australia. The application takes only a few minutes, and you will receive the ETA document in your email. It's not expensive, and it won't take much of your time compared to a paper visa.
As an American, you have it easy when applying for your temporary visa. We recommend you check the information below to see precisely how to get an Australia Visa and everything you need to know for this international trip.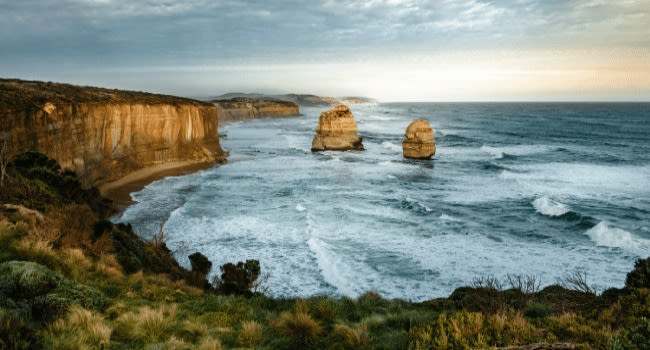 What is the Australian visa for US citizens
The Department of Home Affairs introduced this electronic Australian visa in 1996. Since then, some countries have been eligible to enter Australia without issues or long waiting periods for documents at the embassy. US passport holders are in the group of nationals who can apply for an Australian ETA.
The Australian visa application form takes less than 30 minutes! You only need a few documents and a mobile device with an internet connection. Applying online, you will receive the visa notification in your email once it is ready. Other than providing the required documentation during the visa application, the ETA has an additional restriction: visitors cannot have a criminal conviction to be eligible for an ETA.
The document is electronically linked to your passport number so the immigration officer can check the status of passengers arriving in the country. This is a Multiple Entry visa; once you get the visa for the USA online, you can travel to Australia multiple times in 1 year after issued.
Visitors are not allowed to apply for their Electronic Travel Authority from Australia. You will need to complete your application from the USA or any other country outside of Australia to be eligible.
Read more information about application steps and processing times to get the document to enter Australia.
ETA visa requirements to visit Australia
Counting on iVisa services, you will see that it is straightforward to apply for visas online. Our application form is easy and quick to fill out. You will need the following documents:
Valid passport: Your passport must be valid for at least six months from the date of arrival in Australia.

Means of online payment: You'll be required to make the payment online. You can use a credit or debit card.

Email address: You don't have to print out the ETA, but we use email as a means of communication, which is why we ask for a valid email address.
Apply online: ETA application to enter Australia
Do you have all the necessary documents on hand? If so, it is time to fill out the Australian ETA form. You have to follow these three simple steps:
First, you'll need to fill out the online form on iVisa application page with personal information, contact details, and your passport information.

Second, we strongly recommend double-checking the information to ensure there is no incorrect information. If everything looks good, you can move on to selecting how soon you want to receive your ETA.

Third, Pay for our visa services with your debit or credit card and submit the application.
Remember that you cannot have criminal convictions to apply for this document.
Processing time and visa fee
The visa price will depend on how fast you want to get the document. There are three options for each visa:
Standard processing - 24 hours - USD $81.99. This may be the longest processing time, but it's also the most affordable and comfortable for most travelers.

Rush processing - 12 hours - USD $133.99. If you need to get your ETA even faster, you can choose this option.

Super rush processing - 4 hours - USD $196.99. This is the fastest option we can offer you. You will receive the ETA to travel to Australia in your email as soon as possible.
Frequently Asked Questions
WHEN SHOULD I APPLY FOR MY AUSTRALIAN VISA?
Getting this document ahead of time can be helpful as it can remove some of the stress from the planning process. However, we also cater for last-minute trips, and you can get your ETA with iVisa within 24 hours before your trip. For travelers in a rush, we offer processing speeds that are as fast as 1 hour.
HOW LONG CAN I STAY IN AUSTRALIA WITH THE TRAVEL VISA AUSTRALIA?
This travel document is valid for 1 year after issue, or the expiration date of your passport, whichever comes first. For example, if you got your ETA in June 2022, but your passport expires in February 2023, your ETA won't last for a year. It will expire in February 2023, on the same date as your passport. After your passport or visa expires, you can apply for an ETA again.
If your visa expires while in Australia, you have to leave the country and apply for a new ETA before returning.
ARE THERE ANY COVID-19 TRAVEL REQUIREMENTS I SHOULD KNOW?
The Australian government has relaxed the COVID-19 restrictions since the disease got under control. Currently, there are no specific requirements for COVID-19 testing or quarantine. But of course, if you have symptoms and test positive, you should stay home.
The COVID-19 vaccination passports are no longer mandatory to enter Australia. So, regardless of vaccination status, people can travel, and vaccinated or unvaccinated travelers will have the same protocols visiting the country.
Travel health insurance is not mandatory to visit Australia, but we advise you to purchase one that covers COVID-19 to prevent healthcare costs in case you need medical services there.
WHERE CAN UNITED STATES CITIZENS FIND MORE INFORMATION ABOUT THE AUSTRALIAN VISA?
If you still have questions about the Australia visas for US Citizens or any other type of visa, we invite you to contact our customer service team. They'll be ready to help you at any time. You can also check our Australian Visa FAQ page, where you'll find lots of helpful information.