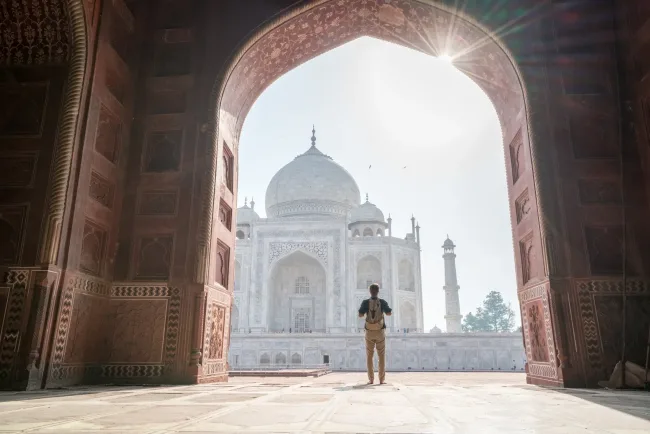 Attention UK travelers! Are you ready for an unforgettable adventure in incredible India? Before you embark on this enchanting journey, let's talk about what you need to enter India: the India Tourist Visa.
Most foreign nationals visiting India will need a visa to enter the country. Don't worry; we've got you covered! This guide will take you through the requirements and application process, ensuring a smooth and hassle-free experience.
So, grab your chai and get ready to discover the wonders of India by applying for your India Tourist Visa now! Here's everything you need to know about the India visa for British citizens.
Do UK citizens need a visa for India?
If you're wondering whether UK citizens need a visa for India, the answer is yes. To embark on your Indian adventure and explore its captivating wonders, you need an Indian visa for UK citizens.
There are many types of Indian e-visa available for UK citizens. The visa type you choose will depend on the purpose of your trip.
India visa for UK citizens: Available types
Here are the Indian visas available for UK citizens to get:
The Tourist visa is for those visiting India for tourism purposes, such as sightseeing, visiting friends and family, or attending cultural events.

You'll need a Business visa if traveling to India for business purposes, such as attending conferences, meetings, or trade fairs.

The e-Medical visa: This visa is for those seeking medical treatment in India. It's issued to the patient and two attendants and is sometimes called the e-medical attendant visa.

The Conference visa: This visa is for those attending international conferences in India.
It's essential to apply for the correct type of Indian visa to avoid any issues or delays during your travel.
What is the India Tourist Visa for UK citizens?
The India Tourist Visa (also known as the India e-tourist visa or India e-visa) for UK citizens is an electronic travel document that allows British citizens to visit India for tourism and recreational purposes. It grants permission to explore India's incredible attractions, historical sites, cultural heritage, and natural beauty.
With this visa, UK travelers can immerse themselves in diverse landscapes, indulge in authentic cuisine, witness colorful festivals, and create lifelong memories in this captivating nation. Whether you plan to visit iconic landmarks like the Taj Mahal, embark on a spiritual journey to Varanasi, or discover the bustling cities of Delhi and Mumbai, the India Tourist Visa is your gateway to an unforgettable Indian adventure.
How long is the India Tourist Visa valid For UK nationals?
There are three different types of tourist e Visas. Each has a different validity period. Your options for a regular tourist visa are:
The 30-day DoubleEntry India Tourist Visa

The one-year Multiple-Entry India Tourist Visa

The 5-year Multiple-Entry India Tourist Visa
We also offer a Business Visa and a Medical Visa; you'll find information on these categories in separate articles.
Note: All Indian e-Visas are non-extendable and non-convertible.
It's important to note that the immigration authorities determine the duration of each stay upon arrival in India. They may grant a shorter stay at their discretion. Therefore, planning your itinerary accordingly and ensuring you comply with the visa regulations during each visit is advisable.
Who is eligible to get an India Tourist Visa in the UK?
The eligibility criteria for an Indian Tourist Visa in the UK are as follows:
Nationality: You must be a British citizen. All UK passport holders are eligible to apply for an Indian Tourist Visa.

Purpose: The visa is specifically for tourism and recreational activities in India. It's not applicable for business purposes or employment.

Valid passport: Applicants must possess a valid UK passport with at least six months of validity remaining from the date of arrival in India.

Application process: UK citizens can apply for the India Tourist Visa with us.

Supporting documents: The application requires supporting documents such as a recent passport-size photograph, proof of accommodation in India, a travel itinerary, proof of financial means to cover the trip, and a return ticket or onward travel details.
It's essential to note that the final decision on granting the India Tourist Visa rests with the Indian authorities. Meeting the eligibility criteria doesn't guarantee approval, and it's advisable for British passport holders to carefully follow the application guidelines and provide accurate information to increase the chances of a successful visa application.
India Tourist Visa application: How to apply in the UK
Applying for your India visa online is a breeze! The process is simple and can be completed in just three easy steps. Here's how:
Step 1: Visit our website and complete the online form. Provide your general information and select the type of visa you wish to apply for.

Step 2: Review the information you provided to ensure its accuracy. Choose the processing option that best suits your requirements.

Step 3: Pay the service fee using PayPal, Venmo, or a credit or debit card. Upload the necessary documents, including a passport photo and a scanned copy of your passport.
Once you've completed these three steps, simply submit your application and sit back while we handle the rest! You can expect to receive your e-visa in your email inbox within your selected timeframe.
Remember to carry both a printed and electronic copy of your Tourist eVisa during your travels. This will allow immigration officers to verify your e-Visa India status upon arrival quickly.
We recommend installing the iVisa app on your mobile phone for your convenience. With this app, you can keep track of your documents digitally, monitor the status of your application, and receive real-time alerts.
With our streamlined process and user-friendly tools, getting your Indian e-visa has never been easier. Start your application now and prepare for an incredible journey to India!
How to prepare for the India Tourist Visa interview as a UK citizen?
UK citizens are generally not required to attend an interview for the India visa application process. Most visa applications are processed without an in-person or telephonic interview.
However, in some cases, the Indian authorities may request an interview if they require additional information or clarification regarding your application. If an interview is deemed necessary, you'll be notified by the visa processing center or the Indian embassy/consulate.
In such cases, it's crucial to promptly respond to the interview request and schedule an appointment at the designated time and location. Prepare for the interview by gathering the necessary documents and being ready to answer questions related to your travel plans and intentions in India.
It's important to note that the decision to conduct an interview is at the discretion of the Indian authorities. Therefore, it's always advisable to carefully review and follow the instructions provided by the visa processing center or embassy/consulate throughout the application process.
India Tourist Visa Fee: Cost of the visa for UK citizens
Different processing times have different prices depending on your travel needs and the type of tourist visa you're applying for. All options include the government visa levy and our service fees.
During the application process on our site, you can add services such as an iVisa Plus subscription, Premium Concierge Service, Embassy Registration, or Premium Photo Services.
We also offer iVisa Fee Protection, which allows us to process a new application for no additional processing fee if you're unable to make your trip, as well as the option to get a flight reservation or itinerary that is valid for two weeks and can be used to apply for a visa, as proof of return to show to immigration officers while traveling, for car rental purposes, etc.
All these additional services carry varying costs. Use our application form to check your application's total cost based on your circumstances.
What is the India Tourist Visa processing time in 2023 for UK citizens?
There are three processing options. Each has a different processing time and price depending on the travel needs and the type of visa. Here are the processing options we offer:
Standard Processing - This is the best option if you have more time to wait; it takes 5 days and is also the most economical.

Rush Processing - A little faster; receiving your visa only takes 3 days.

Super Rush Processing - Your visa will be delivered in 30 hours. It's the fastest option, perfect for those in a rush.
India Tourist Visa requirements for UK citizens
Let's look at the necessary documents, passport requirements, photo specifications, and specific requirements for children of UK citizens you'll need to know to apply for your India Tourist Visa.
Necessary documents for the India Tourist Visa for UK citizens
A valid UK passport with a minimum of six months validity remaining from the intended arrival date in India.

Completed India Tourist Visa application form with accurate and up-to-date information.

Recent passport-size photograph (2x2 inches) with a white background.

Travel itinerary specifying the intended travel dates, places to be visited, and accommodation arrangements.

Proof of financial means to cover the expenses during your stay in India, such as bank statements or traveler's checks.

Proof of return or onward travel, such as a confirmed flight ticket.
India Tourist Visa requirements for children of UK citizens
Children traveling with their parents or guardians must have their own visa.

A copy of the child's birth certificate showing the names of both parents.

If the child travels with only one parent, a consent letter from the non-accompanying parent is required.

For adopted children, relevant adoption documents must be submitted.
India Tourist Visa passport requirements for UK citizens
A valid UK passport with a minimum validity of six months from the intended arrival date in India.

The passport should have at least two blank pages for visa stamping.

Ensure the passport is in good condition, without damage or tampering.
India Tourist Visa photo requirements for UK citizens
You need a recent passport-sized photograph (2x2 inches) that:
is in color, clear, and of high quality.

has a plain white or light-colored background with no shadows.

shows the applicant's entire face and shoulders. They must be directly facing the camera.

shows the applicant with a neutral facial expression, with both eyes open and no hair covering the face.

shows the applicant's hair. No hats, sunglasses or other headwear should be worn except for religious purposes.
It's important to keep in mind that these requirements may vary depending on your travel circumstances. To ensure your photograph meets all the essentials, use our Passport Photo Service to get recent, government-standard pictures from your home.
My India Tourist Visa application was denied. What should I do?
If you're our client and your India Tourist Visa for UK citizens was denied, we can help you reapply. As a professional visa agency, we have experience with visa applications for various countries, including India.
We'll help you review the reason for the denial, provide guidance on reapplying, and ensure that your application is complete and accurate.
However, it's essential to note that the Indian embassy or consulate has the final say in the visa application process, and the decision to grant or deny a visa is at their discretion. At iVisa, we can't guarantee that your visa application will be approved, but we can assist you with the process and give you the highest chance of success.
Suppose your application is denied due to an error found in your application after being reviewed by our iVisa Experts. In that case, we'll refund the processing fee you paid us as our experts strive to ensure no mistakes in your application.
Note: Government fees will not be refunded.
Need more information?
If you need more info about traveling to India for tourism, medical assistance, or business, please contact our customer support team via online chat or email at [email protected] anytime.