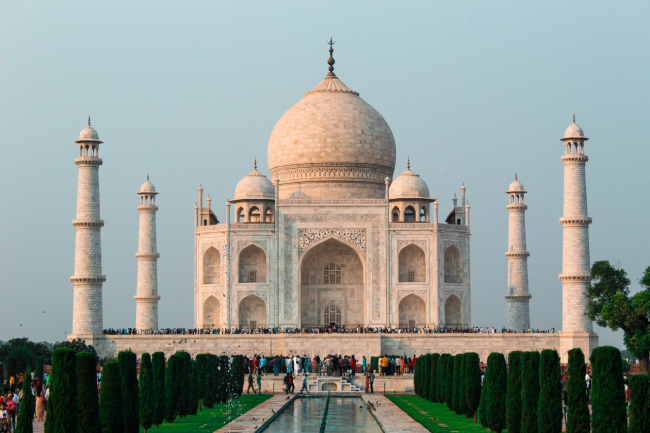 India is inescapable. Its lavish mix of festivals, traditions, colors, and dishes attract millions of visitors every year, who become enchanted by this vast sub-continent.
If you're reading this India Visa Guide, chances are you're considering a trip to India and already have a list of places you would like to visit, but nothing can prepare you for the wonderful experience of the Indian culture.
We'll tackle one thing at a time in this guide. First, we'll tell you about the mandatory requirements to enter India and everything you need to know about how to apply for the India Visa. Then we'll explore some of the most magnificent aspects of Indian culture that you can expect when visiting India.
Get ready, because this India Visa Guide will take you on a trip right from the comfort of your home.
What are the different types of Indian Visas?
To visit India, there are paper visas and electronic visas. The paper visas are meant for long trips. It's the best choice for those who have fallen in love with India so much they have decided to work or study there. If you're one of those, then you can only get a paper visa at the Indian embassy of your country.
For those who are looking to explore India for the first, second, or maybe the fifth time, there are 5 types of India Electronic Visas available. India is a country worth visiting over and over again. In this guide, we'll focus on these eVisas and how to apply fast and easy.
What India E-visa types can I find at iVisa?
E-visas are meant for short trips for tourism, business, or medical purposes and they are a great way to explore India. They are processed fully online from the comfort of your home. In our website you can apply to three different types of eVisas.
The electronic visas are:
Tourist eVisa (double entry/30 days)

Tourist eVisa (multiple entry/1 year)

Tourist eVisa (multiple entry/ 5 years)

Business eVisa (multiple entry)

Medical eVisa (triple entry)
These evisas have a validity of 30 days to 5 years, depending on the visa, and are available for travelers of selected countries. The time of your stay will also depend on the E-visa type and your nationality.
India Visa Guide - If you want to know more about these visas, you can check our full Indian visa article here.
How do you apply for an India visa?
You can apply for an India Visa from home, and this India Visa Guide will explain how.
What are the required documents to apply for an India E-visa?
Regardless of the E-visa you're getting, you'll need a valid passport and a photo with a white background.
Tourist eVisa: You'll need your valid passport and a photo with a white background.
Medical eVisa: Is essential to have a letter from the hospital that will provide the medical treatment. In the letter, they must include your personal information as stated in your passport for your visa to be accepted.
Business eVisa: You'll be asked to provide an invitation letter from an Indian-based company, including its name on the letterhead and contact information. Alternatively, you can provide a scan of your business card.
Don't forget that you can apply for any of these E-visas here!
What are the steps to apply for an India E-Visa?
Once you have all your documents according to your eVisa type in hand you can apply with us in only three steps:
Start your process by filling out our simplified application form. There, you'll have to include your personal information and details of your trip. It usually takes 4 to 5 days to process your visa, although it's common for travelers to receive their visa within 24 hours.

Receive your eVisa via email. No need to deal with an embassy!

Present your passport and E-Visa upon India entry.
Some fire tips
The E-visa will need to be presented at the border upon arrival, so make sure to have a hard copy handy on top of your digital copy, in case it's requested by the authorities. Make sure that your visa states "GRANTED" before boarding your plane, arriving in India without a proper visa is very problematic.
How do you check your India visa status?
Luckily, checking the status of your India Visa is very simple and in this India Visa Guide, we'll tell you how.
After you complete your application, you'll receive in your email inbox an application ID. It's a 16-character code. Don't forget to save this number because you'll need it to check the status of your visa.
With the application ID handy, go to the India Visa Government site and enter it along with your passport number and confirm that you're not a robot.
Once you're in, you'll be able to see your application and its current status. If you see that it's not moving along, do not despair. Sometimes it takes a few days to be ready.
Finally, we know that checking the status of your India Visa is very important as it will allow you to plan accordingly. If your application is rejected, you'll be able to reschedule your trip and work on the reasons for rejections.
Why is an Indian eVisa denied?
Some of the most common reasons in these cases are a mistake made by the applicant in the application form or blurry scans of the documents. If your application is rejected, check that both the application form and the scans are correct. And in case you decide to apply for the Indian visa again, carefully check that all the information entered is correct before hitting submit. This crucial step will save you time and money.
Now, once your application is successfully processed, then you can dedicate your time to planning your trip and packing for it.
India Visa Guide - Read more about how to check your India visa status here.
Which countries don't need a visa to travel to India?
Each country has its own visa rule, there are usually many, but they also have exceptions. In this India Visa Guide, we'll tell you what are the visa exemptions in the case of India.
Travelers exempt from presenting a visa are the citizens of Bhutan, Maldives, and Nepal.
They are allowed to enter the country for 90 days without presenting a visa, but only if they are not traveling from mainland China.
India also has visa exemptions for travelers that possess a Person of Indian Origin Card. These travelers need to be coming from the countries listed below:
Afghanistan

Bangladesh

Bhutan

China

Nepal

Pakistan

Sri Lanka
Visitors can also decide to get a Person of Indian Origin card instead of an electronic visa. Travelers that at any point have held an Indian passport, are married to an Indian citizen or have Indian parents, grandparents, or great-grandparents, can apply for a PIO (Person of Indian Origin) card and skip the visa process.
However, this invitation is not extended to citizens of any nationality. On the government site, visitors who wish to apply for the Person of Origin Card can check whether their nationality allows them to do so.
Lastly, citizens of Japan and South Korea can obtain a visa on arrival that grants them a stay of up to 30 days without the need of applying for a visa before departure, as long as they are not of Bangladeshi or Pakistani origin.
India Visa Guide - You can find out more about the visa-free countries to enter India here.
How does a visa on arrival differ from an eVisa?
This India Visa Guide wouldn't be complete if we didn't mention the visa on arrival.
Visas on arrival don't need to be processed before traveling, the way paper or electronic visas do. Visitors only need to present a valid passport upon arrival and the visa will be stamped directly in their passport. At the border, they'll need to answer some questions about the reasons for their trip and present proof that they can support themselves during their stay in the country. After this short interview, the visa will be stamped.
Currently, only citizens of Japan and South Korea can apply for an India Visa on arrival, as long as they don't have Bangladeshi or Pakistani origins.
The visa on arrival is valid for a 30-day tourism trip.
India Visa Guide - Get more details about the India Visa on arrival here.
How much does a visa cost?
The price for any visa will depend on the type of visa you need.
In the case of the Indian visas, the tourist electronic visa doesn't cost anything, as long as you process it directly on the government site. But if you hire an expert visa service, then the final price will include their service fee. They can be anything between $45 and $300, depending on the provider you choose. It would include perks like getting them to check your application before processing them so it's error-free and customer care agents available to answer all your questions. The Business eVisa and the Medical eVisa, on the other hand, cost $82 if you apply directly through the government site. If you use a professional visa service, then on top of that, you'll have to pay their service fee.
If you apply with iVisa you can get your India eVisa fast and save money by avoiding rejections from the government.
How much does the iVisa service cost?
30 day eVisa:
Standard Processing: 5 days - USD $89.49

Rush Processing: 3 days - USD $141.49

Super Rush Processing: 36 hours - USD $204.49
1 year eVisa:
Standard Processing: 5 days - USD $104.99

Rush Processing: 3 days - USD $156.99

Super Rush Processing: 36 hours - USD $219.99
5 year eVisa:
Standard Processing: 5 days - USD $109.54

Rush Processing: 3 days - USD $129.04

Super Rush Processing: 36 hours - USD $150.04
Where are Indian embassies?
Embassies are generally found in the capital or major city in each country. You can find an Indian embassy in these countries:
| A-C | D-K | L-Sa | Se-Y |
| --- | --- | --- | --- |
| Afghanistan | Democratic Republic of Congo | Laos | Senegal |
| Algeria | Denmark | Lebanon | Serbia |
| Angola | Ecuador | Libya | Slovakia |
| Argentina | Egypt | Madagascar | South Korea |
| Armenia | Ethiopia | Mexico | Spain |
| Austria | Finland | Mongolia | Sudan |
| Azerbaijan | France | Morocco | Suriname |
| Bahrain | Germany | Myanmar | Sweden |
| Belarus | Greece | Nepal | Switzerland |
| Belgium | Hungary | Netherlands | Syria |
| Bosnia and Herzegovina | Indonesia | North Korea | Tajikistan |
| Brazil | Iran | Norway | Thailand |
| Bulgaria | Iraq | Oman | Tunisia |
| Burkina Faso | Ireland | Panama | Turkey |
| Cambodia | Israel | Peru | Turkmenistan |
| Chile | Italy | Philippines | Ukraine |
| China | Ivory Coast | Poland | United Arab Emirates |
| Colombia | Japan | Portugal | United States |
| Costa Rica | Jordan | Qatar | Uzbekistan |
| Croatia | Kazakhstan | Romania | Venezuela |
| Cuba | Kuwait | Russia | Vietnam |
| Czech Republic | Kyrgyzstan | Saudi Arabia | Yemen |
How long does it take to get an India visa?
The electronic visa application is quick to complete. Once travelers have all the required documents at hand, the form can be completed within a matter of minutes.
Visitors can submit a request for a business or medical visa as early as 4 months before the date of arrival. In the case of the tourist visa, the application can be made up to 30 days before arriving in India.
That is a lot of time isn't it? You can apply with us and we'll get your tourist eVisa approved in 36 hours with our Super Rush service.
Our electronic visa application forms are simpler to complete than standard ones, it will only take minutes.
Take into account…
If you get a Double Entry tourist visa valid for 30 days after arrival, the validity of your visa will start from the day you arrive in India. In the case of the Multiple Entry visas, they are valid for 1 year after issued. In the case of the business and tourist visas, it's also a year, and 60 days in Total in the case of the medical visas. Its validity will start counting from the issue date.
In any case, visitors will need to apply no later than 4 business days before their trip to allow time for processing. Many applicants receive their visas within 24 hours, but the standard processing time is 5 days.
There's no need to go to an embassy or consulate. You'll get your electronic visa directly in your inbox.
India Visa Guide - Read more about how long it takes to get your India visa here.
Can you renew your Indian visa?
Of course, you can.
Once your visa expires and when you are back in your country of origin, you can process a new electronic visa, the same way you did with the first one. The good thing is that getting an electronic visa at iVisa is so simple that you'll be able to renew it again if you want to return to India.
Can I extend my E-visa while still in India?
If you want to extend your visa while still in India, then that's not possible. The Indian government clearly states on its site that the visas are not extendable. You would need to leave the country and apply for a new visa once the one you have has expired.
If you think you would like to stay for an extended period in India, we recommend that you apply for a multiple-entry, a year-long or 5 year tourist, or a business visa, depending on the reason for your trip. This way, you'll be able to leave the country for a short period and then reenter using the same visa. But remember, you cannot stay beyond your allotted time and you would need to exit the country before your visa expires, regardless of how long you've been there.
The only exception is with the business visa. If you entered the country using one and you need to stay longer for business reasons, you can extend your stay if you register at a foreign registration office (FRRO/FRO). You'll have to explain the reason for the extension and prove that you can sustain yourself during that time.
The good thing is that getting an electronic visa is so simple that you'll be able to renew it again if you want to return to India.
IVISA RECOMMENDS
Now that we have covered the details of your visa in this India Visa Guide, is time to talk about what you can expect from your trip to India.
We don't need to tell you that India is an amazing destination. There's so much to do and see and not enough time.This India Visa Guide will give you a glimpse of the beauty you can expect on your next trip to India.
Colorful festivals
India has a rich culture full of festivals throughout the year. By participating in them you can experience the real India. Enjoy the delicious food, learn about Indian traditions and celebrate Indian family values. Read about some of the most popular Indian festivals below.
DIWALI
This festival, celebrated between October and November, is family-centered. Even though the festival lands on a specific day, the preparations start long before the date.
This festival is recognized worldwide because of the candles and oil lamps that form a crucial part of the celebration. Rows and rows of lamps are lit at home and on the streets to celebrate the final triumph of good versus evil.
HOLI
Often referred to as the festival of colors, it is celebrated not only in India but all over the world. This festival is well known because of the use of gulal, the colorful powder that is thrown around during the festivities.
This is another festival celebrating the victory of good versus evil, portrayed through the bonfires representing the burning and destruction of the demoness Holika by Lord Vishnu. This is one of the most popular festivals among foreigners and for good reason. It's very carefree and a lot of fun.
GANESH FESTIVAL
This amazing festival celebrates the birth of the beloved Hindu elephant-headed god Ganesha. It lasts for 11 days and you can see enormous elaborate statues of Lord Ganesha in homes, public podiums, and beautifully decorated streets. The statues are worshiped every day throughout the festivals. On the last day, they are paraded through the streets and there's a lot of dancing and singing.
Diverse culture
India is incredibly diverse. All major religions in the world are present within it and many smaller religious groups as well. But in all cases, Indians are very sensitive when it comes to religion, so all visitors should be mindful and respectful to all of them even if they don't understand them.
Another important aspect that you'll notice on your trip is that Indians are very different depending on the area of the country you visit. An interesting aspect of this diversity is that there are 22 official languages in India. It's important when you visit India, not to make assumptions. And if you're not sure how to proceed, ask respectfully. Locals are incredibly friendly and they'll be more than happy to help.
Mouth-watering food
Every state in India has its cuisine, and this is one of the things that makes the Indian subcontinent so attractive. You can try fancy restaurants and local food markets and you'll never be disappointed by the food.
But the best food you'll ever try is homemade. If you ever get invited for dinner by an Indian family you'll receive the highest honor. This is the absolute best way to try the local cuisine. Remember to bring a gift for the host, guests are always expected to do so, and leave your shoes outside.
Another thing you need to consider when trying Indian food is that it is commonly eaten with your hands unless you're left-handed. The left hand is considered unclean and you shouldn't give or receive anything with it. If you're left-handed, consider asking for a spoon.
We hope that you found this India Visa Guide helpful and that you have fun on your next trip to India.