It's common for people to rush through the Netherlands, visiting only the capital city Amsterdam. And we don't blame them, there's a lot to see in the EU, and with limited vacation time it's hard to fit it all in. However, this tiny country offers a huge range of unique activities, as well as a fascinating history and culture. So if you have some extra time available, we recommend spending at least 5-7 days there to really get a sense of the place.
Find below our local Dutch iVisa expert's ultimate 7-day itinerary of the Netherlands to get the full experience, including advice on how to get around. For more practical information about traveling to the Netherlands, such as COVID-19 regulations and visas, check out our ultimate Netherlands Travel Guide.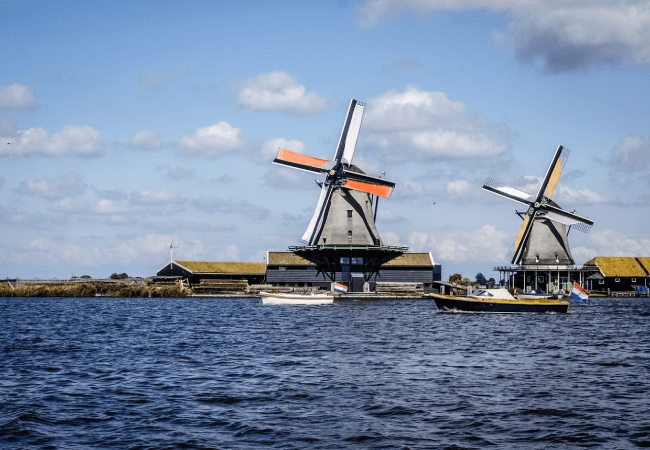 Good preparation is half the work
Many people don't realize how small the Netherlands is, and getting around by public transport is easy and convenient. However, it's always good to be prepared, so here are a few tips and tricks before we start our ultimate trip in the Netherlands in 7 days.
How to travel around the Netherlands
Despite being very safe, renting a car is not recommended. Driving in old Dutch cities can be confusing and parking costs an arm and a leg. For this itinerary we recommend using the extensive public transport network in the Netherlands as your main mode of transport, and getting around the area like the locals do: by bicycle!
Train, bus, and tram Train travel with the NS (Nederlandse Spoorwegen) trains is the best way to get around the Netherlands. Almost all cities in the country are connected by the rail network. A bus stop will be available in smaller villages without NS stations. Some bigger cities, like Amsterdam and The Hague, also have other public transportation options, such as tram- or metro lines.
From Amsterdam Schiphol Airport you can take a 15-minute train into the city center. There are kiosks and counters available to purchase the national OV-chipkaart, or public transport card. You need to preload the card, and don't forget to tap in and out as you go! You can always load more funds onto the card at train stations.
Cycling and walking The Netherlands is very walkable, specifically in cities and towns. Most of the time there are separate paths for pedestrians and cyclists. You'll definitely find the best hidden spots, cafés, and sights on foot.
A trip to the Netherlands isn't complete without renting a bike. At the same time, be careful when you're on the bike paths in the Netherlands, it can get very crowded. Keep your eyes on the road, stay on the right, stick out your arm to indicate where you are going, and you should be safe. The country offers amazing bike routes too. A different and local way to explore!
Best time to visit the Netherlands
During the summer months, June to August, the country is at its busiest. In this peak season in the Netherlands prices will be high, accommodation will fill up early, and major museums will be crowded. On the other side, everything is open, you'll spot locals enjoying their best lives, and the weather is perfect for a countryside bike ride and drinks on the canal side.
It's less crowded during shoulder season, from March to May and August to September. Prices are lower, and you will only need to book popular Amsterdam attractions. Spring is also the best time to see the tulip fields in full bloom and experience the orange sea that's called King's Day (April 27th).
In any case, bring layers and a rain jacket. Winter is the perfect time to witness traditional celebrations, try hot erwtensoep or stamppot at a brown café, and take in the numerous museums.
How to spend 7 days in the Netherlands
By following this itinerary, you'll get a diverse range of Dutch experiences, from food, museums, countryside, nature, history, art, and architecture. Plus, if you can't get enough and decide to stay a little longer in the Netherlands, we added a few bonus destinations that are worth a visit.
Day 1-3: Explore the iconic capital city of Amsterdam
A three-day stay in Amsterdam is generally recommended. Enjoy Dutch food such as bitterballen and stroopwafels, explore Amsterdam's charming canals by boat, see Amsterdam's progressive side in the Red-Light District and many 'coffee' shops, explore the hipster Pijp neighborhood, and take in all the art and history at Amsterdam's numerous world-class museums, such as the Anne Frank House, Van Gogh Museum, and Rijksmuseum.
Day 4: Dutch galore in Volendam and the Zaanse Schans
You don't need to take a tour to see windmills and cute Dutch villages from Amsterdam. Simply take public transport and explore in your own time. Start your day by taking the train from Amsterdam Central Station to Zaanse Schans, and simply follow the signs. There's a good reason why this Dutch postcard town with rows of windmills, wooden houses, and fields of cows is one of the most famous attractions in the Netherlands. Spend the morning here before heading to your next destination.
While there is no direct bus or train line from Zaanse Schans to Volendam, it's not a long trip, and you can easily hop on and off buses with your OV-chipkaart and follow your map. Spend the entire afternoon in Volendam, an old fishing village not far from Amsterdam. This iconic town has a charming harbor, locals walking around in traditional wooden clogs or klompen, and is the ultimate place to try a local delicacy: raw herring (if you dare!).
Day 5: Cycling around Haarlem and the tulip fields
Tulip season is the perfect time to visit the Netherlands! These iconic Dutch flowers are best seen in the Netherlands between mid-April and the end of April, maybe even May. Most people head to the Keukenhof gardens to see the tulips, however, you can also find many colorful fields near Haarlem that are free to visit. As an added bonus, Haarlem is a great place to get a taste of the Dutch beer culture at the Jopenkerk, a former church turned brewery, and explore cobblestone streets and medieval churches.
This beautiful and compact city is only a 15-minute train ride from Amsterdam. For the ultimate Dutch experience, rent a bike in the city center of Haarlem and follow this gorgeous bike route through the city and countryside along the tulip fields to the Keukenhof gardens.
Day 6: Get cheesy at Gouda
Most tourists skip smaller Dutch cities like Gouda over the bigger cities. However, there are some excellent reasons to visit Gouda, first and foremost: cheese! If you're in Gouda during the summer, make sure to check out the famous Dutch cheese market that's held every Thursday. At the 't Kaaswinkeltje you can find every type of Gouda cheese you can imagine - most available for tasting, of course.
However, this destination has so much more to offer than its namesake delicacy. Gouda still maintains the historic charm of a small town, and boasts a gorgeous town hall. Moreover, cheese is not the only culinary delight found here. Another of the city's most famous foods are stroopwafels (syrup waffles). Get your hands on a freshly baked one from the market! Gouda is about an hour train trip from Amsterdam.
Day 7: Up close and personal with Dutch masters in The Hague
The Hague is one of the few bigger cities in the Netherlands. Your OV-chipkaart will take you here in about an hour, and we recommend staying a night. This diverse and international city is home to the International Court of Justice and Peace Palace, and the royal family of the Netherlands call this city their home. The unique architecture, the stunning canals, and the diversity of the city leave people in awe. One of the top attractions is the Mauritshuis, where you can view the Girl with the Pearl Earring and other Dutch masterpieces from Rembrandt and Vermeer, among others.
The Hague is also close to the beach, Scheveningen strand, which is worth a visit on a summer day. The miniature city Madurodam, with all the iconic sights of the Netherlands in one place, is great for travelers with kids.
Bonus: Nature, modern architecture, and Dutch countryside
While the above itinerary gives you the best of what the Netherlands has to offer, there are many other places that are worth a visit. If you can't get enough, or you are looking for other things to do in the Netherlands, consider some of the following locations.
Rotterdam: The vibrant city of Rotterdam is the second-largest city in the Netherlands and is known for its unique architecture and modern art. The city was bombed in WWII by the Germans in a mere 15-minutes, which led to a one-of-a-kind blend of iconic buildings and structures, such as the cube houses, market hall, and Erasmus bridge. The maritime museum is well worth a visit, as Rotterdam is home to the largest port in Europe. You can get to Rotterdam easily from The Hague or Amsterdam by train.

Giethoorn: With its numerous waterways, thatched-roof farmhouses, and idyllic setting, Giethoorn has earned its place in the list of most popular attractions in the Netherlands. Also known as "the Dutch Venice", it is only possible to explore this charming town by boat, bicycle, or on foot. Giethoorn is quite a trip from Amsterdam, about 2.5 hours. There is no train station, but you can easily hop on a bus from a nearby town station, using your OV-chipkaart.

Hoge Veluwe National Park: As one of the largest nature areas in the Netherlands, nature lovers can hike or bike their way through beautiful natural landscape and wildlife. In the center you'll find the Kröller-Müller Museum, home to the world's second-largest collection of Van Gogh works. The national park is a great place for any bird-watcher or cyclist. We highly recommend a stay in one of the nearby pretty towns for a full experience. The closest city is Apeldoorn.
The Netherlands is one of the best places to visit in Europe for visiting world-famous museums like the Rijksmuseum and Anne Frank House, breathing in history and culture, or enjoying world-famous art. To learn more about traveling to the Netherlands, read the Netherlands Travel Guide that we've put together for your convenience.
Don't forget to get all your documents and Netherlands visas in order, such as a Schengen visa or the upcoming ETIAS visa waiver. iVisa is here to assist you in any way we can.