If you are planning a trip to Turkey, you might wonder if there are still any COVID-19 restrictions for entry. The short answer is that yes, you can travel to Turkey, but you do need to take a few requirements into account.
If you have the right documents, you can travel anywhere. iVisa.com is here to help you get all official documents for travel, in time and without hassle. Depending on your nationality, you may need to obtain a visa, health declaration, negative PCR-test result, medical insurance, and more, before arrival in Turkey. Complete your passenger locator form and learn more about any COVID-19 restrictions and requirements for Turkey below.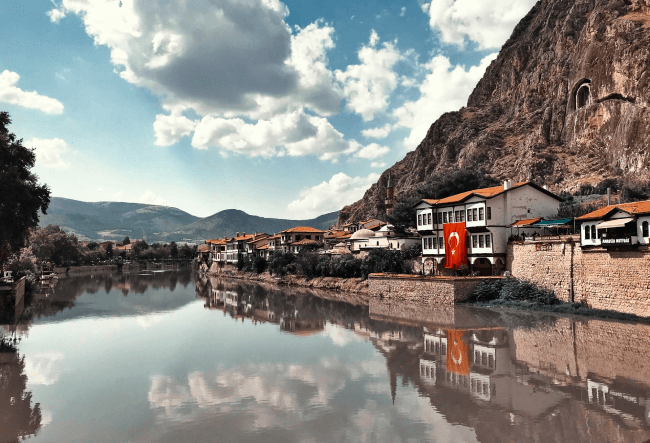 What to do and see while visiting Turkey
History, nature, adventure activities, rich culture, and delicious food make Turkey one of the best places in the world to explore. Prepare yourself for your next adventure in Turkey and discover the beauty of one of the most important cities worldwide: Istanbul.
Discover the ancient attractions and the best beaches in Turkey
Turkey offers beautiful beaches and fascinating natural parks. Explore ancient wonders and otherworldly landscapes inland, once inhabited by Cleopatra and Alexander the Great, and yet less crowded than Italy and Greece. For example, explore Mount Nemrut, where you can see the remains of mammoth statues scattered on the summit in eastern Turkey. Or take a rejuvenating bath in the natural hot springs in Pamukkale.
Another sight to behold is the region of Cappadocia. Known for its rock formations called "fairy chimneys", otherworldly rock caves, and the hundreds of hot air balloons that dot the sky during sunset. But there's nothing like the turquoise coast of Turkey in summer, when sailboats find their way from Izmir in the Aegean Sea to the Blue Lagoon in the Mediterranean Sea, anchoring to swim in the crystal-clear water and indulging in seafood lunches in local fishing villages.
Get a taste of Istanbul's unique culture
Besides visiting ancient cities like Side and Amasya, a trip to Turkey is not complete without a visit to the beautiful city of Istanbul. Located in both Europe and Asia, and known in the past as Constantinople, it still has the aura of an imperial and unique city. Cross over on the ferry to the Asian side, and you will see a totally different Istanbul, both in architecture and lifestyle. It's like being in another country.
One of the most famous attractions in Istanbul is no doubt the Hagia Sophia, a mosque built in the sixth century A.D. Originally an orthodox Christian cathedral and then a museum, this religiously impressive building was converted into a mosque in 2020. It is, of course, a UNESCO World Heritage Site.
In addition, you can find many bars and restaurants in the city, such as those in the Beyoglu area, next to the emblematic Taksim Square and the Galata Tower. And then there's the Grand Bazaar, a city unto itself. As you sail down the Bosphorus River, Topkapi Palace looms in the distance, dwarfing the small figures of Turkish fishermen. With the sky ablaze in orange and red, this is one of the most spectacular sunsets to witness anywhere in the world.
COVID-19 travel restrictions in Turkey
COVID-19 restrictions have been lifted in Turkey as of June 1st, 2022. Therefore, passengers arriving in Turkey do not need to present proof of vaccination or PCR-test results. All you need to enter Turkey is to fill out the Turkey Health Declaration and get a visa (if applicable) before you arrive.
We recommend checking for Turkey travel updates a few days before your trip since information can change quickly.
How to fill out the Turkey Passenger Locator Form
Due to the COVID-19 pandemic, the Turkish Government implemented the Turkey Public Health Passenger Locator Form that must be completed to enter the country. You can find a simple online process that can be completed from any computer or mobile device from the comfort of your own home, without hassle.
This mandatory health declaration is available on the iVisa.com platform. In addition, you must comply with the health protocols in Turkey for a safe trip.
Do I need a visa for Turkey?
Get ready for a trip to Turkey! But first, check how to apply for the Turkey e-Visa, if applicable to your nationality. Once approved, you'll be able to visit the country's beautiful sights, where you can enjoy all kinds of exciting activities, delve into history, and learn about traditional Turkish culture.
There are some countries that don't require a visa, like Italy and Portugal. Other countries still need to apply for a visa or e-visa for Turkey, such as nationals from Australia, Spain, Indonesia, Cape Verde, Iraq, Afghanistan, Croatia, and Haiti, among others. Check if your nationality needs a visa to visit Turkey using our online visa checker.
How to apply for a visa for Turkey online
We know that applying for a travel document can be an incredibly frustrating and inconvenient process. That's why iVisa.com has created the perfect solution so that you can get your documents quickly. In just a few clicks, you are able to apply for your Turkey visa online while you plan the rest of your trip.
Frequently Asked Questions about traveling to Turkey
How can I get my passenger locator form through iVisa.com?
Simply follow the below steps:
First: complete the application form and choose the preferred processing speed.

Second: ensure that all your information is accurate and pay the application fee online.

Third: Upload the required documentation and press "Submit" to complete your application.
Get started with your application for your Passenger Locator Form, designed to stop the spread of COVID-19 in Turkey.
Can I travel to Turkey right now? (COVID restrictions in 2022)
Yes. Turkey's borders are open to foreign visitors who meet the implemented travel regulations.
Currently, all passengers arriving in Turkey (except transit passengers) must complete the "Form for Entry to Turkey". It is a health declaration to tackle the spread of Coronavirus. For more details, visit the application page.
What is required in order to complete the application for the Turkey Passenger Locator form?
You need to submit these documents to complete the application:
A valid passport
Valid email address: you will get the passenger locator form via email.
Payment method: pay the application fee online with a debit or credit card.

Passport Scan (if applicable)

Visa or residence permit from one of the Schengen Countries, USA, UK or Ireland (if applicable)
How long does the application process for a Turkey visa or other travel documents take?
There are three visa processing options available on iVisa.com. The exact time frame depends on the type of travel document you're applying for:
Standard processing: (

USD $90.99

-

24 hours

) This is the standard option and the most affordable. It's perfect for those who still have some time before they depart for their trip to Turkey.
Rush processing option: (

USD $120.49

-

4 hours

) With this option, you'll receive your travel document for Turkey a little sooner than usual, for an extra service fee.
Super Rush processing: (

USD $149.49

-

30 minutes

) By far the quickest option for those who are in a rush to get their travel document, visa, or health declaration for Turkey in order, for an express fee.
Choose the one that suits your travel plan and start the application process to get more information about the COVID restrictions in 2022.
How secure is iVisa.com?
The application process through iVisa.com is simple and secure. We offer 24/7 support and your information is encrypted, as we value your privacy. You can be sure that your information is safely processed when you apply for your Turkey Passenger Locator Form or e-visa for Turkey. You can check out our customer reviews for confirmation of our excellent service.
Where can I find more information about the COVID restrictions in Turkey in 2022?
If you have any more questions about traveling to Turkey and COVID restrictions in 2022, simply contact our customer support agents or email [email protected]. They are available 24/7.