The citizens of most nations, including Bruneians, require a digital visa to visit Australia. The process is known as an ETA or Electronic Travel Authorization subclass 601, and you can fill in the application form here in a few minutes to get ready easily and travel to Australia.
The distinction between this ETA and the one we had earlier in 2013 is that the present visa permits you to visit Australia for both tourism and business functions.
In iVisa we decided to offer you detailed information about this ETA in order to clarify any doubts you have.

Frequently Asked Questions (FAQs)
What is an Australian ETA?
An Electronic Travel Authority (ETA) is an authorization that allows you to travel to Australia and is electronically linked to your passport. This document is made for tourism or business visitor activities such as attending a conference, making business inquiries or for contractual negotiations.
How Long can Bruneian Citizens stay in Australia with the ETA?
The maximum stay for Bruneians is 90 days Per Entry.
How long is this Australian ETA valid for?
This document has a validity of 1 year after issued.
What is necessary to apply?
Applying online has definitely made things a whole lot simpler for Bruneians, but it doesn't mean that you don't have to provide a couple of things. Before you fill in the application form, it's strongly suggested that you collect all of the necessary documents. iVisa asks hardly any things from you, however, the files needed to be uploaded are as indicated. Here's what you need:
Valid passport – Bruneians can't travel to Australia without passport. If you don't have one, you can fix this by paying a visit to the issuing authority in your own country. Should you have a passport, ensure it is valid for at least 3 months from the date of entry to Australia.

A credit/debit card or a PayPal account – Before sending your application form, you'll be asked to pay iVisa's services. Bruneians can use both credit or debit card. In case you've got a Paypal account, iVisa accepts it too.
Remember that you will also be required to answer a pair of private queries. It's nothing out of the normal; only a few questions like the reason for your trip, etc. Although not significant, please reply honestly.
If you've got the items mentioned previously, you can proceed and complete the application form. The process is quite simple, and iVisa has a customer care service that's accessible 24/7.
What are the processing period and charges for Bruneians?
One thing you should know is that Australia's ETA itself is totally free. However, it can take you several hours to get this visa, and it's also a little bit tricky to understand the process online.
That's why iVisa offers you three options to get your ETA faster and simpler. As you can imagine, the quicker you need your ETA, the more you need to pay. Here are your choices:
Standard processing period -- This is the least expensive and most widely used alternative. Bruneians can pay the entire sum of USD 55.00. In terms of length of time, you want to wait around for your application to be processed. It takes 24 hours to receive your ETA. Though this is the slowest, one business day isn't a big inconvenience.

Rush Processing period -- this alternative is a whole lot quicker than the first option. Bruneians can get their Australia ETA in only 4 hours. As you can anticipate, you have to spend more this time USD 85.00 to be exact.

Super Rush processing period -- this alternative is the quickest iVisa provides. It is possible to apply on your way to the gate (if the airport is large enough). It takes 1 hour to the application to be processed, and you'll be billed USD 120.00.
Keep in mind that in all of these options the service fee is included. If you want to start your application, then click here.
How does the Australian e-Visa work?
This system was first introduced in 1996, providing authorization to travel to Australia through an electronic method. The Australian ETA is available to citizens of over 50 countries.
The ETA is an electronically-stored authority for travel to Australia for short-term tourist or business visits and for applicants outside Australia. It replaces the classic visa label or stamp in a passport and reduces the need for citizens to visit an Australian Embassy.
How many times can I enter Australia with an ETA?
The Australian ETA has Multiple Entry. Just remember that each entry has a limit.
Are there any restrictions for my Australian ETA?
Yes, you have some restrictions with your ETA. These are:
You can't work
Your visit must not be greater than 3 months (per visit).
You must not have tuberculosis (TB)
You must not have any criminal convictions.
Do I need an ETA for my kids traveling to Australia with me?
Yes. Everyone traveling MUST get an ETA before departing, regardless of their age. Each person needs to submit an application separately. If your kids are linked to your passport, you still have to submit individual applications.
Do I need an ETA if I'm only passing through Australia?
If you depart within 8 hours for arrival, confirm onward booking documentation and you're sure that you'll remain in the transit lounge, you won't need an ETA. However, for certain nationalities, a transit visa may be required. Please go to this website for more details.
How long does it take to apply for an ETA?
Less than 10 minutes is all you need to fill in the application form.
How can I apply for an ETA?
The application form is easy to understand and quick to complete. It's broken down into two easy steps.
First, you have to fill in your personal info and pick the processing period.

Second, you have to revise step one and make the payment. After that, you just need to submit the form to complete all the process.
Acquiring for an Australia ETA for Bruneians is among the simplest things you can do. It takes very little time and effort, and you'll be on the next plane out.
How does the Australia ETA look like?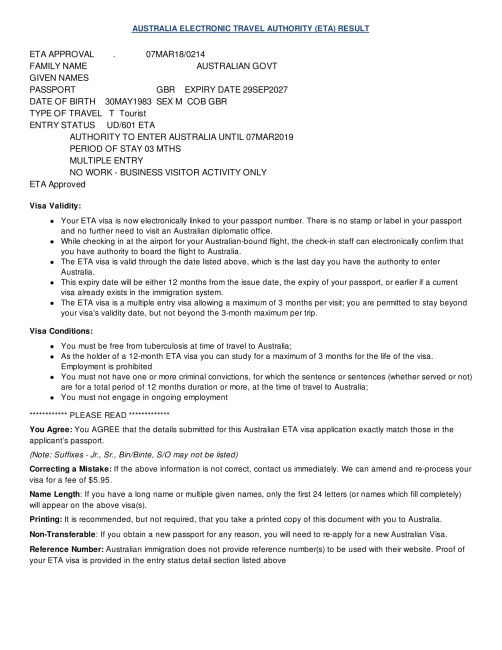 How do I know if my visa is approved?
Once you submit your application, we will inform you when your visa is read via email. This way, you don't have to deal with the embassy. We do it for you so you don't waste valuable time.
I made a mistake on my application. Can I modify the ETA after it's issued?
No, we're not allowed to change or modify any details on the ETA once it's issued. But in case you realize you made a mistake before your ETA has been issued, then please contact us ASAP via online chat or by sending an email to [email protected]
Is it safe to use iVisa to get my ETA?
Completely! Many people think that online information can easily leak and put into risk, but that doesn't happen with iVisa. We provide maximum safety for your personal data, and we invest a lot in the security of our database. Your personal information could not be safer. You can check what hundreds of happy customers say about us here.
I have more unresolved questions, where can I find more information about it?
If you still have doubts about this visa, click here and start chatting with one of our customer service representatives. You can also find more info and FAQs here.
Start your adventure now! Click here to apply for an ETA and enjoy all the magic that Australia has.