Home
>
Malaysia Travel Guide: All you need to know to visit Malaysia in 2023
Malaysia Travel Guide: All you need to know to visit Malaysia in 2023
Welcome to Malaysia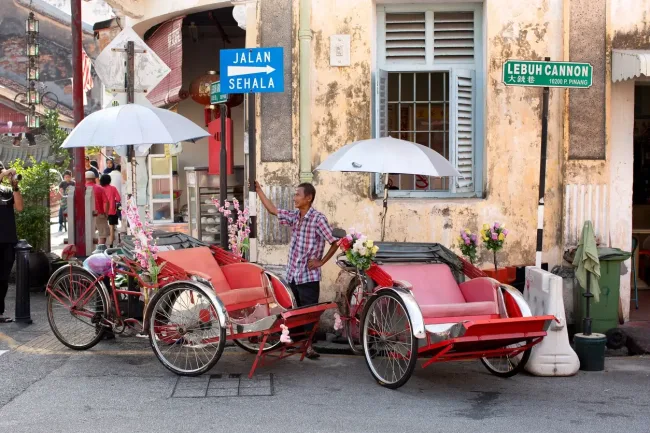 Malaysia is famous for being one of the most multicultural nations in Southeast Asia. There is never a dull moment for the inquisitive traveler in this country, which is steeped in history and rich in culture. Let's travel to Malaysia!
Here's the ultimate Malaysia travel guide with practical tips and travel inspiration to make the most of your trip.
Document checklist for Malaysia
Visa (if applicable)

Valid passport (must be valid for at least 6 months from the date of entry and have two blank pages)

Sufficient funds to cover your trip

Return or onward ticket
Essential Malaysia travel information
Currency - Malaysian ringgit (RM). $1 is equivalent to approx. RM 4.40.

Daily budget for 1 person - Allow a daily budget of approx. RM 310 ($70).

Languages - The national language of Malaysia is Malay, spoken by over 80% of the population. The second official language is English.

*Number of travelers per year** - Tourism in Malaysia is a major industry, once ranked 9th in the world for tourist arrivals. A total of 26,100,784 international tourists visited Malaysia in 2019.

Socket type - Type G, 240V supply voltage and 50Hz.

Time zone - Malaysia Time (GMT+3).

Top 3 major cities to visit - Kuala Lumpur, Melaka, and Georgetown.

Top 3 landmarks/monuments - The Petronas Towers, Taman Negara, and the Perhentian Islands.
Visa information for Malaysia
Malaysia offers various online visa applications, depending on which visa you need. Learn more about your specific requirements with our handy Visa Checker Tool or continue reading for more info.
The Malaysia Tourist eVisa explained
The Malaysia eVisa is an official travel document that grants specific foreign nationals entry into Malaysia. It's available for tourism purposes. If you're eligible, you can apply online with iVisa and use our simplified application form!
While some visitors are visa-exempt, most travelers from African countries and some in South Asia can get a Single Entry visa which allows them to stay in Malaysia for up to 30 days Per Entry.
The Malaysia Digital Nomad Visa explained
The Digital Nomad Visa for Malaysia, also called the DE Rantau Nomad Pass provides travelers with an excellent opportunity to work and travel there. Freelancers, remote workers, and independent contractors working in the digital field like IT and digital marketing can apply and stay up to 12 months in the country.
Applicants must meet the following requirements of the Malaysian immigration authorities:
Earn an annual income of at least USD 24,000.

Be a remote worker, digital freelancer, or independent contractor with an active contract or active employment contract from foreign-based companies or locally-based companies.

Work within the IT industry, including digital marketers, UX/UI designers, digital content developers, and/or creative content creators.
The Malaysia Customs Form explained
The Malaysia Customs Declaration Form is not a visa, but a document that travelers by air must fill out to declare goods and cash when arriving in the country. It's also known as Customs Form No. 7. It is part of the customs act under Malaysian law.
You can now fill out this form in advance through iVisa, making the arrival process smoother.
Visa difficulty index for Malaysia
Accessibility: 4/5 You can apply for most Malaysian Visas online, and they are easy to obtain if you meet the requirements.
You don't need to provide bank statements or other in-depth documents to apply, unless you're applying for a Digital Nomad Visa. For your peace of mind, iVisa can help you obtain all the above visas!
Time to get your visa: 4/5 The Tourist Visa for Malaysia takes an average of 6 business days, while the Digital Nomad Visa can be processed within a month by local authorities.
Costs: 3/5 The Malaysian government costs for the Digital Nomad Visa may seem high, but the travel document is relatively affordable for a long-term visa. The costs for the Malaysian Tourist Visa are considerably high, compared to most Asian countries.
Check the entry requirements for Malaysia for my nationality
Typical costs and budget for Malaysia
A guide to what you'll spend on a daily basis traveling through Malaysia on a mid-range budget.
Daily spending - Around RM 310 ($70) per person, per day. This includes:

Meals - You can expect to pay up to RM 20 ($5) for a meal in a cheap local Malaysian restaurant.

Transport - Depending on your travel plans, transportation may cost up to RM 60 ($12) per day, including long-distance tour buses.

Hotel - A private room costs around RM 105-130 ($23-30)per night. On average, a trip to Malaysia for two people for one week will cost RM 3,500 ($800).
Transport and best ways to travel around Malaysia
There are many ways to get to and around Malaysia, whether by flying or by bus. Here are some tips for navigating the country safely.
Getting to Malaysia
Malaysia is located in the heart of Southeast Asia, on the busy flight path between Europe and Australasia. The main airport is Kuala Lumpur International Airport. You may have to transit in Kuala Lumpur or Singapore if you fly long-haul to east Malaysia. Kota Kinabalu, Kuching, and Penang are Malaysia's regional airports that mainly serve cities in East Asia.
The following airlines fly to Malaysia from Europe, America, and Asia:
Malaysia Airlines

AirAsia

Singapore Airlines

Firefly
The Malaysian rail company KTM offers daily express rail services between Thailand or Singapore and Malaysia. Additionally, scheduled ferry services regularly go from and to Thailand and the Philippines. Singapore and Thailand can also be easily reached by bus.
Arrival and immigration tips for Malaysia
Kuala Lumpur International Airport is modern and easy to navigate. Here are some tips to make the immigration process smoother:
Apply for your Malaysia travel documents in advance to avoid being denied boarding and delays.

If you arrive by bus, you must leave the vehicle to go through passport control. Do not leave your hand luggage on the bus, but take it with you as buses often park unattended.

You can get to the airport by bus or train, no need to take a taxi.

Free WiFi is available at KLIA Airport for up to 3 hours.
Buses in Malaysia
With regular express buses between major cities and towns and slower local services within, typically, a 100-kilometer radius, Malaysia's national bus network is well-developed and easy to use.
Buying a ticket at a Malaysian bus station can be chaotic. Popular routes are served by dozens of companies, each with its own ticket booth. This also means departures are pretty frequent. You can usually buy a ticket when you show up, but popular routes, such as those involving the Cameron Highlands, may require you to buy ahead.
Trains in Malaysia
The rail network offers international services and frequent trains to most major places in the country along the coasts.
Long-distance taxis in Malaysia
In most towns in Malaysia, there is a long-distance taxi rank near the express bus station. Taxi drivers operate between cities and towns throughout the country, and they can be much faster than buses. However, you have to wait until enough people show up to fill the seats in the vehicle since they operate on a shared basis.
Boat and ferries in Malaysia
Ferries sail to the islands of Langkawi, Penang, the Perhentians, Tioman, and the Pangkor islands off Peninsular Malaysia. Usually, the vessels are speedboats or compact motorized fishing boats. It is generally best to purchase your ticket in advance at the jetty, but you can sometimes pay on the boat as well.
Rickshaws in Malaysia
Bicycle rickshaws can seat two people and are becoming less common these days. However, they're still a big part of the tourist scene in Melaka and Penang. The experience here is what you pay for, not the transportation itself.
Safety in Malaysia
Traveling in Malaysia is relatively safe. People in the country are polite and welcoming to tourists since tourism is a major industry.
Like any other city in the world, Kuala Lumpur can get quite sketchy at night. Sticking with a group instead of heading out alone and avoiding small side streets is generally recommended. No matter how short the distance is, take a taxi (licensed) to get around at night.
A few extra tips to keep yourself and your valuables safe:
To avoid petty crime, take sensible precautions. In cafes, airports, railway terminals, and hotel rooms keep valuables and personal belongings safe and be particularly cautious of your passport.

Malaysia strictly enforces its drug laws. If you possess, use, or traffic illegal drugs in Malaysia, you will be sentenced to significantly longer prison sentences and much heavier fines than in most European countries.

Make sure to stay updated about all entry and exit requirements, and apply for a visa in advance, if you need one.

Respect local traditions, and follow local dress codes, and local laws.

Purchase travel medical insurance before you go that covers private hospitals, emergency services, and medical evacuation.

Local police and other Malaysian authorities usually speak good English, so if you are a victim of a crime, do not hesitate to contact them.
Weather in Malaysia
Generally, December to April is the best time to travel to Malaysia. The weather is hot and humid most of the year and rain is common even in the driest season, so make sure you carry an umbrella.
Kuala Lumpur has a mild climate all year long, but the best time to visit is December to January and June to August because of the popular festivals. The off-season here is from February to March and September to October.
Must do and see in Malaysia
Don't miss these awesome sights on your holiday to Malaysia:
Petronas Towers - These twin 88-story steel and glass buildings are the pride and joy of the capital. Until 2019, they were the tallest buildings in Malaysia. They were featured in numerous blockbuster movies and from the Skybridge, you'll get a marvelous view of the city and surroundings.
Cameron Highlands - The most famous tea plantations from colonial times are still found in the Cameron Highlands. The area offers plenty of hikes, but most people visit to drink a cuppa while looking over the gorgeous terraces of tea plants.
Batu Caves - You won't soon forget your visit to the Batu Caves, nor the cheeky macaques that surround you every step of the way. This popular day trip from Kuala Lumpur by train offers a complex of limestone caverns and entrancing temples.
Perhentian Islands - The Perhentian Islands offer gorgeous clear waters and golden sand, but are even more magical beneath the water. This and the delicious fresh seafood make the islands a true paradise.
Georgetown, Penang - The capital of Penang island is full of street art, British Raj-era buildings, boutiques selling arts and crafts, and food!
Mt Kinabalu - The highest mountain on Borneo, Mt Kinabalu is Malaysia's first UNESCO World Heritage Site. A view from below reveals an imposing peak that soars far higher than any of its neighbors. But Mt Kinabalu is even more beautiful from the top.
Melaka - This charming town offers cute cafes, gorgeous architecture, and a calm pace of life. It's also home to the flashiest trishaws around, adorned with Hello Kitty, flowers, and neon lights. Some offer a fun way to get around and even history tours.
Taman Negara - Literally "National Park", Taman Negara is a 130 million-year-old rainforest, and along its trails, you can hear the deafening sounds of jungle life. From macaques and hornbills to Asian bison and, if you're lucky, tigers.
Typical Malaysia food to try
Malaysian food is influenced by the many cultures that make up the nation. Here are a few things to try while on a trip to Malaysia:
Mee goreng mamak: This Indian Muslim dish has it all: Yellow noodles tossed with beef, chicken, and shrimp, as well as soy sauce, veggies, eggs, and a bit of chili.

Apam balik: Your trip to Malaysia is not complete until you have tried this sweet treat. It consists of a pancake-style omelet, stuffed with sugar, peanuts, and a sprinkle of corn.

Nasi kerabu: This dish comes from Kelantan in northern peninsular Malaysia, and its eye-catching blue-colored rice comes from crushed telang flowers. It's topped with bean sprouts and fried coconut and then drenched in spicy fermented fish sauce.

Ayam percik - Barbecued chicken marinated in spicy chili, garlic, and ginger sauce mixed with coconut milk and the right amount of percik gravy.
Vaccine information for Malaysia
Before booking your trip to Malaysia, it's important to know which vaccinations and COVID-19 measures are required. We advise you to check the CDC website for more info or to contact your registered medical practitioner.
Visiting Penang Island in Malaysia
Penang boasts dramatic landscapes, beautiful beaches, colonial architecture, and some of the world's most mouth-watering cuisine. It's a must-visit destination on a trip to Malaysia. Here's a short guide on how to get there and what to see.
The majority of tourists travel to Penang by air. Numerous flights depart from and arrive at Penang International Airport every day. Due to the competition and alternative ways to get to the island, prices are often very affordable.
Penang has the best food in Malaysia. Visit famous places like Gurney Drive outdoor food court for local hawker cuisine, or sneaky alleyway restaurant Line Clear for the best nasi kandar on the island.
This island offers both green and water activities, from hiking up Penang Hill to swimming at Monkey Beach. Penang's National Park offers gorgeous mountain views and secluded beaches.
Trustpilot recommended. We lead the industry in innovation and reputation
Our Customers Have Great Stories About Us