Australia ETA versus eVisa, which one should you apply for? This is the central question when traveling to Australia for the first time. Whether traveling for business or tourism, you'll need to check if any travel documents are required to enter the country. There are different options available, and you'll need to check which one you should apply for.
Visiting Australia is a fantastic experience! Read more about the requirements below and get prepared for your trip.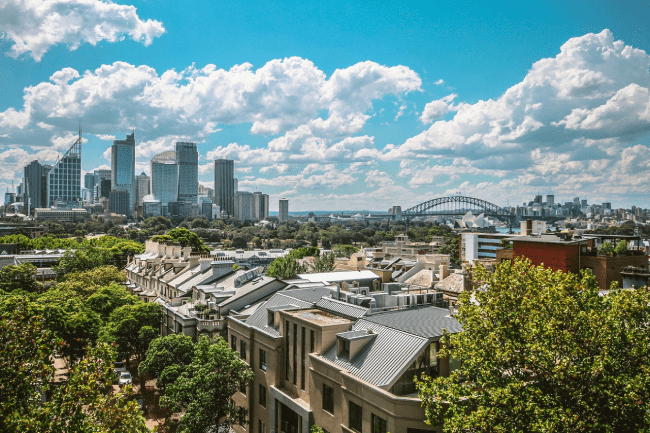 Australian ETA vs. visa: What is the difference?
The Department of Home Affairs of the Australian government requires an ETA or a valid visa for passport holders to enter Australia. Without either of these documents, you will be refused entry. The main question is: which one should you apply for?
An Australia ETA is for visa-exempt nationalities. It is not a visa per se or a full visa. It is a simple electronic travel authority that lets the Australian government know that you want to visit their country.
It is easy to obtain, and with iVisa, you can get it in as little as 4 hours. You only need a passport and some personal information to apply. The application form is online and should take less than 15 minutes to complete.
The visa, on the other hand, is a document linked to your passport. There are multiple kinds of visas. For example, we can help you get a visa for Australia, but only if you qualify for the eVisitor (subclass 651). It is an electronic visa that you can apply for online as well.
The visa you need for a trip to Australia depends mainly on your nationality. Some nationalities qualify for the Australia ETA, some for the eVisitor, and some are eligible for both. To find out which category you fall under, use iVisa's Visa Checker.
Read on below about visa and ETA applications, eligible countries for each, and everything you need to know to travel to Australia.
Australian ETA
The Australian ETA (Electronic Travel Authority) allows certain nationalities to enter the territory for tourism or business purposes. The ETA does not authorize travelers to stay permanently or to work in Australia. It is intended only for short-term business or tourism stays.
Other than nationality, the ETA has some additional restrictions for visitors. For example, the applicant cannot have any criminal convictions to be eligible for an ETA. Also, travelers cannot use this document to get medical treatment in Australia. If these restrictions apply, you'll need to contact the Australian embassy or consulate near you to get the proper visa for your travel plans.
Once you have everything ready to apply, it is pretty easy to get your Australian ETA. The ETA application process is done entirely online, and you will submit your information in a few clicks. The best thing about the ETA is its quick processing time: by applying with iVisa, you can receive the travel authorization in 24 hours or less.
The ETA allows for multiple entries, valid for one year after the date of issue. Just be aware that visitors are not allowed to apply for their ETA from Australia. You will need to complete your application from your home country. If your visa expires while in the country, you must leave the territory and apply for a new ETA to re-enter Australia.
Australian ETA: Eligible Countries
33 countries are eligible to apply for an ETA, but at iVisa we only offer the process to 7 nationalities, this is to avoid rejections and possible complications with the application form, as follows:
Brunei Darussalam, Canada, Japan, South Korea, Singapore, the United States, and Hong Kong
What the Australia ETA looks like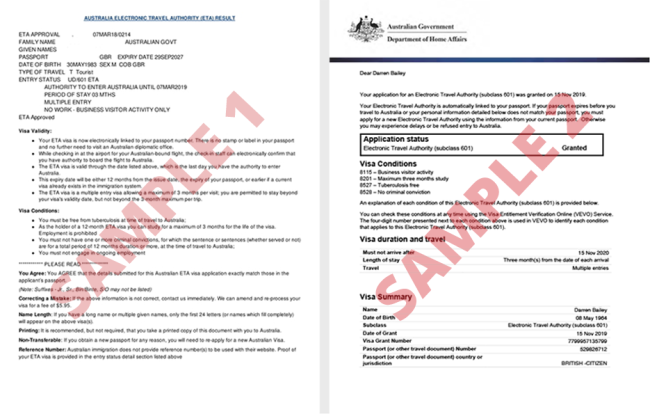 Australia e-Visitor visa (e-Visa)
The application to get an Australia Visa for tourism or business is similar to the ETA. The difference between them is the processing time and which countries are eligible for them.
It's important to know that the Australia eVisitor doesn't permit studying, staying for long periods of time, or living in Australia long-term. Travelers that need a visa for these purposes must visit their local Australian embassy.
You can count on iVisa services to apply. It's quick and easy to fill out the visa application form; it takes only a few minutes. You can choose between three processing times: 24 hours, 2 days, and 4 days. Once the Australian e-Visitor is issued, you'll receive the document in your email.
The visa is valid for 1 year after arrival and allows for Multiple Entry into the country.
Australia Visa: Eligible countries for the Australian e-Visitor Visa
Check the list below to see if you are eligible to apply for a visa online:
Bulgaria

Croatia

Cyprus

Czech Republic

Estonia

French West Indies

French Polynesia

Hungary

Latvia

Lithuania

Malta

Mayotte

Monaco

Poland

Reunion

Sint Maarten

Slovakia

Slovenia

Vatican City

Spain

Andorra

Austria

Belgium

Denmark

Finland

France

Germany

Greece

Iceland

Ireland

Italy

Liechtenstein

Luxembourg

Norway

Portugal

San Marino

Sweden

Switzerland

United Kingdom

Romania
What the Australia e-Visitor looks like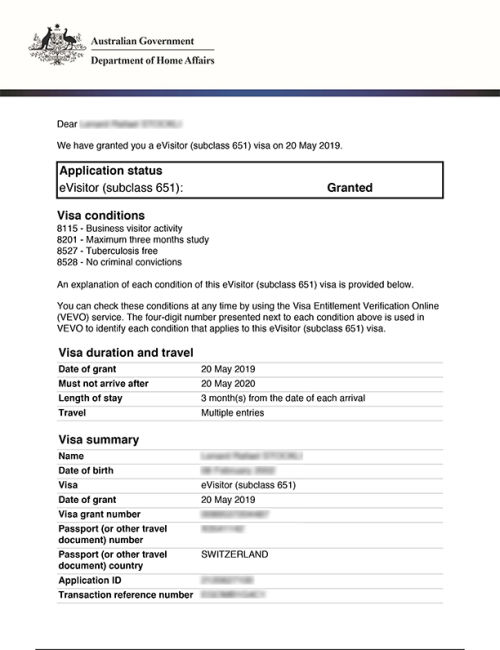 Documents required to apply
Even a simple application like the Australian ETA or eVisa has some requirements. The Department of Home Affairs requests some personal information and passport details to issue the eta and tourist visas. See what you need below for the visa or eta application:
Valid passport – The Immigration Department requires a valid passport for all applicants. The passport must be valid for at least six months from the date of arrival in Australia.

Means of online payment – You must pay for the Australian ETA or eVisa fees. The payment process is also online, and both credit and debit cards are acceptable forms of payment.

Email address – If additional documents are needed, you will be notified via email. It is also necessary to receive the Australian visas or ETAs once issued.
Visa application: How to apply for the ETA or Visa - Australia
The application is straightforward for both an Australian ETA visa and a tourist visa. You will receive your document in three steps and be ready to visit Australia.
Check below how passport holders can apply for an ETA online or how to submit an eVisitor application form:
First, you must complete the form with your basic information, including your passport number and full name. Then, you must select the processing time you consider most appropriate for your trip.

Second, you have to make sure that there isn't any incorrect information written in step one and then make the visa fee payment. You can pay with a credit or debit card.

Third, you must upload the required documents to the online form and click the 'submit' button to finish the process.
You will have the iVisa team's support throughout the process, available 24/7. Once the document is ready, we will send it to your email. You can then print it to present to the local authorities when you enter Australia.
I have more questions, who can I talk to?
If you still have any concerns about the Australia ETA or Australia e Visitor Visa, you can chat with our experts from customer service, or you can send an email to [email protected]. They will be happy to assist you with anything you need 24/7.