Please note: We currently do not offer the Australia ETA online for Malaysian nationals. This page will be updated once we are able to offer this travel document again. For information about which visa you need as a Malaysia passport holder, please contact your nearest Australian embassy or consulate.
If you're from Malaysia, you'll be happy to know that you are eligible for an Australia ETA. This means that you are not required to go to the nearest Australian diplomatic mission to apply for a visa. On the contrary, you can apply online using the services offered by iVisa. The entire process is online, and it is quite easy to understand.
Do you want to know how to properly apply for an ETA for Australia? Then keep reading the information below.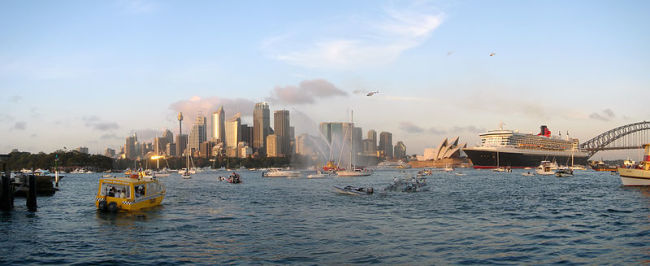 Frequently Asked Questions
I'm a Malaysian citizen, do I need a visa to enter Australia?
No, you don't have to apply for a Visa, what you need is an ETA.
What is an Australian ETA?
The Electronic Travel Authorization or ETA is an official document that authorizes you to travel and enter Australia.
This system has an electronic link that works through your passport and it's available to citizens from over 50 countries.
How long can Malaysian citizens stay in Australia with an ETA?
With your Malaysian passport, you can stay 90 days Per Entry once you arrive in Malaysia.
What are the requirements?
As a Malaysian citizen, you may be eligible for an Australia ETA, but there are other requirements you must meet. Lucky for you, iVisa does not ask too many of them, and the chances of you having everything you need are pretty high. Here is what you must provide:
Valid passport – All applicants must have a valid passport. It is important that the passport needs to be valid for at least another 6 months from the date of arrival in Australia.
Means of online payment – Since this is an online application process, you will be required to make the payment online. You can use a credit or a debit card for that, but iVisa accepts PayPal as well.
E-mail address – an Australia ETA is electronically linked to your passport, so you do not need to print out the ETA, but we use e-mail as a means of communication, which is why we ask for a valid address.
When does this Australian e-Visa expires?
If you're from Malaysia, your ETA expires 1 year after issued. You can use it at any time of that year, just don't forget that you can stay there 90 days Per Entry.
What are the prices and the processing times for this ETA?
In iVisa we know that visa processing times and service fees are the main concerns for many people, including Malaysians. That's why we can tell you that there's no worry at all, you can stay relaxed since iVisa serves you with competitive prices. The cost of your visa is determined by the processing time you choose during the application process. iVisa gives you these three excellent choices, which are:
Standard processing – This is the longest processing time, but it's also the least expensive. However, is not that long either, since your application will be processed within 24 hours, which is basically just a day. As for the cost, you will be charged USD $76.99.

Rush processing – Do you want your ETA in less time? then you can select this option. Your visa will arrive in your email inbox within 12 hours, but you will have to pay USD $135.99.

Super Rush processing – This is the fastest option iVisa offers. Your visa will be ready to use as fast as 4 hours. In the case of the cost, you will be charged USD $187.99.
If you feel ready to start the process, then click here and get ready for your tripo!
How long does it take to apply for an Australian ETA?
In just 20 minutes or less you'll be ready with your ETA for Australia.
How can I apply?
There is one last thing you must do to get your Australia ETA, and that is to fill in the application form.
This application form is short and simple, but in case of help, iVisa's support service can assist you every step of the way. The service is available 24/7, and it does not cost you a penny.
The process is split into two simple steps for your convenience.
The first step requires you to provide your personal information such as name, address, e-mail, date of birth, etc. You must give some travel details and passport info too. Also, you must choose a processing time

Step two consists of making the payment and review the information provided in step one. The review is crucial since errors can lead to an invalid Australia ETA. If you make a mistake, we can reissue a new ETA for a fee of $5.95, but we recommend that you double-check your form before you submit it.
Needless to say, an Australia ETA for Malaysian citizens is effortless to obtain and iVisa makes sure of that. You can start your application here.
How many times can I enter Australia with an ETA?
If you're from Malaysia, your ETA has Multiple Entry.
Do I need an ETA for my children when traveling?
Yes, you also have to apply for them. Everyone visiting Australia must have an ETA before departing, including kids.
If I am only passing through Australia, do I still need to apply for ETA?
If you depart within 8 hours or arrival, and you have a way to prove this, then you won't need an ETA as long as you stay in the International Transit Lounge. However, for some nationalities, a transit visa may be required. Please check this website for more information.
How do I know if my ETA is ready?
After you complete your application process, we'll let you know about the approval via e-mail. Don't forget that it also depends on the approval of the Australian Government.
How does the ETA look like?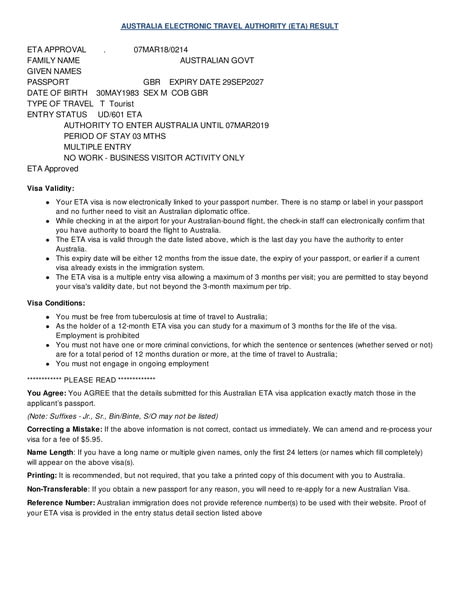 Is it safe to get my ETA with iVisa's service?
Yes, defiantly. There are a lot of people saying that online information leaks and that it's something dangerous for them, but we're not part of that thanks to our updated system and our skillful team. Your personal data is completely safe. And if you have doubts about it, then check what thousands of happy customers say about us here.
I still have some questions, where can I read more info?
It's ok if you still have questions, it would be weird not to have them. If you still need attention to your doubts, then you can chat with one of our customer service agents. Otherwise, you can check more info about this ETA in this link.
Don't waste time going to an embassy when you can get your ETA online! Click here.