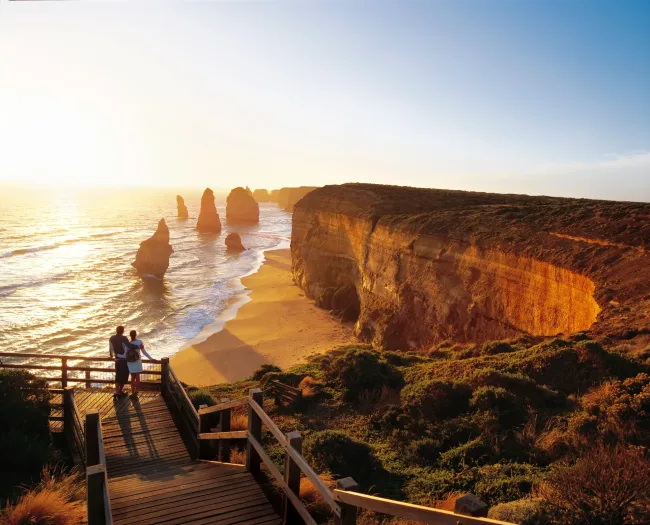 If you're a Nigerian citizen dreaming of exploring the stunning landscapes and vibrant culture of Australia, it's crucial to understand the visa requirements.
This guide is tailored specifically for Nigerian travelers and provides an easy-to-follow overview of the Australian Visitor Visa application process.
Whether you're planning a leisurely vacation, a business trip, or pursuing educational opportunities, having the necessary information and documents will ensure a seamless journey Down Under.
We are here to guide you through the visa application process and make the journey less stressful for you.
What is the Australia Visitor Visa?
The Australia Visitor Visa (Subclass 600) is a temporary visa that permits travelers to visit Australia for leisure purposes. Obtaining this visa is compulsory for individuals from Nigeria seeking to visit Australia for tourism. Usually, there is no need for an embassy or consulate interview, but additional information may be requested through a phone call.
The visa does not feature a barcode or QR code, it is electronically linked to your passport and contains fundamental details about the traveler and their travel arrangements. If you require assistance with the application process, we will assign one of our iVisa experts to guide you through the process and ensure a seamless experience.
Do Nigerian citizens need an Australian Visitor Visa?
Yes! As a Nigerian citizen planning a trip to Australia, you'll need to obtain an Australian visa.
With an Australian Visitor's visa, Nigerian travelers can:
Enjoy multiple entries, which means you can come and go from Australia during the validity of your visa.

Explore and experience the incredible attractions of Australia, including its beautiful natural landscapes and lively cities.

Take part in various tourist activities like sightseeing, encountering wildlife, and immersing yourself in the local culture.

Travel for leisure, visit your family and friends or engage in short-term business activities.
Remember, this visa does not allow you to work while you're in Australia. So, make sure to keep it strictly for non-work-related purposes.
How long is the Australia Visa valid?
The Australia Visitor Visa lets you visit Australia for leisure purposes and is valid for up to 3 years. Depending on your history, you can stay in Australia for up to 3, 6, or 12 months at a time. Plus, you can enter Australia as many times as you want while your visa is valid.
Differences between the Various Australian Visas for Nigerian citizens
Business Visa: Nigerian nationals planning to travel to Australia for business-related activities can apply for an Australian business visa. This visa is suitable for attending seminars, conferences, meeting business associates, or participating in a training program. It's important to note that a business visa should be pursued if the applicant does not qualify for an e-visa.
Work Visa: Nigerian citizens seeking employment in Australia must apply for a temporary work visa under subclass 400.
Working Holiday Visa: Nigerian citizens desiring to spend their holidays in Australia while also working, you have the option to apply for a working holiday visa. This visa allows a maximum stay of one year and permits multiple entries within its validity period.
Student Visa: The Australian student visa is a temporary document that allows international students to study in Australia for the duration of their course of study. The validity period of the visa depends on the length of the course, with most student visas lasting between 3 and 5 years.
For information on how to apply for any of the above visas as a Nigerian citizen we recommend contacting your local Australian Embassy.
Australian Visa eligibility for Nigerian citizens
To ensure a smoother and faster visa process, it's important to meet the following eligibility requirements set by the Australian government:
Genuine Visitor: You must demonstrate your genuine intention to visit Australia temporarily and adhere to all visa conditions during your stay.
Sufficient funds: It's crucial to show that you have enough financial resources to support yourself while in Australia. Generally, this is at least USD 600 to 1200.
Good health: Meeting the minimum health standards is important. Depending on the circumstances, a health examination may be required as part of your visa application.
Good character: You must provide evidence of having a clean criminal record, no history of violating immigration rules, and meeting other character requirements specified by the Australian government.
By ensuring that you meet these eligibility criteria, you can increase the chances of faster approval for your Australian tourist visa.
How to Apply for an Australian Visa for Nigerian citizens
We recognize that applying for a visa can be a daunting and complex process. That's why we have streamlined the process to make it as effortless and stress-free as possible for you.
Here's what you need to do:
Step 1: Visit our website or download our iVisa app and complete the simple and user-friendly visa application form with your travel and personal details.

Step 2: Double-check that all information provided is accurate and make the necessary payment for the visa fees using PayPal, Venmo, Amazon Pay, or a credit/debit card.

Step 3: Upload the required documents and submit your application.
After submitting your completed visa application form, you'll get an email with details about the biometric appointment at the Australian Visa Application Centre and, which documents to take and medical examination.
All that, all that's left to do now is wait for the government's decision. If your application is approved, you can start packing your bags for your trip to Australia!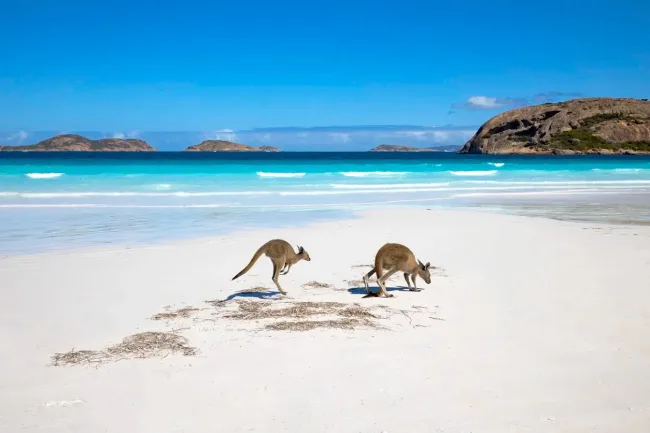 Visa requirements for the Australia Visa for Nigerian citizens
As a Nigerian citizen applying for an Australian Visitor Visa online and in person, you need to submit the following documents to the Australian Embassy:
A copy of your valid passport containing your personal details, photo, passport issue and expiry dates, and immigration stamps.

A copy of your ID (if applicable).

A photo of yourself, which you can easily get through our digital passport photo service.
Additionally, the Australian government may request other documents, such as:
Proof of financial support, such as bank statements or financial assets.

Documents that demonstrate your ties to Nigeria, such as proof of employment or enrollment in a study program.

A travel itinerary or evidence of planned tourism activities in Australia.

Letters of invitation from relatives or friends in Australia (if applicable).

A police certificate.

A family register and composition form (if applicable).
It is essential to ensure that all documents are in order and complete to increase your chances of a smooth and successful visa application process for your Australia Visa.
Financial requirements for Nigerian citizens
To fulfill the financial requirements for your Australian visa application, you need to present financial documents such as bank statements, tax returns, audited accounts, and credit card limits from the previous three months. The closing balance of the account must be at least AUD $5,000 per applicant.
In the case where you have a sponsor for your visitor visa, they must also meet specific financial requirements. They should provide evidence of Australian assets, such as a house, car, or business, and a bank statement from the previous three months with a closing balance of at least AUD $5,000 for a single applicant. Additionally, they must show either Australian income or overseas tax assessment to meet their financial obligations.
What is the Australian Visa fee for Nigerian citizens?
At iVisa, we offer a Standard processing option which costs USD $250.99 and takes about 30 days to process.
In addition to the application processing time you will also have to wait for a reply from the government which can take longer, you can contact your local embassy to check their waiting times for the Australia Visitor Visa.
Our service fee includes a government fee of USD $101.
In addition to our affordable costs, you also get the following benefits:
Our iVisa team will ensure that your application meets all government requirements, giving you peace of mind and saving you from making mistakes.

You'll have a dedicated team of iVisa experts who can answer any questions you may have and guide you through the entire process.

Our simplified Australian visa application form is easy to complete, with straightforward questions that won't take up too much of your time.

You can fill out the form at your own pace, save your progress, and make changes as needed. We also provide a step-by-step manual to help you with difficult questions, document requirements, and guidance from start to finish.

Lastly, we take your security seriously, so you can trust that your sensitive information is safe with us. Avoid scams and trust in us for a hassle-free application process, allowing you to focus on planning your trip to Australia.
Tips for a Successful Australia Visitor Visa Application
Submitting a complete and accurate application with us: It's crucial to fill out your visa application completely and accurately to avoid delays or rejection. Our experts will ensure that you upload all the necessary documents and information before submitting your application.

Providing strong supporting documents:. Make sure the documents mentioned above are valid and demonstrate your intentions to visit Australia for a temporary period only.

Following up on the application status: Once you've submitted your application, you can check the status of your visa through the Australian Government's online portal. It's a good idea to check your application regularly and follow up with any additional information or documentation requested by the immigration department.

Applying with us: When you apply for your visa through iVisa, we provide you with a team of experts who will guide you through the entire process and help you complete your online application form. They will ensure that you have all the necessary documents and meet all the eligibility requirements to complete your application successfully.
FAQs
How long can I stay in Australia with a visitor visa?
A tourist visa for Australia can be valid for up to three years and allows for multiple entries during that time. Depending on the visa, you can stay for up to three, six, or twelve months per visit.
Can I work on a visitor visa?
No, you cannot work on an Australia visitor visa. This visa is designed for tourism or other non-work-related purposes. If you want to work in Australia, you'll need to apply for a work visa.
Can I extend my visitor visa?
Yes, you can extend your visitor visa in Australia under certain circumstances, such as if you have a medical condition or if there are compassionate or compelling reasons for you to stay longer. You must apply for the extension before your current visa expires, and your application must meet specific requirements.
Can I apply for permanent residency while on a visitor visa?
No, you cannot apply for permanent residency while on a visitor visa. A visitor visa is a temporary visa that does not provide a pathway to permanent residency. If you wish to apply for permanent residency in Australia, you'll need to meet the eligibility requirements for a permanent residency visa and apply through the appropriate channels.
Do I need to attend an interview for my visitor visa
Unlike some other countries, Australia typically does not require applicants to attend an interview as part of the visa application process. However, applicants may be asked to provide additional information or attend a health examination depending on their individual circumstances.
Exploring Australia: Top tourist destinations in Australia
Australia is a vast and diverse country with plenty of amazing places to visit. Check out our ultimate Australia travel guide for information on where to go, what to eat and how to get around. Otherwise, here are three popular destinations to consider:
Sydney - Famous for its iconic Opera House and Harbour Bridge, Sydney is a vibrant city with plenty of attractions and activities to keep visitors busy. From beautiful beaches to world-class restaurants, there's something for everyone in this bustling metropolis.

Great Barrier Reef - Located off the coast of Queensland, the Great Barrier Reef is the world's largest coral reef system and a must-visit destination for nature lovers. With crystal-clear waters and an abundance of marine life, it's an unforgettable snorkeling or diving experience.

Uluru - Also known as Ayers Rock, this stunning sandstone formation in the heart of the Australian Outback is a sacred site to the indigenous Anangu people. Visitors can watch the rock change colors during sunrise and sunset and learn about the cultural significance of this incredible natural wonder.
Still have questions?
At iVisa, we strive to make your visa experience as smooth as possible. Our goal is to assist you every step of the way and offer the necessary support throughout the process. Our team of dedicated professionals is here to help, ready to respond to your inquiries and resolve any issues that may arise. Whether you choose to chat with us or send an email to our customer support team at [email protected], we are committed to providing the guidance you need for a hassle-free visa journey.