Countries from the European Union have the luck to apply for an eVisitor if they want to travel to Australia. That includes Greek citizens who can now utilize the web to apply for their visa and get it quickly. iVisa help you along the way through this tedious process, making it a stress-free one!

Frequently Asked Questions (FAQs)
What is an Australian eVisitor for Greek Citizens?
An eVisitor is a travel visa that gives the permission to citizens from the European Union to travel to Australia.
Remember! you must be outside Australia when you apply.
What files do you need to provide?
While an online application is significantly more accessible than visiting an Australian embassy, that doesn't mean that you don't require a few files. Nevertheless, iVisa hardly requires anything with regards to documentation especially for Greek citizens. Here's what you need to provide.
Valid passport – Greek citizens traveling to almost everywhere requires a passport, and Australia is no exception. Obtaining a passport is rather easy. All you have to do is move into the issuing authority in your own country. If you already have a passport, it is best to check its expiration date. It has to be valid for at least 3 months from the date of birth in Australia.

Valid e-mail – If approved, your eVisitor will be sent to your e-mail, make sure is a valid one.

Mode of payment – you need to pay for iVisa's services prior to submission of your application. You can either use a credit or debit card. iVisa also accepts PayPal payments as well.
Aside from the 2 items listed above, you will also have to answer some personal questions. Most of it is easy. You simply must state the reasons for the journey and some other things.
What are the processing times and fees?
Both aspects are related to one another. The Australia eVisitor itself is free; what you are actually paying is iVisa's service. We provide to you three amazing choices for Greek citizens. You'll be able to select the one which is most suitable for you. iVisa can process your request fast but with higher service fee, depending on your budget. Here's what you can pick:
Standard – people often choose this option because it is the most affordable. It costs just USD $26.49. Still, your eVisitor will arrive pretty fast. It takes 4 days for your application to be processed.

Rush – compared to the first option, the Rush processing time is way faster, and it will have your Australia eVisitor ready within 2 days. As for price, this one costs USD $47.49.

Super Rush – this is the fastest available option iVisa can provide. It is ideal if you are in a hurry and want to apply while on your way to the airport. Your eVisitor will be ready within just 24 hours, and it costs USD $77.99.
How is the application form from iVisa?
When you think about application form, you may think that it is something complicated. On the other hand, rest assured that iVisa's application form is one of the easiest forms that you will ever fill out. But if you have any trouble, you can contact iVisa's support service in case you have concern. They are available 24/7.
It's broken down into two simple steps.
The initial step contains general information like address, name, passport information, etc. At this point, you also have to choose the processing time that you want.

The second includes payment and revision. Revision is crucial, one single mistake will lead to the disapproval of your eVisitor.
How Long can Greek citizens stay in Australia with the eVisitor Visa?
Greek citizens can stay in Australia for a maximum of 90 days Per Entry.
How long is an Australian eVisitor valid for? How many entries do I get
The Australian eVisitor is valid for 1 year after arrival. You are given a Multiple Entry eVisitor.
How does this eVisitor Visa look like?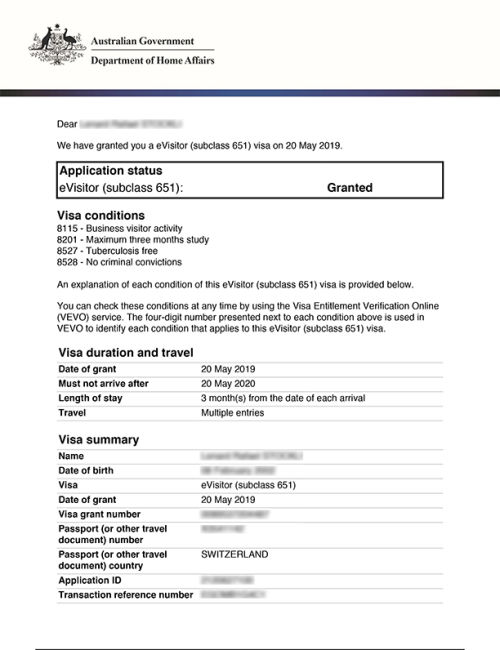 What can I do if my Australian eVisitor is approved?
This document lets you travel for only tourism and business purposes.
Remember, you cannot work with this visa.
Is iVisa's services safe to get my Evisitor?
Of course! We offer 100% of safety for your personal informatio. You can check what our happy travelers say about us here.
Where can I find more information?
In case you still have doubts, click here and start a conversation with one of our customer service representatives. You can find more FAQs here too.
As you may have noticed, getting an Australia eVisitor for Greek citizens is quite straightforward. With very little effort and time on your part, it is a much better choice than going to Australian embassy, does it?