Known for being food heaven and a hidden place of adventure, Malaysia is the tourism destination of your dreams, guaranteed to offer you unique travel experience. Thus, if you are reading this, you are on the correct path to achieve this goal. To facilitate the visit for those attracted by Malaysia's unique appeal, this country offers online visa applications for a group of countries, including Bangladesh.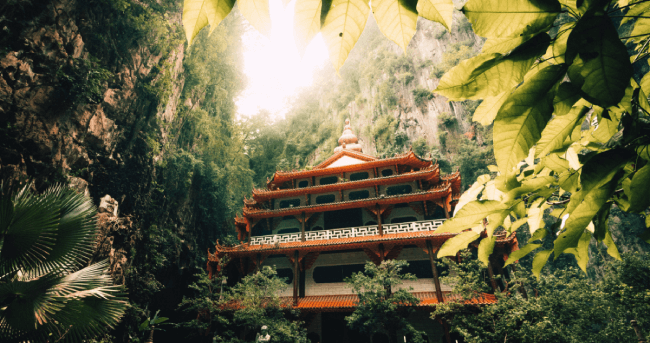 Keep reading for more info related to Malaysia and its visas!
Frequently Asked Questions (FAQs)
Do I need a visa to visit Malaysia?
Yes, visitors with a Bangladeshi passport require an eVisa to visit Malaysia. Please check all the requirements here.
What is the eVisa?
The Malaysia Tourist eVisa is an official document that allows you to enter into and travel within Malaysia and is electronically linked to your passport.
How long can I remain in Malaysia with the eVisa?
Visitors carrying a Tourist eVisa can enter Malaysia for 30 days Per Entry. All visits are strictly limited to business or tourism, so you can NOT seek paid work or employment.
What do I need to apply for a Malaysia eVisa?
With the help and support of iVisa's service, you can apply in an easy and fast way. For the total process, we just require some information and documents:
Applicant's Photo

Passport Scan

Last Page of Passport (if applicable)

Birth Certificate of Minor (if applicable)

Proof of Residence (if applicable)

Airline Confirmation

Return Ticket

Proof of Accommodation

Most recent 3 months bank statements (if applicable)

Bank Statement (if applicable)

Cover Letter (if applicable)

Invitation Letter (if applicable)

Minor Consent Letter (if applicable)

Supporting Document (if applicable)

Host's ID Host's ID (if applicable)

Travel Itinerary (if applicable)

Previous Malaysia Visa or Visa Pass to Bangladesh / Previous Indian Visa Copy (if applicable)

Yellow Fever Vaccination (if applicable)

NDLEA Clearance (if applicable)

Visa Grant Notice (if applicable)
Note: The government may require additional documentation after submission, which we will inform you of if this is the case.
How long is a Malaysia e-Visa valid for?
The Malaysia Tourist eVisa is valid for 90 days after issued and it allows a Single Entry.
What are the processing times and prices?
One of the common concerns about electronic visas is the cost. With iVisa, applicants have three available options when it comes to processing times with different pricing. The three options are:
Standard processing – your visa application is processed within 6 Business Days, and the price is USD $87.99.

Rush processing – you will receive your visa within 4 Business Days, and the total price of it is USD $128.99.

Super rush processing – this is the fastest option. You will get your Malaysia Tourist eVisa in only 2 Business Days, and you will be charged USD $174.99.
Click here to start your application.
What is the function of the eVisa?
Your Malaysia Tourist eVisa will be issued electronically by the Ministry of Foreign Affairs of the Malaysian Government. We use Malaysia's eVisa system to process your eVisa by entering the information you provided into the system and after they review it, we are notified of the outcome of the eVisa application.
How long does it take to apply for a Tourist eVisa?
Less than 10 minutes. That's all the time it will take you. We will take care of the rest and shortly after we will let you know the status of the application by email.
How is the application process for the eVisa?
The application for this type of visa is really easy. You only need to pass through three parts before the submission:
Fill out the form with your general data on our website and choose the type of processing time you wish to obtain for the visa application.
Then you have to make the respective payment and check that all your details are correct and complete.
Finally you need to answer a questionnaire and upload a photo along with the other documents required for this type of visa. Remember that in some cases, the applicant will have to upload additional documents.
You can get extra assistance from us here.
After the submission, what do I have to do?
We will send you a confirmation email informing you that we received your request. You do not have to do anything but wait for your eVisa patiently. We will work on your application and once the Government contacts us, we will send you the response by email.
What happens if my children want to come with me?
They are also required to obtain an eVisa to visit Malaysia. It is also important to mention that a birth certificate of the minor will be necessary, along with some documents from their parents.
How can my relatives apply for the eVisa?
You can do it for them if you want. Just make sure you gathered all their documents to make the online application. Other way is adding their information on the button ''add new applicant.''
Example of the Malaysia eVisa:
This is how the Malaysia Tourist eVisa looks like: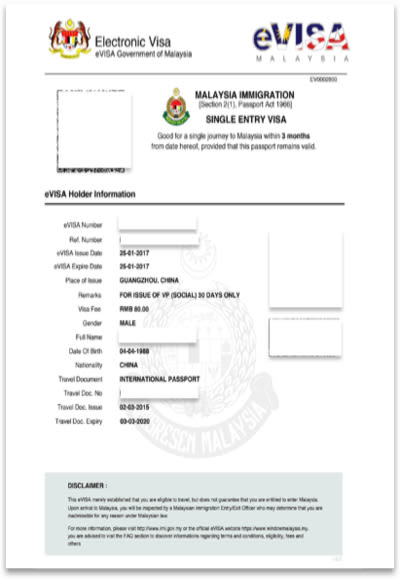 What can I do if I make a mistake in my application?
You will need to contact our customer service support ASAP to assist you and give you a solution of this problem.
Is it safe to use iVisa to get my Malaysia Tourist eVisa?
We have a reliable service. The information you provide will not be filtered on the Internet, as we have specialized data centers that protect our customers' accounts. Our service proposes to satisfy our clients and making possible the trip of their dreams to new countries. You can click here and find all the positive comments we have received from our customers.
I have more unresolved questions, where can I find more info?
If you want to contact us now and quickly, you can click here and start a personalized chat with our customer service team. In our website, you can also find a reference phone number to contact us.