As a consequence of the COVID-19 global pandemic, Norway has imposed a travel ban. This ban has restricted entry to the country only for Norwegian citizens, legal residents with a valid permit, foreigners with a family permit, asylum seekers, amid other singular exceptions. US citizens meeting one of those exceptions must also bring with them an antigen or PCR COVID-19 negative test result, the Norway Entry Registration, and be ready to self-quarantine for 10 days.
At iVisa.com, we can assist you in digesting How Citizens of The United States Can Enter Norway During Coronavirus, empowering you to obtain this fundamental entry registration while preserving your worthwhile time and spark.
Note: Since February 12th, 2022, the Norway Entry Registration Form is no longer necessary to enter the country.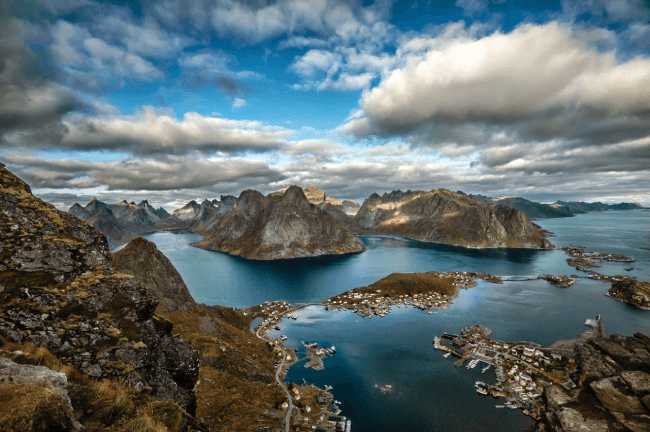 What steps should I follow to begin my Norway Entry Registration procedure with iVisa.com?
Access the form .
Provide the asked details and upload your scanned passport.
Send the form and wait for your form in your email. (it will get to you according to your chosen processing speed).
Print your entry form and get a safe journey!
Get started with your registration
Apply In Advance
iVisa.com encourages you to apply in advance so you can fix any possible misunderstandings. Obtaining your registration earlier will decrease any pre-travel pressure and give more room for you to arrange everything for a quiet traveling experience. Do not think twice, apply now
Check here How Citizens of the United States Can Enter Norway During Coronavirus.
Frequently Asked Questions
Do I need a COVID vaccine or vaccination certificate to enter Norway?
No, you don't. As of today, COVID vaccination passports or certificates are not mandatory to enter Norway.
The following certificates can be used upon entry to Norway:

Norwegian COVID-19 certificate

The EU digital COVID certificate

UK NHS COVID-pass

Approved vaccines are Pfizer, Moderna, AstraZeneca, Janssen, Covishield, Sinovac, Nuvaxovid.
Since information may change quickly, we advise you to follow up on the latest Norway travel updates and/or contact your local embassy.
Do I need to take a COVID-19 test before traveling to Norway?
COVID test prior to arrival: PCR within 24 hours for travelers over the age of 18 without proof of vaccination/recovery only.

COVID test on arrival: All travelers arriving in Norway must take a test after arrival, regardless of their vaccination status.

COVID test exemptions: Children under 16
Do I have to quarantine once I arrive in Norway?
Quarantine requirements: There are no quarantine requirements.
Do children also need to complete the Norway Entry Registration?
No, the Norway Entry Registration is only a required for travelers over the age of 16 who are not fully vaccinated.
Is it compulsory to show the Entry Registration?
Yes, this document must be delivered to the police at border control with the COVID 19 negative test result. Keep in mind, this test cannot have a maximum 24 hours date after departure. Process your document now
How much do I require to pay for iVisa.com to prepare my document?
Since day one, governments start stating COVID-19 health regulations, iVisa.com has been monitoring them to know them deeper and tackle them down, just like right now with How Citizens of the United States Can Enter Norway During Coronavirus. This way, we can offer you good fares:
Standard Processing Speed Alternative: Acquire your document in

24 hours

, pay

USD $18.99

.
Rush Processing Speed Alternative: Obtain your document in

8 hours

, pay

USD $34.99

.
Super Rush Processing Speed Alternative: Get your registration in

4 hours

, pay

USD $58.99

.
Start your process by selecting here!
How does the process with iVisa.com work, exactly?
Select the link for the application form and write the information you are required to.
Pick the processing speed alternative to best satisfy your necessities.
Review once again the information you provided.
Pay with your favorite online method Paypal, credit, or debit card
Submit your application.
Is somewhere where this document is free of charge?
Yes. This registration can be done for free. Nonetheless, our years of experience and a team of immigration specialists can guarantee surely you will obtain this document with the most accurate information.
What information do I need to have ready for my Norway Entry Registration application?
iVisa.com has analyzed already How Citizens of the United States Can Enter Norway During Coronavirus determining the information you need to process this document is:
A scanned of your main passport page.
An Email Address.
Payment method (Paypal, debit, or credit card).
What if I have several doubts about iVisa.com's procedure?
In that case, our team of Customer Care Agents will be more than glad to serve you. They can solve all your regular concerns about our procedures and about How Citizens of the United States Can Enter Norway During Coronavirus. They are reachable 24/7
Can I rely on iVisa.com to safely execute their job?
Yes! Procuring travel documents is our specialty. We have been satisfying thousands of customers throughout the years, while also processing millions of those sorts of documentation. Here you will see reviews from them.
iVisa.com Recommends
If you are an arctic lover, Tromso is the city you must visit! It is the most important city in the country above the Arctic Circle. Perfect to enjoy during summer since the sun does not set, so you have hours and hours to wander through its streets and climb the mountains around. One of the best excursions to do in Tromso, especially if you are traveling with children, is dog sledding. The sleigh ride lasts about 50 minutes, and after it, you will end up back at the camp where you will be given a "snack" usually consisting of soup, hot drinks such as chocolate, tea or coffee, and a cake.
Between the months of November and February, one of the most popular and best excursions to do in Tromso is the sighting of humpback whales and orcas. These whale watching excursions are carried out by all kinds of boats, from sailboats, catamarans, and large fishing boats, to small boats with very little capacity, and their duration, from when they pick us up at the indicated point, is five hours. The transfer to the port takes about 35-40 minutes by bus.