Norway is one of the most beautiful countries in the world, but it can be difficult to plan a trip with so many things to see and do. Should you start your adventure in the untouched Arctic wilderness or by visiting one of the fishing villages? Don't worry, we're here to help! We're going to share with you the best places to visit in Norway, as well as some background information so you can choose the right sights for you!
Don't forget to check what travel documents you need to enter Norway before your trip. You can use our visa checker tool to find out. You can also find out more about the upcoming Norway ETIAS and Norway Schengen visas that will be available through iVisa from mid 2023.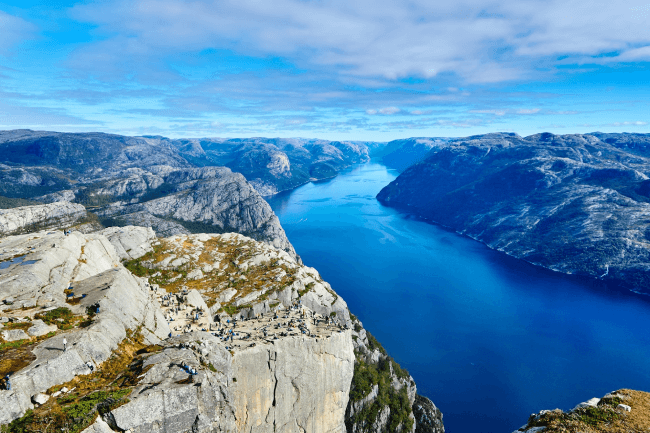 A Brief History of Norway
If we tell the story from the first Norwegian settlers to the modern nation they are today, the history of Norway is a long one. This nordic land has been populated since prehistoric times. The first nomadic tribes settled here because of the good conditions for sealing, fishing, and hunting and those activities are still part of the daily lives of modern Norwegians.
But the most fascinating segment of Norwegian history is by far the Viking Age. In this era of exploration and expansion, the Viking chieftains fought great battles, created social institutions, and oversaw the conversion to Christianity. Viking heritage is still celebrated today and you can find Viking museums, activities, and festivals all over the country.
Later, in the twilight of the Viking age, the Middle Ages began, and with them a deep change in the social fabric of Europe. The population grew exponentially and the Church gained power. After the Black Death, the monarchy was weakened but it found strength in allying with the neighboring kingdoms of Sweden and Denmark.
Finally, in the modern history of Norway, two decades after the end of the occupation by German forces during WWII, Norway started extracting oil out of the North Sea, which incentivized the country's economy. Thanks to the economic boost from oil extraction, Norway was able to position itself as a top economy in the world.
Norway Traditional Landscapes
The Nordic country is a mandatory destination for those who enjoy outdoor adventures. However, if you're a city dweller, you'll be sure to find some fun in any of Norway's bustling cities.
Fjords
When looking for places in Norway to add to your itinerary, Fjords is a word we see again and again and that's because Norway has nearly 1,200 of them!
The famous fjords are long and narrow inlets that are surrounded by land on three sides, usually tall mountains or cliffs. They're created by glaciers and are a landmark of Norwegian geography. The six most popular fjords in Norway are Geirangerfjord, Hardangerfjord, Hjørundfjord, Nordfjord, Lysefjord, Nærøyfjord, and Sognefjord.
The Norwegian Coast
It's not the Caribbean with warm and calm waters, but Norwegian beaches are very popular during the summer. Norway invites tourists to participate in many activities wherever they go. At the beach, you could take surfing lessons, go fishing, hiking or cycling, all under the midnight sun. You can also simply relax at the beach or explore the quaint fishing villages. On warm days water temperatures can reach 20°C, and you'll feel like you're on a beach on the equator.
Besides the mainland coast, you can go on an adventure to one of the nearby islands. Lofoten Islands are very popular in the summer, with lots of activities, festivals, and facilities to accommodate all types of tourists.
Teeming cities
If you're a city dweller, then you'll find plenty of options in Norway. Major cities like Oslo or the nearby Bergen will keep you entertained 24/7. You can start your day by visiting the Viking museums, ships, and sights and exploring Norway's historic districts. Finish it off by dancing at a bar or enjoying a local dish with seafood under the midnight sun.
Best Places to Visit in Norway
Here are some of our recommendations of places to see on your next trip to Norway:
Lofoten Islands
The Lofoten Islands are a group of islands located in the Norwegian Sea. The islands have a rugged and mountainous landscape but they are also known for their incredible natural beauty and fishing industry. It's one of Norway's most popular tourist destinations, with many people visiting during the summer months to enjoy the great outdoors.
But Lofoten is also a land of history. Don't miss a visit to the Norwegian Fishing Village Museum or the Lofoten War Memorial Museum to learn more about the heritage of this land.
Oslo
Norway's capital city is a bustling European metropolis with over a thousand years of history. You can easily navigate this city by bike and explore the museums, parks, restaurants, and bars. The city center sits on the Oslofjorden fjord, which means that you have access to fjord side living without having to leave town!
Oslo also has a vibrant cultural and historical atmosphere. We recommend visiting the new National Museum, the Viking Ship Museum, and the MUNCH museum. But you don't have to go indoors to appreciate the art. Oslo is filled with amazing street art and you can also find sculpture parks, where art and nature meet.
Bergen
Near Oslo, you have the magical city of Bergen, one of Norway's most popular cities. Explore the Bryggen Wharf, a picturesque side of the city that boasts beautiful 14th-century Hanseatic buildings and it's the first Norwegian site named a UNESCO World Heritage Site. Nowadays, the buildings serve as cafes, restaurants, and bars and are a great location to snap the best photos.
Bergen is the second largest city in Norway, and it has a long history. The city was founded in 1070 by King Olav Kyrre as a defense against pirates. Bergen played an important role in Norway's struggle for independence from Denmark during the 13th century. Today, Bergen is known for its deep fjords, scenic setting, and culture.
The western fjords are some of Norway's most famous destinations and they're only accessible by boat or ferry from Bergen. If you want to visit any of these places while you're in Bergen, make sure to look into booking your tickets in advance—especially if your schedule is tight!
Tromsø
Tromsø is the largest city in Northern Norway and the most northerly city in the world. It's also home to one of the best seafood markets anywhere on earth, as well as one of the most vibrant art scenes in Scandinavia. If you want to see the Northern Lights, this is a good place to start (but not your only option).
Tromsø is known for its seafood market (Fiskeauktionssalen), which was established by fishermen back in 1869 because they were tired of selling their fish directly from their boats at dockside auctions—they wanted better prices than those offered by middlemen. Nowadays it's open twice daily for shoppers looking for fresh seafood like langoustine (scampi), king crab legs, smoked salmon, or just about anything else that might swim or fly up here—the market even has its own website so you can buy online if you're far away from Norway!
The city also boasts an extensive array of restaurants serving traditional Norwegian dishes such as lutefisk (salted dried cod), eel soup with cream sauce, and pickled herring with mustard sauce; but be warned: some dishes are more palatable than others!
Trondheim
Trondheim is the perfect mixture between a charming village and a bustling city. This destination is especially recommended for those looking to taste the flavors of Nordic cuisine. It was voted one of the top food destinations to visit in 2022 and boasts three Michelin stars. You cannot miss its gastronomic offer!
To have the best experience, we recommend visiting in the late summer or early fall. Stroll around the cobbled streets of the old town and enjoy the hygge atmosphere that invites you to slow down and relax.
The Geirangerfjord
The Geirangerfjord is a fjord in the Sunnmøre region of Møre og Romsdal county. It is not the deepest fjord but one of the most visited tourist attractions in Norway and is considered by many to be one of the most beautiful places in Europe. The amazing scenery of the fjord with steep mountains with glaciers falling down into it on both sides and waterfalls coming out from them is breathtaking. The three major waterfalls are known as the Seven Sisters (Syv søstre), where the water falls down into stages over a total distance of about 400 meters (1,300 ft).
The Geirangerfjord area consists of several small villages: Hellesylt, Stranda, and Geiranger. There are many hiking trails that lead you past these waterfalls as well as through some very pretty landscapes where you can see lots of wildflowers along with deer and other animals such as foxes or hares. You can also take boat trips through this area which gives you great views from both above and below surface level.
The Svalbard Islands
Go on an Arctic adventure in the Svalbard Islands. The majestic islands on the Arctic Ocean will make you think you're on a different planet. The landscape in the Arctic circle will blow your mind away, and if you travel during winter you cannot miss the Northern Lights. The Svalbard Islands are great for both introverts and extroverts alike, city dwellers, and lovers of the outdoors. It's located far north with plenty of areas where you can be all alone and enjoy the silence of nature. But the main city, Longyearbyen, offers visitors modern hotels, restaurants, and a brewery, as well as the largest wine cellars in Scandinavia.
They are a great place to explore the glaciers. You can take a day cruise or go on a hike, but make sure that you always have a guide with you, as this is the land of the polar bears.
Trøndelag
Considered the heart of Norway, Trøndelag sits right in the middle of the country. Time moves slower here where locals cultivate "kos". This is Trøndelag's top pastime. "Kos" can be spending time with friends, walking along the streets of one of the charming towns, or relaxing at a concert at the park.
In Trøndelag you won't only find the center of Norway, but a lifestyle that will take you to the center of yourself.
Tvedestrand and southern Norway
If traveling during the summer, you cannot miss a visit to Norway's dreamy south. You'll find sunbathers lazing around on rocks, sand, or grass enjoying a refreshing drink and a view of the ocean.
Tvedestrand is the best place to start your trip in southern Norway. This charming village with cobblestone streets, lovely wooden houses, and antiquarian bookshops looks like it was taken out of a fairy tale.
Jotunheimen National Park
Also known as the home of the giants, the Jotunheimen National Park is one of those places in Norway you cannot miss. The park is home to an impressive mountain range and gorgeous scenery filled with valleys, waterfalls, glaciers, rivers, and lakes.
Start your trip to Jotunheimen National Park on the scenic route via the Norwegian Scenic Routes Sognefjellet and Valdresflye. From there, you can explore any of the many trails available for hikers of all levels. You can bring your own tent and set up camp on one of the camping sites or book a hotel or cabin within the park. If traveling during winter, the park is a great place for cross-country skiing.
The West Coast
For an authentic Norwegian experience, travel through the fjords like the locals used to. For a long time, the fjords were the highways of Norway and locals used to get on ferries to move from Ålesund to Geiranger via 3 different Fjords. Nowadays, tourists can also navigate this scenic route of 120km and enjoy the spectacular scenery along the way.
The trip lasts about 3 hours. If you're staying in Alesund or Geiranger you can take advantage of this trip to enjoy the charming villages for a day.
Visit Norway!
If you're looking for a place to experience some of the most breathtaking landscapes on earth, then Norway is the ideal destination. Whether you want to go on an adventure to the North Pole or any of the mountain ranges or soak up the Norwegian culture in Oslo, this country has something for everyone. From its stunning fjord views and crystal clear lakes to its rich history, there is no shortage of things to do here!
Contact us!
If you are looking to travel to Norway soon you should probably check what travel documents you need before your trip. You can use our visa checker tool to find out what your nationality requires to enter Norway, otherwise you can contact our customer service team anytime to find out the easiest way to travel to Norway.