This article contains the up-to-date information about Brazil COVID test requirement. Due to the second wave of coronavirus, the Brazilian government had made the COVID-19 test mandatory along with the Health Declaration Form.
The main requirements are that the test should be taken no longer than 24 hours before departure from an accredited laboratory.
Many people are finding it hard to get to know the requirements they need to travel to their intended country or to collect the documents before their travel. As of present conditions, moving outside or going to embassies has been a tough task due to the widespread flow of corona.
iVisa.com helps to get your Health Declaration via email and provides helpful information and guidance on Brazil: COVID test requirements for travel.
Here, we have focused details on the Travel Health Declaration Form and the COVID-19 test requirements for Brazil. So, go through this article to know more about the Brazil: COVID test requirement for travel.
We are well aware of the current situation, and we are well prepared to assist your travel needs. Don't wait for the last moment to apply for the health declaration. Apply in advance with iVisa.com and we will take care of the rest.
Getting your travel documents through iVisa.com can be the best choice. Please click here to learn your Brazil COVID test requirement!
Note: Since May 2022, the Brazil Traveler's Health Declaration is no longer necessary to enter the country.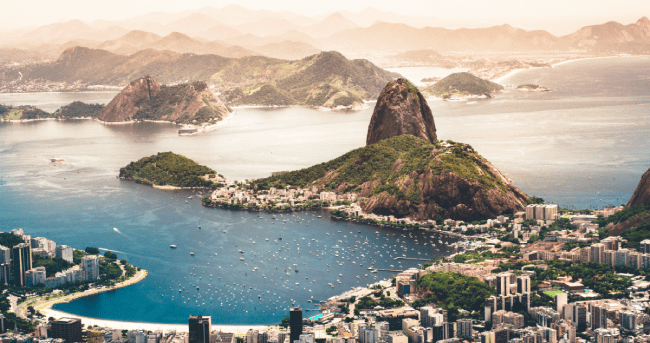 Frequently Asked Questions
IS COVID-19 TEST REQUIRED TO TRAVEL TO BRAZIL?
The testing requirement will depend on your vaccination status:
Unvaccinated travelers must get a mandatory PCR or antigen test taken within 24 hours from arrival. All unvaccinated travelers need to present proof of the negative PCR test before boarding.

Fully vaccinated travelers with proof of vaccination, and children under 12 are exempt from presenting a negative pre-departure test result.
Visit this link for more details on Brazil: COVID test requirements for travel.
CAN I TRAVEL TO BRAZIL?
Yes, you can! Brazil has re-opened its borders for international travel in January 2022. This means that you can travel to this country but you must follow all the covid entry requirements.
It is also recommended to have proof of travel medical insurance that covers all the medical expenses while in Brazil. Visit this link to see more about the Brazil: COVID test requirement for travel.
Do I need a COVID vaccine or vaccination certificate to enter Brazil?
It is not mandatory to be fully vaccinated to travel to Brazil. Since information may change quickly, we advise you to follow up on the latest Brazil travel updates and/or contact your local embassy.
Do I have to quarantine when I get to Brazil?
Quarantine requirements: There are no quarantine requirements.
HOW CAN I APPLY ONLINE HEALTH DECLARATION FORM THROUGH IVISA.COM?
iVisa.com has made a simple, secure, and digital application form. The online process we facilitate is broken down into three simple steps:
The first step is quite simple. You just enter the basic information. At this point, you are also required to choose the processing time.
The second step consists of revision and payment. The accurate disclosure of the information is crucial. Once your information is processed, you cannot make changes. You need to double-check the inputs so given. Payment can be through credit/debit card.
The third step consists of completing the process by uploading other documents.
Once you complete all three steps, just submit your application and wait for the results to arrive in your email inbox in the timeframe you chose, and if you require help on Brazil COVID test requirement, you can contact our customer support team, any time of any day.
IS THERE ANY EXEMPTIONS OF REQUIRING COVID-19 TEST AS OF BRAZIL CONDITIONS?
Children under the age of 2 are exempt from the requirement to present a negative test. Children under the age of 12 who are accompanied by an adult(s) who have proof of a negative test are also exempt.
While travelers to Brazil are required to complete Health Declaration Form within 72 hours of boarding. Apply in advance with iVisa.com and learn more about the Brazil COVID test requirement.
IS HEALTH DECLARATION A SUBSTITUTE FOR A VISA?
No. They are part of documents to have a smooth landing to Brazil and will let you enter without denying to an extent. While it can't replace the need for a visa or other requirements that are essential for travel, as those would be asked by the immigration officials at the airport.
Click here to check your Visa eligibility and learn more about the Brazil: COVID test requirement for travel.
WHAT ARE THE TIME AND EXPENSE OF IVISA.COM FOR PROCESSING THE FORM?
iVisa.com also provides three options for processing time:
Standard processing (

USD $18.99

): this option is the cheapest (

24 hours

), so you'll be charged that way.
Rush processing (

USD $34.99

): this option is faster (

8 hours

); your application is available much faster than the option above and a little expensive.
Super Rush processing time (

USD $58.99

): this is the fastest option (

4 hours

), and it allows you to get your documents ASAP. But this is the priciest option.
If you have any doubts related to Brazil COVID test requirement, contact our customer support team.
WHAT REQUIREMENTS DO I NEED TO GIVE TO HAVE THE HEALTH DECLARATION DOCUMENT?
Just like any other application, you need to have some documents to hand to make the process easier and faster. However, on iVisa.com we won't ask you for many requirements.
The only important requirement you need is the passport, but the rest of the list are items that you probably already have:
Valid passport to collect your basic details.
Payment: iVisa.com accepts many methods of payment. You can use a credit or a debit card.
Email address to receive the updates and other helpful resources.
Visit iVisa.com to find out the Brazil COVID test requirement.
CAN I TRUST IVISA.COM?
Yes. We care deeply about the security of the details that you so shared with us. That's why we assure you, we work professionally with expert team members and without compromising your details. Your privacy is our concern.
See the reviews for more clarification. Visit iVisa.com to see the information needed for Brazil COVID travel requirements.
IF I HAVE MORE DOUBTS, HOW CAN I GET MORE DETAILS?
For more information about Brazil: COVID test requirement for travel, you can visit iVisa.com's webpage.
If you have any doubts, contact our customer support team. They are available 24/7.