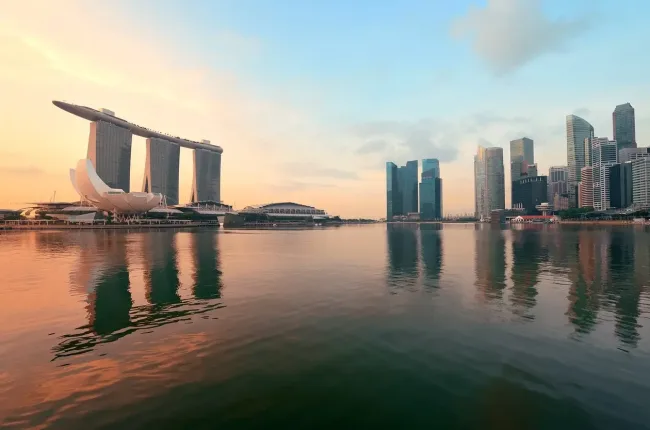 Singapore is a beautiful city-state that boasts stunning architecture, breathtaking green spaces, and a vibrant cultural scene. From the iconic Marina Bay Sands hotel to the serene Botanic Gardens, there's no shortage of things to see and do here.
Before embarking on your journey to this remarkable country, it is essential to ensure that you possess the necessary travel documents, including the Singapore Arrival Card (also referred to as the SG Arrival Card) and the Electronic Health Declaration.
These documents are crucial to gain entry into Singapore and ensure that your trip is smooth and hassle-free.
Get both documents in one go with iVisa! Find out more below or fill the forms out in just a few clicks now!
What is the Singapore SG Arrival Card?
The Singapore Arrival Card is a new and improved version of the old Disembarkation/Embarkation Card (DE Card) to fill out when arriving in Singapore. It's now mandatory for all foreign visitors and permanent residents, and it has two important purposes:
First, it's a customs registration form, to make sure you comply with all import rules.

Second, it acts as a travel health certificate This means you'll need to declare your health status on the card.
Currently, due to the COVID-19 pandemic, Singapore also requires a health declaration, which you'll get together with the arrival card when applying with iVisa.
The Health Declaration and SG Arrival Card information you provide may be used by Singapore's Ministry of Health to contact you in case of emergencies.
The information required on the card includes your name, date of birth, nationality, passport number, last visited places, the purpose of visit, and a few consents.
The SG Arrival Card application is entirely online and can be completed quickly and easily with iVisa.
List of entry points accepting the SG Arrival Card
The SG Arrival Card is valid for entry in Singapore through these entry points:
Singapore Changi Airport - SIN: Air travel.

Tuas checkpoint: Land travel.

Woodlands checkpoint: Land travel.

Changi Ferry Terminal: By sea.

Changi Point Ferry Terminal: By sea.

Singapore Cruise Centre: By sea.

Tanah Merah Ferry Terminal: By sea.
Presenting your SG Arrival Card at any of the aforementioned entry points will help you get the most out of it and guarantee a simple entry into Singapore.
Which nationalities are eligible to apply for the Singapore Arrival Card?
Regardless of your nationality, you must apply for the Singapore Arrival Card and meet the necessary requirements.
Complete the SG Arrival Card at least 3 days prior to your arrival in the country. Make sure to mark it on your checklist before you start your journey to Singapore!
Do children require a Travel Health Certificate and SG Arrival Card?
Yes, children and minors must also show their travel health certificate and SG Arrival Card upon arrival in Singapore. Fortunately, it's possible process more than one Health Form and Arrival Card through iVisa!
Simply click 'Add another person' during the application process to apply together.
Is the SG Arrival Card a visa?
The SG Arrival Card is not a visa and should not be regarded as one. It does not grant permission to enter Singapore, nor can it be used to ensure entry into the country.
The SG Arrival Card and the Singapore online visa are two distinct documents, each with its own purpose and requirements.
Even if a person has successfully obtained an SG Arrival Card, they are still required to fulfill any necessary visa requirements before entering Singapore. To stay up-to-date with the latest visa requirements for your nationality, use our convenient Visa Checker Tool.
Who needs a visa for Singapore?
Certain nationalities are required to have both an SG Arrival Card and also an approved Singapore visa in order to enter the country. These documents can be obtained separately.
For further information regarding applications for visas, please contact the nearest Singapore consulate or embassy.
Required documents to get a Singapore Electronic Arrival Card and Health Declaration
To apply for the SG Arrival Card and Health Declaration, gather and submit the following documents:
Copy of your valid passport with at least 6 months validity. The scan of your passport must be uploaded in PNG, JPG, or JPEG format.

Details of your accommodation in Singapore such as the name and address of your hotel or host.

Itinerary and trip details such as flight details and your arrival date.

Credit or debit card for online payment of the service fees.
You'll receive the documents by email and it's recommended to print them to present upon arrival in Singapore.
How to apply for the SG Arrival Card and Travel Health Declaration online
Easily apply for your SG Arrival Card and electronic health declaration through iVisa.com by following these three simple steps:
Step 1: Provide some basic information about yourself and your trip by answering a few questions.
Step 2:Double-check that you have provided all necessary information to apply for the SG Arrival Card and Health Declaration, and then choose your preferred processing time. Pay the fees using a credit or debit card, or PayPal.
Step 3: Upload the required documents and click 'Submit.'
Remember to bring your SG Arrival Card along with the other necessary documents to Singapore airport to begin your journey!
Costs and processing times of the SG Arrival Card and Health Declaration
At iVisa, we offer a convenient and reliable service to help you fill out your Singapore Arrival Card and Health Declaration before departure.
We understand that different travelers have varying needs, which is why we offer three processing time options with different fees to choose from.
For those who are not in a rush, the Standard Processing is the ideal choice. With this option, you will receive your documents within 24 hours for USD $30.49.

If you need your Arrival Card and Health Declaration faster, you can opt for the Rush Processing. This option guarantees that you will receive your documents within just 4 hours for a fee of USD $52.99.

For urgent cases, we also offer the Super Rush Processing, which will ensure that you receive your documents within just 30 minutes for a fee of USD $93.99.
Choose the processing time option that best suits your needs, and let us help you obtain your SG Arrival Card and Health Declaration hassle-free.
Prices may vary according to your nationality.
When should I apply for an SG Card?
To make sure your trip to Singapore goes smoothly, don't forget to submit all the necessary information for the SG Arrival Card at least three days before departure.
Plan ahead and gather all the required documents to easily upload the information online. This will help ensure that you breeze through immigration when you arrive and start enjoying all the amazing sights and experiences that Singapore has to offer!
How long are the SGAC and Electronic Health Declaration valid?
The SG Arrival Card is valid for a Single Entry. The duration of stay for foreign nationals in Singapore is determined by their visa status, which varies based on their country of origin.
Certain countries have agreements with Singapore that permit their citizens to enter the country without a visa for periods ranging from 30 to 90 days.
It's important to note that the SG Arrival Card does not grant permission to stay in Singapore. Rather, it serves as an essential entry document for all visitors, regardless of their nationality, visa status, or travel purpose.
Do I need the Health Declaration and SG Arrival Card to transit in Singapore?
Foreign travelers who plan to only pass through the Singapore airport do not have to submit the SG Arrival Card. Additionally, if you stay in terminals 1, 2, 3, and 4 of Singapore Changi Airport's transit area without going through Singapore Immigration, no transit visa is required.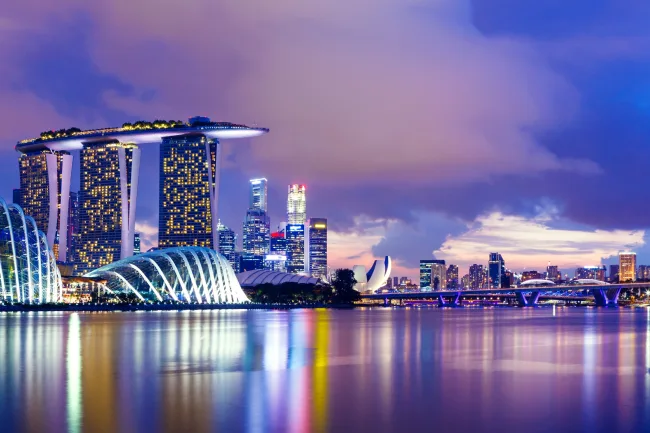 Singapore SG Arrival Card mistakes to look out for
If you're planning to visit Singapore and are ready to apply for the SG Arrival Card, there are a few mistakes to be aware of to avoid any potential delays or issues.
Here are some things to look out for:
Incorrect personal information - Make sure to double-check that all your personal information, such as your name and passport number, is entered correctly.

Incomplete Health Declaration - The Health Declaration is important for ensuring public health standards are upheld. Be sure to fill it out completely and honestly, and provide any necessary documentation if requested.

Submitting too late - Remember to submit your SG Arrival Card information at least three days before your trip to Singapore. Waiting until the last minute could cause delays or even result in a denial of entry.
With iVisa, you'll avoid possible mistakes when applying for the SG Arrival Card and Health Declaration. Our team of experts will guide you through the entire process and make sure that all your information is correct and your health declaration is complete.
Relax and focus on more interesting details of your trip, knowing that your application will be submitted on time, without having to worry about deadlines or requirements.
Things to do in Singapore
Singapore is a vibrant and bustling city-state that offers a plethora of fun things to do for visitors. Whether you're looking for adventure, culture, or simply a day of relaxation, Singapore has something to offer everyone.
Here are some of the best things to do in Singapore:
Visit Gardens by the Bay: This stunning attraction features a vast collection of exotic plants and flowers, along with towering Supertrees that light up the night sky. Walk along the elevated walkway and take in the panoramic views, or catch a performance at the open-air theater.

Explore Chinatown: This vibrant neighborhood is a must-visit for its rich history and cultural heritage. Shop for souvenirs and try local delicacies at the bustling street markets, or visit the ornate Buddha Tooth Relic Temple and Museum.

Enjoy Sentosa Island: This fun-filled island is perfect for a day of adventure and relaxation. Lounge on the beach, ride thrilling roller coasters at the theme parks, or even zipline across the island. Don't forget to catch the Wings of Time show at night for a dazzling display of lights and fireworks.
Learn more about the SG arrival card and other documents
If you have any questions about your trip to Singapore, the Arrival Card, visas, or travel documents, please contact our customer support team at any time or email us at [email protected]. We're here to help!