You will need to make sure you have all the right resources before you plan a trip to Vietnam. The country remains one of the best Southeast Asian destinations in the world because of the nature present there and fun-packed tourist activities, delicious cuisine, diverse culture, and amiable people. If you are planning a trip to Vietnam, you will need a Visa and at iVisa.com we can assist you in obtaining it.
German people can apply through our website and get the process completed in 20 minutes; the Visa will be in your hands in no more than 3 business days.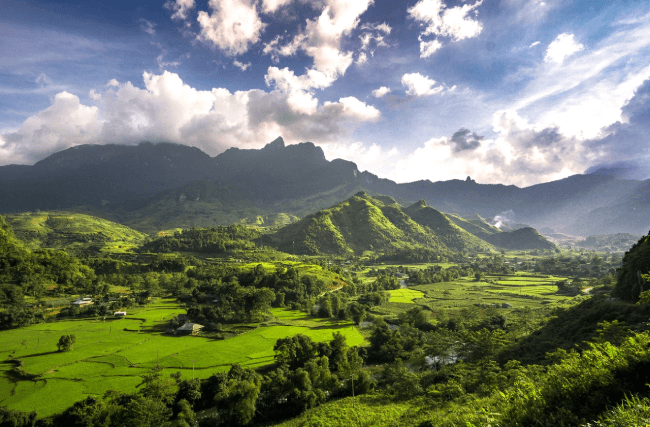 Only 46 nationalities in the world currently have the privilege of getting an eVisa to Vietnam. If you wish to double-check your eligibility for the eVisa, you can try the iVisa Visa Checker. You just have to fill in 'German' as your nationality and pick Vietnam as your destination and you will know in an instant if you can get an electronic Visa. Furthermore, all people interested in traveling can begin applying for the Visa right away.
Why should I apply in advance for my eVisa?
Apart from the benefit of keeping you stres free at the time of your departure, applying for an eVisa in advance helps you save yourself from making any errors in a hurry. Getting your visa ahead of time is a wise option which would allow you to have a safe and secure trip. Visit iVisa.com immediately and apply in advance for your trip to Vietnam.
Frequently Asked Questions
Getting a Vietnam visa for German citizens is an easy process, thanks to iVisa.com. Here are some of the most commonly asked questions regarding your future trip:
What documents do I need as a German to apply for the Visa?
iVisa.com can get the process completed without much hassle. You will only need to add some personal information and the following documents:
Valid passport: You will need a valid passport as a German to enter Vietnam. You must ensure that the passport will not expire for at least 6 months after your arrival in Vietnam.
Email ID: iVisa.com will be sending you your processed eVisa on the email address, thus you must make sure you share a valid and active email address.
Payment: You will need either a debit card or credit card to make the payment for your application. You can also use a Paypal account to do the same.
These items should help you begin your Visa application. However, as a German, you will also need the following documents to enter and stay in Vietnam:
Entry permit: This document will be sent to your email address by iVisa.com. It is a PDF that you will need a printed copy of during your departure.
Two photos: You will need a 4x6 cm and 3x4 cm photos for your travel documentation.
Passport: You will need your original passport.
Additional fee: If you wish to get a Visa on arrival, you will have to pay an additional fee for the same. This procedure will happen at the immigration office at the Vietnamese airport.
Can you tell me more about the Processing time and cost of Visa?
As all German people do not have the same budget or time considerations, iVisa.com has these three options for your Visa application processing time. The faster you wish to get your Visa, the more you will be required to pay. The three options are:
Standard processing: This process will take up to

5 Business Days

. The price for this option will be

USD 50.00

.
Rush processing: At

USD 70.00

, this process will reduce your waiting time by a day. You will be able to have your Vietnam visa in

4 Business Days

.
Super Rush processing: At

USD 115.00

, this method will save you a lot of time as your Visa will be ready in

3 Business Days

. This is the most suitable option for those who need to leave for Vietnam urgently.
Begin your application process
How can I apply for an eVisa as a German citizen?
The online application form created by iVisa.com is simple and straightforward. You can choose either of the three steps to complete the process and contact iVisa.com support team for any help, they are available 24/7 to answer all your queries.
The very first step would require you to share your personal information and choose a suitable processing time.
The second step is to make the payment and a revision of your application. It is essential to make sure that the information provided as a German citizen is accurate as you will not be able to make changes once the processing begins.
The end consists of a personal questionnaire and some documents you will have to upload. Once you have done this and double-checked the information, you can hit the submit button.
It is easy to obtain the Vietnam eVisa. You will not need to make many trips to the embassy and German people can finish it even outside of business hours. It is the most convenient option to get the Visa quickly.
If I still have unresolved queries, what should I do?
If the above mentioned questions were not beneficial enough, you can always contact our customer support who are there 24/7 in your service to guide you. Furthermore, you can also visit this page to read more information on this topic.
iVisa Recommends
The mystical and magical holiday destination of Vietnam bubbles with stunning beaches, green hills and cities filled with history and culture. People of all sorts will find something of their fancy in this beautiful country. Architecture lovers will find their adobe on visiting the most famous Thin Mu Pagoda and the bewitching beauty of the Temple of Literature. If you're a history nomad, you will definitely enjoy visiting the Cu Chi Tunnels at Hoi Chi Minh. You can shop and dine your heart out at this location.
If you truly want to immerse in the culture of Vietnam, you must add a trip to Hanoi to your bucket list. Here, you will find motorbikes crowding the streets and a line of street vendors selling all kinds of items at the same place. There you will also find some of the most famous museums in the city.
You must also add a trip to the Halong Bay when in Vietnam if you want to experience breathtaking seascapes. This bay has been named a UNESCO World Heritage Sight. Formed of dissolving water-soluble rocks, the topography of this location is breath-taking.
We hope your trip to Vietnam is as amazing as it can be! Thank you for trusting iVisa.com