Are you planning to visit Vietnam? You will need a visa to explore the fantastic attractions of this country. The good news is that people from more than 80 different nationalities can apply for a Vietnam eVisa online.
You can count on iVisa's services to get your Vietnamese visa. We developed a straightforward application process, where we do the hard work so you can relax and plan your travel. This is a convenient way of getting permission to enter Vietnam, and it's a lot easier than going to an embassy or consulate.
In this article, you'll find out some of the most frequently asked questions related to this document so you are for the e-Visa application.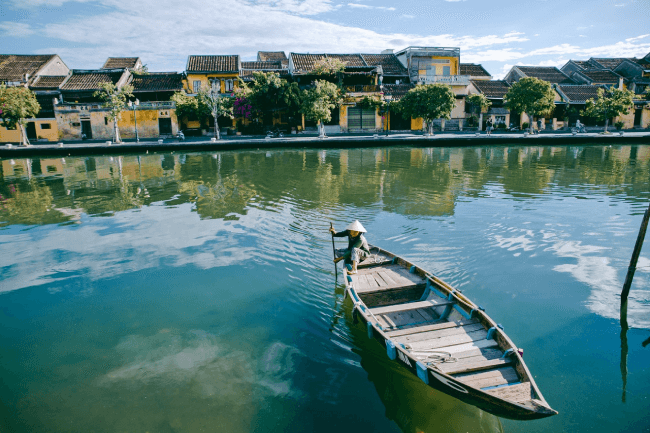 Frequently Asked Questions
HOW CAN I CHECK IF I NEED THIS E-VISA?
You can verify this information using iVisa's Checker Tool here. You'll have to choose your country on the origin menu and type in Vietnam as the country you're going to.
This way, you'll immediately know if you can apply for an e-Visa or not. If you need another visa type, the tool will also indicate this.
WHAT IS A VIETNAM E-VISA?
Many travelers can apply for a Vietnam e-Visa to visit the country. The Vietnamese immigration department introduced this electronic visa in 2017 to facilitate travel for tourists. Since the Vietnam visa policy enables travelers to obtain a visa online, there's no need to go to a Vietnam embassy.
The Vietnamese e-Visa is available for citizens of over 80 countries who wish to stay in Vietnam for no more than 30 days. Travelers must get a Vietnam electronic visa, even for short stays.
The good news is that the online application is an easy and quick way to get the document to enter Vietnam.
WHAT ARE THE ENTRY REQUIREMENTS AND DOCUMENTS TO APPLY FOR THE VIETNAM E-VISA?
You'll need a few required documents to fill out the online application. You must have the following items to apply for a visa:
Passport: You must have a passport that is valid for at least six months before entering Vietnam. The passport must have at least two blank pages to apply for an entry and exit stamp.
Recent passport photo: You need a passport sized photo. If you don't have one, you can use the iVisa Passport Photo Service.
Health insurance: You will need to show evidence of medical or travel insurance with provision for COVID-19 medical treatment in Vietnam, with a minimum coverage of USD 10,000.
Method of payment: You will need a credit or debit card to pay the e-visa fee.
Valid email address: To receive your Vietnam eVisa receipt and confirmation.
HOW TO APPLY FOR YOUR VIETNAM VISA E-VISA
It is easy and quick to fill out the application form for the Vietnam e-Visa. You must follow the instructions:
First, read all of the information and fill in your data. Then, choose the preferred processing time for the Vietnam e-visa.
Second, double-check and verify your information and pay the iVisa service fee (see below for information about visa fees).
Third, attach any documents required and click on the 'submit' button to apply for your online visa. Once you have successfully applied for your Vietnam tourist visa, you will receive a receipt and confirmation of the final e-Visa.
Make sure to save a copy in a safe place on your electronic device, and print your Vietnam e-visa confirmation to carry with you while you travel.
WHAT ARE THE PROCESSING TIMES AND FEES FOR THE EVISA?
If you are one of the nationals eligible for online visa processing, you can have the facility of applying through the iVisa platform. In this case, the processing time and charges will depend on how fast you need your visa:
Standard processing time: Get your Vietnam eVisa in

11 days

for a fee of

USD $86.99

.
Rush processing service: This option is slightly faster and takes

9 days

to have a visa issued. It costs

USD $138.99

.
Super Rush processing time: For those urgently needing a Vietnam visa, we offer this option, which takes just

7 days

for a fee of

USD $201.99

.
I AM A US CITIZEN. HOW LONG CAN I STAY IN VIETNAM?
The Vietnam government allows US visitors to stay 30 days in Total in Vietnam for tourism. Be sure to indicate the correct reason for travel when applying online.
You must apply for an e-visa extension if you need to stay longer than that. To do so, you should consult the embassy in your home country.
CAN ANYONE APPLY ONLINE?
The Vietnam Immigration Department allows 80 countries to apply for a Vietnam Visa online. You can use the Visa Checker Tool to see if citizens from your country are eligible for electronic visa applications.
HOW MANY ENTRIES CAN I HAVE WITH THIS EVISA?
This is a Single Entry visa. This means you can only enter the country one time with this document.
CAN I ENTER ANY POINT OF ENTRY WITH MY EVISA?
No. There are 33 entry points travelers can use to enter Vietnam with an eVisa, including international airports, land ports, and seaports. You can find them on this link.
VIETNAM E-VISA SAMPLE
IS IT SAFE TO APPLY THROUGH IVISA?
Applying for your visa with iVisa couldn't be more reliable. Although we are not affiliated with Vietnam's government, we are a certified travel agency with a competent review team that will thoroughly handle your application in the most effective way.
You can also see what our customers have to say about us and all of the services we have to offer here.
WHERE CAN I FIND MORE INFORMATION ABOUT THE VISA APPLICATION?
Do you still have questions about how to get a visa for Vietnam? You can contact iVisa's customer care portal to find out more about the application process to travel to Vietnam. If you prefer, you can send your questions via email to [email protected].