Usually, citizens from the UK can go on hassle-free trips due to the simplified systems associated with many reciprocity agreements. However, they do not qualify for a waiver to enter Vietnam and have to apply for a visa in advance.
Nevertheless, UK passport holders are eligible to apply for a Vietnam Visa online, a quick and straightforward process: You can obtain a new visa and be ready to meet the entry requirements in a few steps.
The following article goes over instructions for applying for a valid visa, fees, and Vietnam visa requirements to successfully apply for a Vietnam Visa.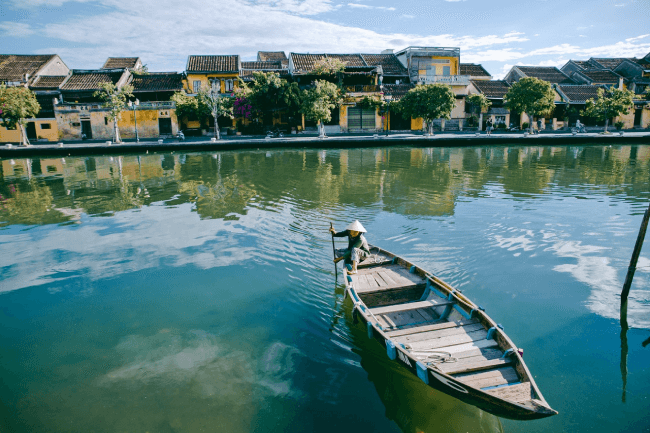 Frequently Asked Questions (FAQs)
WHAT IS A VIETNAM E-VISA?
The Vietnamese electronic visa (e-Visa) is a type of visa that foreigners need to enter this country. The Vietnam Immigration Department has been issuing this document since 2017. This entry visa enables travelers to obtain visas online without going to a Vietnam embassy. More than 80 different nationalities can visit Vietnam for tourism or business with it.
DO I NEED A VISA FOR VIETNAM FROM THE UK?
Yes, United Kingdom citizens have to apply for an electronic Vietnam visa to enter Vietnam. Nevertheless, they can apply online for this entry visa.
WHAT TYPES OF E-VISAS ARE THERE TO ENTER VIETNAM?
British nationals can apply for a Vietnam eVisa online. This document works as a business visa and tourist visa.
You should consult the Vietnam embassy or consulate general if you are visiting Vietnam for other purposes or need a long-stay visa.
HOW LONG IS THE VIETNAM E-VISA VALID FOR?
This Vietnamese eVisa expires 30 days after arrival. Be aware that it is a single-entry visa, so you'll be able to enter the country only once during this time.
WHAT DOCUMENTS DO I HAVE TO PROVIDE TO APPLY FOR A VIETNAM VISA ONLINE?
UK citizens flying to Vietnam need a visa to enter the territory. But the process is easy since they are eligible for an electronic Vietnam visa. It's necessary to provide a few valid documents during the application:
Passport: The British citizen passport must be valid for at least six months at the time of arrival in Vietnam. The passport must have at least two blank pages to apply for an entry and exit stamp (one on each page).

Recent passport photo: UK passport holders that don't have one can use the iVisa Passport Photo Service.

Health insurance: British citizens need to show evidence of medical or travel insurance with provision for COVID-19 treatment in Vietnam, with a minimum cover threshold of USD 10,000.

Vaccinations: Vaccination for diseases and viruses, such as hepatitis, yellow fever, and malaria, is strongly recommended.

Payment method: A credit or debit card to pay the Vietnam tourist visa/business visa service and a government fee.

Valid email address: To receive your e-visa receipt and confirmation.
HOW CAN I APPLY FOR A VIETNAMESE E-VISA IF I'M FROM THE UK?
United Kingdom citizens can apply for a Vietnamese eVisa on the Vietnam Immigration Department website; but there's an easier way to obtain this electronic visa: You can apply through iVisa, which takes just a few minutes to process.
Applying with iVisa services requires less hustle with the whole bureaucratic environment that comes with the traditional application process. It is pretty easy to complete the application for this e-Visa on our platform. This consists of three steps:
First, read all the information and fill in your details, like passport number and travel dates. Then, choose the preferred processing time for the Vietnam e-visa.

Second, double-check and verify your information and pay the iVisa service fee.

Third, attach any travel document required and click on the 'submit' button to apply for your Vietnam visa.
Then, you will receive the document via email and will have it to present on arrival at one of Vietnam's International Airports. Remember that without a visa, you will probably be refused entry.
HOW MUCH DOES MY E-VISA TO ENTER VIETNAM COST?
iVisa offers three processing options, so UK citizens can choose the one that suits them better:
Standard Processing: With this particular option, you'll have your visa in 11 days paying only USD $80.99.

Rush Processing: It will only take 9 days, and the price varies to USD $134.99.

Super Rush Processing: This is the fastest option for British citizens. It costs USD $201.99, and you'll get to have your visa in only 7 days.
HOW LONG DOES IT TAKE TO APPLY FOR A VIETNAMESE E-VISA?
A UK citizen can apply in less than 20 minutes. You just have to fill out the application form and provide the visa requirements; the rest of the process will be done by the iVisa's staff.
UNITED KINGDOM - VIETNAM VISA SAMPLE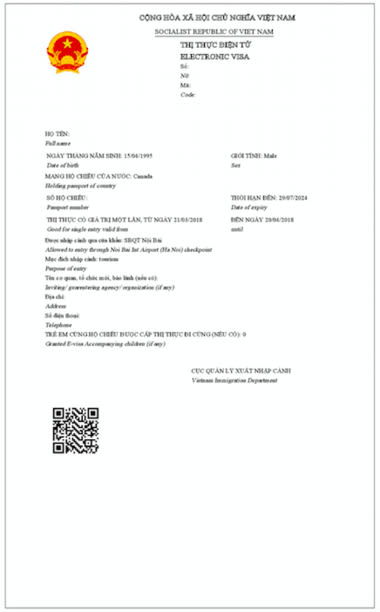 HOW DO I KNOW IF THE PROCESS IS SECURE AND IF I'LL GET WHAT I NEED?
Are you planning to visit Ho Chi Minh City? Do you want to leave the United Kingdom and spend your vacation in Nha Trang? United Kingdom travelers need a visa, but we are here to help with all documentation necessary, protecting your data.
iVisa has chosen to use state-of-the-art methods for safeguarding our customer's information. We understand there would be no faster way to ruin a vacation than to discover that a web purchase compromised your financial or personal information.
If you need more information to ease your mind about our service, we encourage you to peruse the iVisa reviews. The sheer number of reviewers will help to show how widely used our service is and reassure you that we are very good at what we do.
I NEED MORE INFO ABOUT THIS E-VISA. WHERE CAN I READ MORE?
Suppose you still have questions about how to get a new visa for Vietnam. In that case, you can contact iVisa's customer care portal to find more information about the application process to travel to Vietnam and have all the needed information from there. If you prefer, you can send your questions via email to [email protected].