Hearing about the Vietnam e-visa and unsure if Myanmar passport holders need one or how to apply? Here is everything you need to know about the Vietnam e-visa as a Myanmar passport holders.
Are you ready to visit Ho Chi Minh City, Hanoi, and Halong Bay but concerned about the requirements and application process for a Vietnam visa? Read our guide to which travel documents you need as a Myanmar passport holder to enter Vietnam and how to obtain them.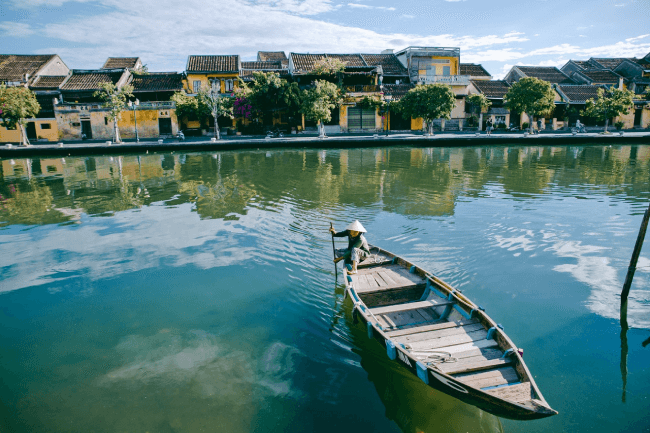 Everything you need to know about the Vietnam visa for Myanmar citizens
Myanmar (Burma) citizens do not require a visa to enter Vietnam if their stay will be under thirty days. However, if you plan to stay longer, you will require a valid Vietnam visa to enter the country. Please contact your nearest Vietnam embassy or consulate if you need a visa for a longer stay or a visa for work or study purposes.
The rule applies to everyone, including minors, and all other Myanmar travelers staying longer than 30 days.
Types of Vietnam visas for Myanmar citizens
There are various visas that are offered for Vietnam, including a tourist visa and business visa. While Myanmar passport holders can get an entry stamp that acts as a Vietnam visa on arrival, many other foreign nationals must apply for the Vietnam eVisa. This is a standard single entry e-visa valid for a 1-month visit.
Myanmar citizens must contact their local embassy or use the Vietnam government website to apply for any Vietnam visas. We highly recommend Myanmar citizens apply for their Vietnam visa online as it tends to be the most convenient, simple, and cost-effective application process.
What is a Vietnam eVisa?
We understand that the concept of the Vietnam e-visa can be confusing. Let us explain in more detail.
The Vietnam e-Visa is an electronic visa introduced by the Vietnam immigration department in 2017 to streamline visa applications and enable travelers to apply for their visas online. This means they no longer need to visit the Vietnamese embassy or consulate which previously needed to cater to people from over 80 nationalities, including Myanmar citizens.
Applying for a Vietnam eVisa
When applying for a Vietnam e-visa, we recommend applying at least a few weeks before you plan to travel to the country at the embassy.
Cost of the Vietnam eVisa for Myanmar citizens
The Vietnam government charges around USD 25 for the e-visa application. However, this can change unexpectedly and varies per visa type, so we recommend checking with your local embassy or on the government website when you're ready to apply.
Vietnam eVisa requirements for Myanmar passport holders
To apply for a Vietnam e-visa for longer than 30 days as a Myanmar citizen, you will need to provide the following:
Passport that is valid for at least six months from your date of arrival in Vietnam and contains at least two blank pages to get the visa stamped on.
Recent passport photo that you can obtain through iVisa's passport photo service.
Evidence of health insurance or travel insurance with COVID-19 cover and a minimum cover of USD 10,000.
Credit or debit card to pay for the application fee.
Valid email address to receive your e-visa receipt and visa approval letter.
COVID-19 regulations for tourists to Vietnam
Once you've got your Vietnam visa, you can start planning your trip earnestly. When doing so, it's important to consider the COVID-19 regulations to be fully prepared for your trip.
Although Vietnam fully reopened for international tourism and dropped all COVID-19 restrictions, there are some things to remember as the regulations may change at any moment.
COVID-19 screening centers and health hotlines
Authorities advise keeping the number for the Vietnamese health hotline (1900 3228) saved on your phone as you will need to call the hotline if you start presenting symptoms of COVID-19, are concerned about your health, or suspect you were exposed.
Health requirements
It's also advised that travelers entering Vietnam self-monitor for the first ten days after their arrival. If you notice any symptoms, seek immediate medical attention.
Questions?
If you still have questions about traveling to Vietnam, reach out to our 24-hour customer service team via online chat or email at [email protected].