Now that tourism is being reactivated in some countries, it's an excellent time for travelers to discover locations such as Nicosia City. While being the capital of Cyprus, Nicosia City is a city like no other.
It is divided by having on the Northern part all Turkish Cypriots, and the South is inhabited by Greeks. So while being in one country, you can almost travel between two different lands at the same time. You can experience this change by enjoying a great diversity of dishes and dips, or even get a taste of their local sweet dessert wine called Commandaria.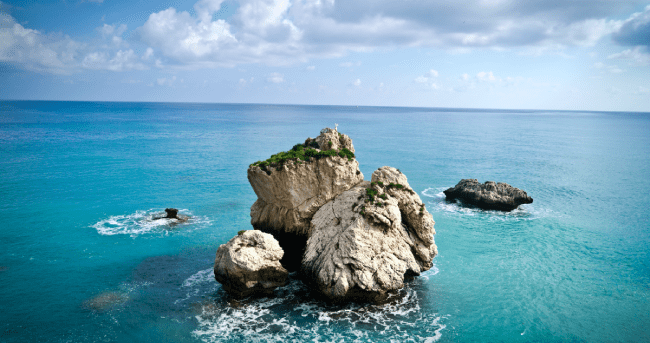 Also, having more than a couple of grey days in the United Kingdom, its citizens might find that the constant warm temperature in Cyprus means they'll never get a bad day during a trip. Don't forget to add a cup of Cypriot coffee before you head back home!
But all these great ideas will be possible under one necessary condition; travelers will need to request a Cyprus Flight Pass. This Pass functions as a screening process to all passengers entering Cyprus, the questions are directly related to your previous trips and your contact with the COVID-19 virus.
This article is to give you context about the Cyprus Flight Pass creation, and content on how to apply for it. The following FAQs also share tips on how to prepare for the application process and how the iVisa.com website can offer your details with faster delivery.
FREQUENTLY ASKED QUESTIONS
How does a Cyprus Flight Pass work?
The Cyprus Flight Pass can be seen as a Health Declaration paper in which the traveler must state their current and past contact with the COVID-19 virus.
It has been established that all visitors that want to enter Cyprus will have to provide this Cyprus Flight Pass before boarding the plane. You can request the document no later than 24 hours prior to your flight and you must revise if you are also going to need a COVID-19 test certificate.
Does every traveler need a Cyprus Flight Pass during COVID-19 to enter Cyprus?
With the recent border changes in Cyprus, the Government has determined that every traveler that wants to enter Cyprus, foreigner or national, must have a Cyprus Flight Pass.
Few countries have been granted access to visit Cyprus, and have been cataloged under three Categories based on how much of a risk they are of arriving with the COVID-19 virus. In whichever category the country you are flying from is located, you most certainly need to have the Cyprus Flight Pass.
If you are arriving without one, you may be sent back to the country of departure, or be charged a hefty fine.
How can citizens of the United Kingdom arrive in Cyprus during Coronavirus?
Having the Cyprus borders open, travelers from many countries can now enter with only a few restrictions.
First of all, every visitor arriving in Cyprus will have to request a form and provide the final Cyprus Flight Pass document to the flight attendants before boarding.
Also, in the case of citizens from the United Kingdom, they are currently being asked to have a certificate from a laboratory that shows their negative COVID-19 test results. This test will need to be taken no more than 96 hours before arriving in Cyprus.
Do I need to quarantine when I arrive in Cyprus?
Fully vaccinated travelers, regardless of their nationality and country of departure, are exempt from quarantine requirements. However, they need to hold a valid certificate of vaccination issued by the following states: EU Member States, Norway, Iceland, Lichtenstein, Armenia, Bahrain, Belarus, Canada, Egypt, Georgia, Israel, Jordan, Kuwait, Lebanon, Qatar, Russia, Saudi Arabia, Serbia, Switzerland, Ukraine, United Arab Emirates, United Kingdom, United States and China.

Travelers arriving from green, orange and red countries do not need to quarantine on arrival.

Travelers coming from grey countries need special permission to enter Cyprus and must quarantine for 14 days. Quarantine time can be shortened to 7 days by testing on the 7th day.
Which risk category is my country?
Green Category countries are United Arab Emirates, Jordan, Kuwait, New Zealand, Saudi Arabia, Italy, Malta, Liechtenstein, Vatican.

Orange Category countries are France, Denmark, Greece, Spain, Netherlands, Portugal, Poland, Sweden, Czech Republic, Andorra, Monaco, Iceland, Norway, Australia, Japan, Qatar, China (including Hong Kong and Macau), Bahrein, Uruguay, Rwanda, Chile.

Red Category countries are Austria, Belgium, Bulgaria, Germany, Estonia, Ireland, Croatia, Latvia, Lithuania, Luxembourg, Hungary, Romania, Slovakia, Slovenia, Finland, San Marino, Switzerland, Egypt, Armenia, Georgia, United States of America, United Kingdom, Israel, Canada, Belarus, Lebanon, South Korea, Ukraine, Russia, Serbia, Singapore.

Countries that are not mentioned in the green, orange, and red categories are considered as Grey Category.
Will citizens of the United Kingdom get tested for COVID-19 at the Cyprus airport?
As of now, all travelers wishing to enter Cyprus during Coronavirus must show their Cyprus Flight Pass before boarding the plane.
United Kingdom is currently classified as Category B in terms of how much risk visitors arriving at Cyprus from there are of having the Coronavirus. In this case, the citizens wanting to visit Cyprus will most certainly travel with a laboratory certificate that proves your negative results for the COVID-19 test.
Although there is no specific measure, there is a chance that your flight is randomly chosen to test all the passengers at the Cyprus Airport.
Can I get my Cyprus Flight Pass results delivered faster?
The only way to get your results delivered faster is by getting your application process to be analyzed quicker. To do so iVisa.com has three processing times that will make your Cyprus Flight Pass application be moved to the top list, and that way, you get your results sooner.
The iVisa.com processing times are:
Standard processing time to obtain your application results in

24 hours

.
Rush processing time for faster service and getting your documents in

4 hours

.
Super rush processing time is the fastest option, you can get your flight pass within

30 minutes

.
What is the Cyprus Flight Pass process for citizens of the United Kingdom?
To apply for a Cyprus Flight Pass you must follow a few simple steps in which you must answer straightforward questions regarding your health and your plans while in Cyprus.
By applying through the iVisa.com website, we ensure 24/7 Contact service in case of any troubles, and you can also request a faster speed to get your results delivered.
Before you submit the application form, you must follow these steps:
1.Start by creating an account and filling in the questionnaire with your personal data and flight information.
2.You must then pick the processing time you want for your application process.
3.Your third step is to answer the legal statements about your contact with COVID-19 virus truthfully.
4.Finally, you must proceed to make online payment and submit your form.
How secure is the iVisa.com platform with my data?
The iVisa.com services include making sure your online application process goes through successfully, and that your personal information is well-kept during and after the procedure. That's why the platform and database operate with top-notch security systems to protect each piece of data from the company and its users.
Find out what our clients think about our security system and our services here.
I need more info on Cyprus Flight Pass, where can I find it?
If you have any other questions about the Cyprus Flight Pass that aren't mentioned above our customer service team will gladly help you. To do so, we ask that you email us a message with your questions, or visit the iVisa.com website for a broad search of information.